UK Consumer Confidence Slumps to Record Low say Barclaycard
UK consumer spending grew 3.5% in July, but confidence regarding the future slumped to an all-time low according to new data from Barclaycard.
The increase of 3.5% comes as sustained inflation drove supermarket spending.
The Barclaycard data mirrors the findings of a survey from the BRC which shows UK like-for-like sales rose 0.9% in July; again rising supermarket prices were cited for the lift in spend.
The increase in spending reported by Barclaycard and the BRC comes a day after seperate data from VISA showed a fall of 0.8% in consumer spending in July.
The data from Barclaycard, which sees nearly half of the nation's credit and debit card transactions, shows consumers received some respite from a continued drop in petrol prices, which have fallen from an average of 120p per litre at the start of the year to 113p last month.
As a result, expenditure on the forecourt increased just 2.5% in July, the lowest figure since August 2016.
Against this backdrop, consumers carefully budgeted for their priorities.
This included the 'experience economy', or spending on leisure time with friends and family, as entertainment rose 12.5%.
Expenditure on cinemas and tickets grew 24.3% as consumers flocked to see new blockbusters such as Dunkirk, Baby Driver and Despicable Me 3, and snapped up tickets for the 2018 tours of Ed Sheeran and The Killers.
In addition, restaurants (13.3%) and pubs (11.8%) remained robust as consumers enjoyed the sunny summer weather.
One category that fell down the priority list was clothing, which contracted 0.3% year-on-year – in contrast with a particularly strong June (5.7%).
Women's clothing suffered in particular, down 4.9% on July 2016.
As consumers increasingly felt the pressure from months of higher grocery prices and re-allocated their budget to make ends meet, consumer sentiment also weakened. The proportion of those confident in the UK economy fell to 28% in July, the lowest figure recorded since Barclaycard began its research in 2014, and a continuation of the downward trajectory that started in March.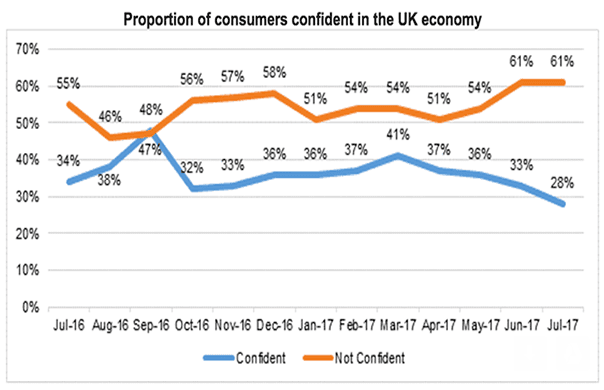 The outlook on spending power has also darkened; confidence in household finances fell to 56% from 69% in June, and the ability to spend more on non-essentials has also declined to 43% (56% in June).
43% indicate that months of rising prices have led them to change their everyday spending habits.
Of these, 54% say that they are shopping at discount stores more often, and 28% are making greater use of vouchers and discount codes – in both cases striving to get the most from every pound.
Another technique is to simply cut back, with 44% buying fewer treats for themselves.
In line with June, 47% were 'feeling the squeeze' as inflation outstrips wage growth.
While 21% believe that the prices of everyday items will remain steady between now and the end of the year, 51% disagree.
"Although consumer spending growth rebounded from May and June's lacklustre performance, last month's figure should be treated with caution. While supermarkets posted a strong performance, some of that growth will be due to higher prices. As a result, consumers would have had to budget more carefully to spend on their favourite 'nice-to-haves', whether that was a night out at the cinema or a meal with friends and family," says Paul Lockstone, Managing Director at Barclaycard.
"Months of 'feeling the squeeze' have made consumers a little more concerned about the bigger picture. Confidence on several measures, from the UK economy to household finances, are at some of the lowest levels we've ever seen, and shoppers are working increasingly hard to stretch their budget," adds Lockstone.
However there are signs that inflation will plateau and then start falling through the latter part of the year as the one-off devaluation of the Pound wanes in infuelnce.
This should offer some respite for consumers over coming months.