The Turkish Lira and Mexican Peso will Rise this Year says ING's Krpata
Image © Adobe Stock
- Fed slowdown to support EM currencies says ING.
- Greatest beneficiaries will be the MXN and TRY.
- Oil to rise to $75.00 per barrel, helping Latam.
The Turkish Lira and Mexican Peso will rise this year as the Dollar enters a period of structural decline following an abrupt end to the Federal Reserve (Fed) interest rate hiking cycle that is likely to be brought on by a slowing economy.
Signs of this are already apparent in the Fed's change to a more neutral and data-dependent stance, which was endorsed this week by FOMC member Neel Kashkari, who says the Fed is right to adopt a 'wait-and-see' approach to interest rate policy.
One result of a less aggressive Fed and a weaker Dollar will be stronger emerging market (EM) currencies, according to Petr Krpata at ING Group, who says the Turkish Lira and Mexican Peso could stand to benefit the most.
"The change in Fed's rhetoric and the indication of a pause in the rate hiking cycle is in our view good news for risk sentiment and coupled with the large undervaluation of many emerging market currencies, this should translate into positive returns in EM FX segments in coming months," Krpata, who heads ING's emerging market strategy team, says in a note to clients.
EM currencies are often negatively correlated with the U.S. Dollar for the simple fact that developing countries have high levels of Dollar-denominated debt, which gets harder (more expensive) to repay when the greenback strengthens and and easier to repay when the Dollar weakens.
The Turkish Lira and Mexican Peso are two currencies that stand out as likely beneficiaries of the Fed shift for their own unique reasons, according to ING.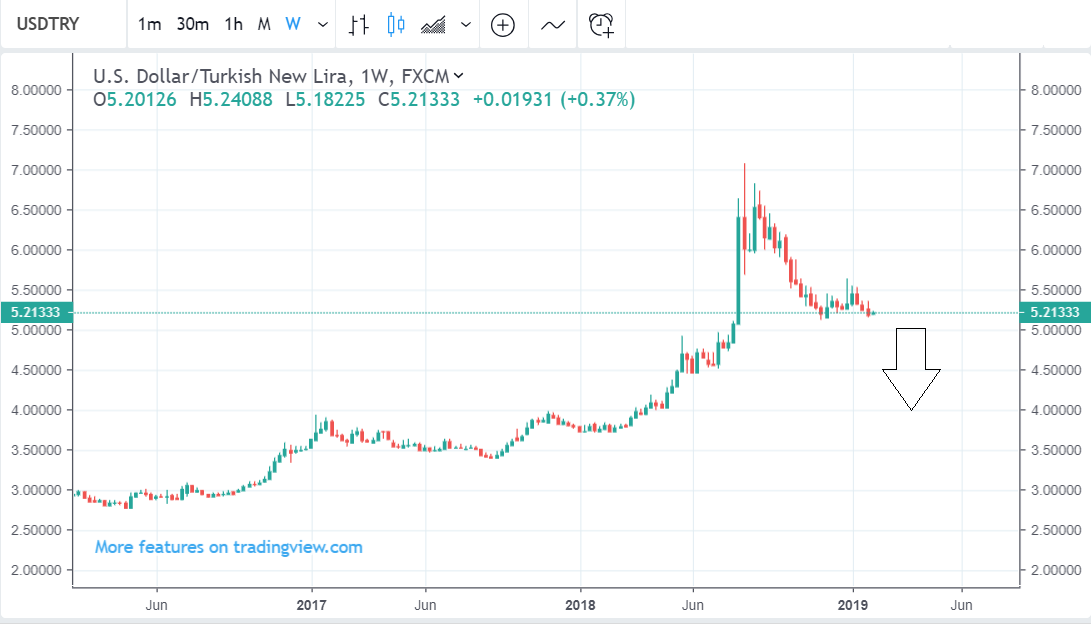 Above: USD/TRY rate shown at weekly intervals.
"We like the Turkish Lira because the currency is the most undervalued in the whole emerging market space, it has the highest nominal carry in the EM space and the central bank is unlikely to cut interest rates anytime soon," says Krpata. "We think the Mexican Peso ticks the box largely because of this sensitivity to the oil price."
ING forecasts suggest the oil price will rise to $75.00 per barrel by year-end, which will be positive for those countries that sell oil to others and negative for importers of it.
The USD/TRY rate was trading at 5.21 Thursday while the USD/MXN at 19.11.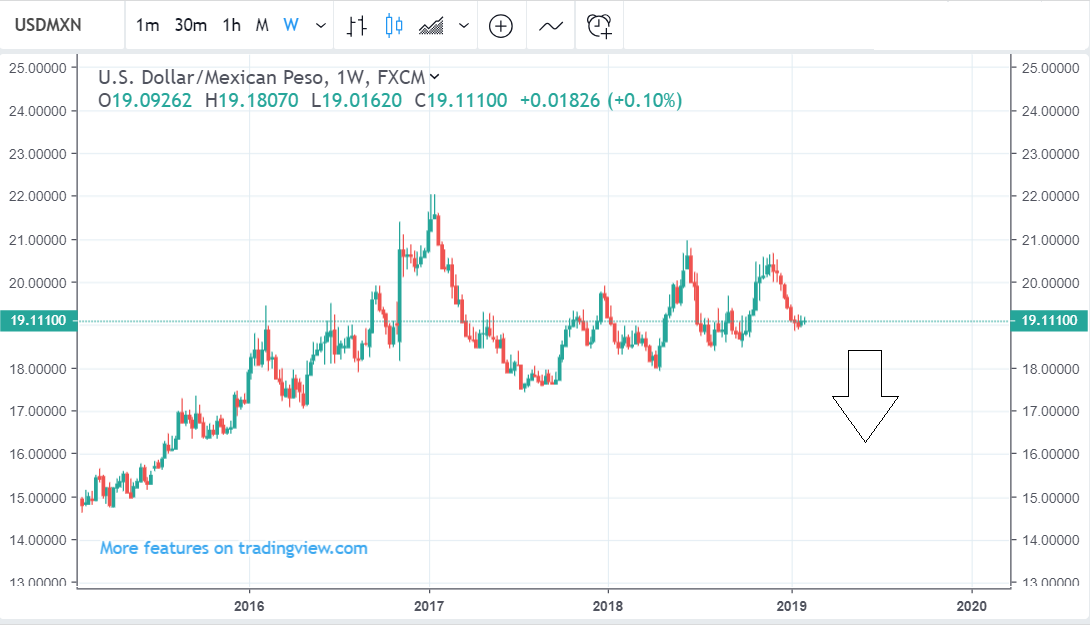 Above: USD/MXN rate shown at weekly intervals.
Time to move your money? Get 3-5% more currency than your bank would offer by using the services of foreign exchange specialists at RationalFX. A specialist broker can deliver you an exchange rate closer to the real market rate, thereby saving you substantial quantities of currency. Find out more here.

* Advertisement