U.K. Government Borrowing Hits Decade Low in September while Debt-to-GDP Falls
© Foreign & Commonwealth Office, reproduced under CC licensing
- Government borrowing hits lowest September level since 2002.
- Debt-to-GDP falls by 2.4% as economy grows and borrowing slows.
- Means higher NHS spend can be funded without austerity elsewhere.
U.K. government borrowing fell its lowest September level for 11 years last month, according to Office for National Statistics data released Friday, taking total borrowing for the year-to-date down to its lowest since 2002.
Public sector net borrowing was just £4.8 billion in September, down £0.8 billion from the previous year, marking the lowest level of September borrowing since before the financial crisis hit in 2007.
Total borrowing for the financial year-to-date came in at £19.9 billion, down £10.7 billion from one year ago, its lowest level for the 16 years since 2002.
"We expect the OBR to revise down its borrowing [estimate] this year from £37bn to £33bn in its Budget forecast, taking it close to our own estimate. However, if the fall in borrowing in the latest data for September, which comes too late to be incorporated into the OBR's budget projections, were sustained, borrowing would come in well below £30bn this year," says Andrew Wishart, an economist at Capital Economics.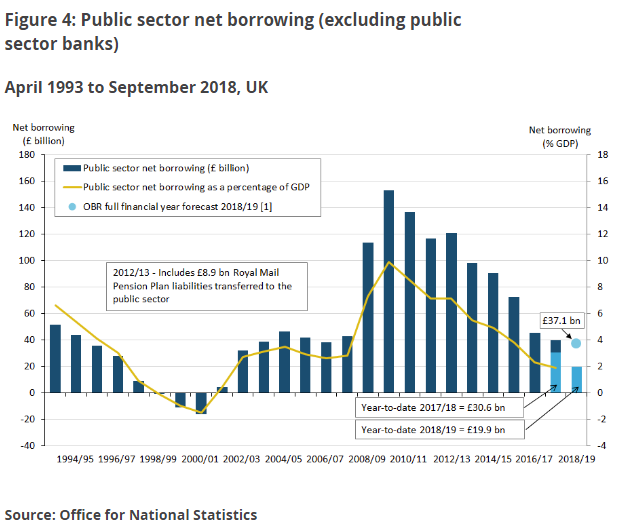 Above: ONS graph showing annual changes in government borrowing.
"Borrowing will total £25.9B—or 1.2% of GDP—this year, if the year-over-year trend in borrowing in the first six months of this fiscal year is maintained, a hefty £11.1B less than expected in the Spring Statement," says Samuel Tombs, chief U.K. economist at Pantheon Macroeconomics.
Public sector net debt was £1.79 trillion in September and equal to 84.3% of GDP after borrowings relating to publicly owned banks such as RBS Group are excluded.
Although still high, the ratio of debt to GDP fell by 2.4% during the last year as the economy grew while government borrowing declined.
After excluding bonds acquired by the Bank of England under its quantitative easing programme, government debt was just £1.6 trillion, or 75.3% of GDP.
"The public finances have continued to improve rapidly this year, enabling the Chancellor to accommodate plans for higher NHS spending without raising other taxes or cutting spending in other departments more aggressively over the next couple of years," Pantheon's Tombs adds.
Government spending on the NHS will rise gradually over the next five years, such that the organisation's annual budget will be £20.5 billion higher by the end of 2023, according to plans set out by Prime Minister Theresa May in 2018.
This will take total healthcare spending up from an OBR-estimated £150.2 billion in the 2018/19 year, to £184.7 billion by the end of 2023, although the impact this has on the broader public finances over the long term is even greater.
Public finances and services have been hot button issues in domestic politics during recent times, but particularly so in the wake of the 2008 financial crisis, which saw government tax revenues fall and public spending increase sharply.
The government policy response was to cut tax rates and to cut spending on public services. It said that was the best way to get the nation's books under control, yet debt has more than doubled as a percentage of GDP since 2008.
Above: ONS graph detailing debt as a portion of GDP on an annual basis.
That policy response, combined with increasing demand on public services, has seen the perceived quality of services deteriorate and public anger increase. This left government wide open to criticism and has seen the public finances frequently deployed as a political football in parliament.
The opposition Labour Party has frequently lambasted the government for its cuts to public spending and continues to advocate increases to budgets in a range of areas, but particularly health and social care. It is yet to put forward a clear plan for mitigating the impact those policies will have on the budget deficit and public debt.
Then-Prime-Minister David Cameron famously claimed, ahead of the June 2016 Brexit referendum, the NHS would be damaged by a vote to leave the European Union. He said there would be less funding available for the NHS because the post-crisis cycle of falling tax receipts and rising welfare payments would renew after a Brexit vote.
Pro-Brexit campaigners notoriously claimed the NHS would be able to benefit from a vote to leave the EU because the U.K.'s estimated-£350 million per week membership fee could be redirected to the NHS budget. The £350 million per week figure was later revealed to have included the UK rebate and other monies returned back to the U.K. by the EU.
Advertisement




Get up to 5% more foreign exchange by using a specialist provider to get closer to the real market rate and avoid the gaping spreads charged by your bank when providing currency. Learn more

here