WS Atkins Acquisition Puts the Pressure on Canadian Dollar, but Losses Against Sterling Should Fade
The Canadian Dollar has had an especially poor weak against Pound Sterling with GBP/CAD up 3.53% over the course of the past trading week.
Such a jump would imply growing momentum in favour of Sterling, but the pressure on CAD may be about to alleviate says Sue Trinh at RBC Capital Markets.
Trinh cites a big-name corporate acquisition as a major driver of the recent surge in GBP/CAD.
Studies reveal this may explain "abnormally high flows," into GBP from CAD, as shown in the chart below.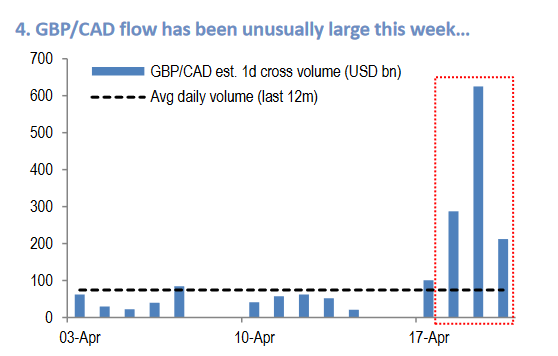 "We can find evidence of disproportionate interest in GBP/CAD," says Trinh. "The size of the jump in GBP/CAD volume points to both poor execution and unusually strong interest to buy GBP/CAD. This coincides with news on Thursday of a Canadian based company's acquisition of a UK based company."
The merger being referred to here is that of the acquisition of British engineering giant WS Atkins by Canada's SNC-Lavalin.
The deal is valued at £2.1BN.
Sterling also rose on election expectations after Prime Minister May announced the June 8 election on Tuesday 18.
However, CAD's darkest hour may have passed as M&A activity is set to abate and risk appetite is on the up.
This should favour commodities and commodity currencies like CAD.
"Risk proxies were supported within tight ranges overnight with stocks and commodity prices firmer," said Trinh.
"Contributing factors were comments from US Treasury Sec Mnuchin that reignited hopes of US tax reforms and some decent corporate earnings results. The Fed's Kaplan also reiterated a 3-hike view as the base case," added the analyst.
A recovery of flailing iron ore and oil prices led the way for the Canadian and Australian Dollars.
As did market speculation that the People's Bank of China (Pboc) may cut their interest rates.
Such a cut would substantially help alleviate the negative credit outlook for China.
Despite CAD looking oversold, the Pound is even more so and with politics taking centre stage as the main mover of currency markets there is a lot of potential upside on the table for Sterling.
It could, for example, gain if Le Pen loses the election or if there are signs the general election in June might lead to a softer Brexit outcome.
The technical outcome also favours more CAD upside at the moment as there is no sign yet of a reversal or significant correction and the short-term trend remains very much bullish.
"GBPCAD gains look impressive on the longer run charts and the GBP's push above the 1.71 area does suggest scope for more, medium-term strength towards 1.75, as we highlighted yesterday," said Scotiabank's Shaun Osborne optimistically.
There are signs the pair may be overstretched in the very short-term as measured by Bollinger bands which are spaced at two standard deviations from the 20-day moving average.
"However, the Bollinger studies do reflect a high degree of stretch in the GBP gains in the short run from a technical point of view," added the strategist.
Osborne then goes on to say that the close outside of the band means there could well be a reversal.
But we don't strictly concur with him – a proper reversal sign requires a price pattern such as a double top or head and shoulders to form after a move outside the bands, not just a daily close.
Nevertheless, we agree with Osborne that losses are likely to be marginal.
"We think any corrective losses are liable to remain shallow and short-lived for the moment, however, as the GBP has generated a lot of technical support by this week's rally and trend strength oscillators are aligned bullish across short, medium and longer term time frames. Look for support around 1.71," said Osborne.
Our own technical studies align quite closely with those of the Scotia analyst.
We too hold a bullish bias with a move above the current highs expected to confirm an extension up to a target at the 2016 highs of 1.7551.
The pair has broken above a key multi-year trendline and now the 50-week MA in a very bullish push higher.
This increases our confidence that it will extend this rally even higher.
A possible double bottom pattern at the lows is a common reversla sign from bear to bull.
Save