Pound Adrift Against Canadian Dollar - Inflation Data is Key Event this Week
The Pound to Canadian Dollar exchange rate has been moving roughly sideways since it peaked in mid-March.
It pulled back in a three-wave correction, also known as an 'abc correction' and found support on the trendline drawn from the Brexit October lows, before rebounding higher.
It is now trading at 1.6702 in the centre of the new range.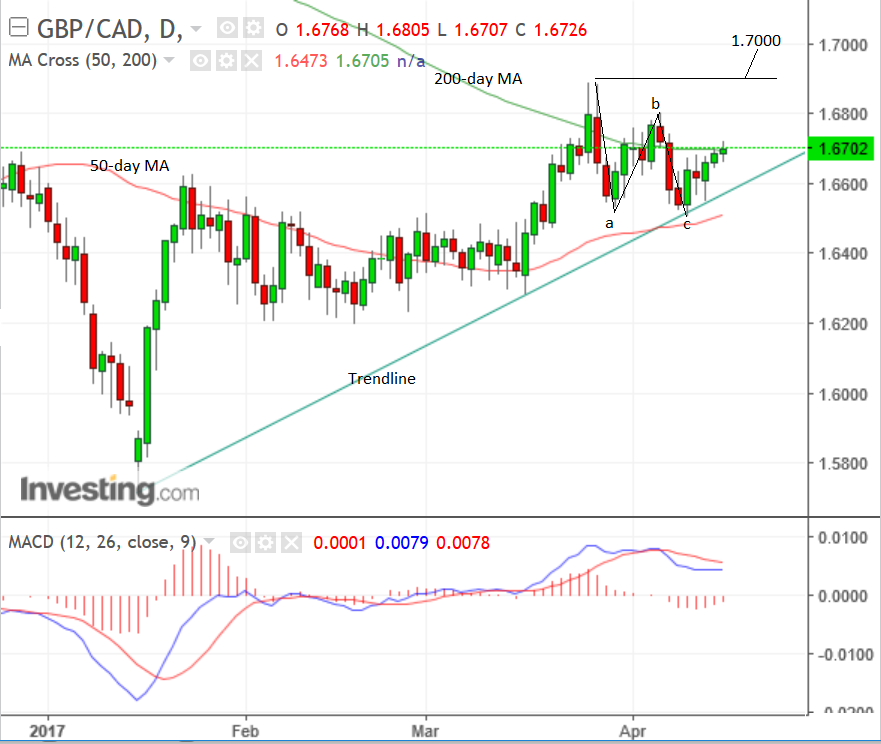 For a continuation higher, we would want to see a break above the mid-March highs at 1.6893, which would lead to a continuation up to a target at 1.7000.
For a break lower, we would want to witness a move below the 1.6509 lows, which would probably lead to a self-off initially to a target at 1.6400.
The outlook is therefore quite mixed at this stage and it is hard to have a conviction view on direction in such a market.
Hopefully moves in coming days will set up a more convincing technical picture.
Canadian Dollar Fundamental Outlook Dominated by Inflation Data Release
The Canadian Dollar is rising due to the solid endorsement of the economy received from the Bank of Canada (BOC), which earlier this month raised its growth forecasts substantially to 2.6% from 2.1%., for 2017.
Concerning the outlook, the week kicks off with Foreign Securities Purchases at 13.30 on Tuesday, April 18. This data measures the outflow of CAD to buy foreign assets, which can be an influential factor in determining the exchange rate.
The CAD would be left exposed if it is shown more money is flowing out of the country than is coming in.
However, the big release for CAD is CPI inflation data, which is released at 13.30 B.S.T on Friday, April 21, and is forecast to show a rise of 0.4% in March, from 0.2% previously.
RBC Capital Markets are looking for a print of 0.6%m/m (prior 0.2%), largely predicated on seasonal price increases for clothing, motor vehicles and travel services.
RBC's call for the y/y rate to remain unchanged from February at 2.0% reinforces the seasonal nature of the monthly figures.
"With the BoC shifting to a "decidedly neutral" stance at its rate meeting and MPR on April 12, there should be increased attention on the evolution of its three new core measures, which averaged 1.6% in February and have been trending lower," says Sue Trinh at RBC Capital Markets in Hong Kong.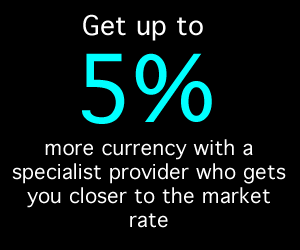 Retail Sales Data Ahead the Pound
The main data release for the Pound this week will be March Retail Sales, on Friday, April 21 at 9.30 B.S.T.
Expectations are not optimistic about the result due to recent disappointing Retail Sales data from the British Retail Consortium (BRC) which cover the same period.
Analysts forecast headline sales to fall -0.2% compared to the previous month but to rise by 3.6% from the previous year.
Core retail sales expected to fall -0.3% from February and rise 4.0% year-on-year.
"U.K. retail sales are scheduled for release in the week ahead and while the uptick in wages points to a potential upside surprise, the British Retail Consortium reported weaker spending and after last month's healthy rise, a pullback is expected. There's significant resistance for GBP/USD between 1.25 and 1.2630," says Kathy Lien, managing director of BK Asset Management.
Weakness in the headline GBP/USD rate could therefore weigh on the GBP/CAD too.