The British Pound to Canadian Dollar: Bank of Canada Could Cut Rates in 2017, Say Capital Economics
GBP/CAD has been trading sideways along the 1.66 level.
We are cautiously bearish seeing the pair as vulnerable to a breakdown as the short-term trend is now arguably bearish.
The MACD indicator is below the zero-line, indicating that the exchange rate is in a downtrend.
A break below 1.6300 would confirm more downside to a target at 1.6200.
Scotiabank's Shaun Osborne is also bearish GBP/CAD.
"GBPCAD remains soft but is stable above 1.65 support. Overall, it is hard to conclude that GBP risks lie anywhere other than lower at this point," says the analyst in his most recent note.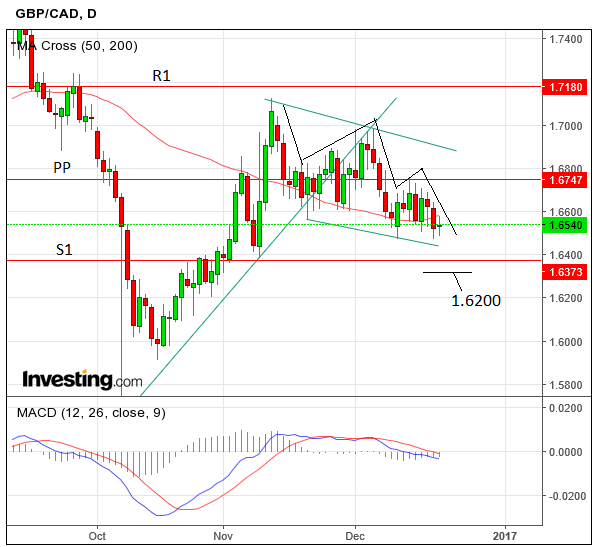 UK GDP Data Boosts Sterling
The Pound rebounded on the morning of Friday, December 23, after UK Q3 GDP was revised up to 0.6% quarter-on-quarter from 0.5% previously.
The year-on-year result was revised down to 2.2% from 2.3% previously, but this did not prevent Sterling from appreciating due to the higher quarterly result.
The data reinforces the UK economy's remarkable resilience in the face of the uncertainties posed by Brexit.
Canadian Inflation Data Below Par
The Canadian Dollar (Loonie) shrugged off lower-than-expected inflation data on Thursday 22, which showed headline CPI at -0.4% in November month-on-month versus the -0.2% expected, Core CPI at -0.5% versus the -0.1% forecast.
The fall in inflation may lead to a revision in policy expectations from the Bank of Canada.
Currently the Bank is not expected to change rates in 2017, however, this may change in since the release of lower inflation data.
Higher-than-expected Retail Sales for October may have supported the Loonie after the inflation data release.
Core Retail Sales were predicted to show a rise of 0.7% in October but in actuality, it easily beat the estimate by coming out at 1.4% month-on-month.
Capital Economics Expect Rate Cut from BOC
In contrast to most analysts, advisory service Capital Economics expect the Bank of Canada to cut its interest rates in H1 of 2017.
If the market comes to the same conclusion this could be negative for the Loonie prior to the event, and therefore positive for GBP/CAD (as the pair is priced in pounds and pence).
Alternatively, it could lead to a shock devaluation after the announcement.
"The underlying momentum in the economy remains sluggish and circumstances are not likely to improve next year, mainly because of a worsening downturn in housing investment.
"We expect GDP growth to be only 1.2% in 2017, barely changed from an already muted 1.3% in 2016.
"Core inflation will soften and, in contrast to the consensus, we expect the Bank of Canada to cut interest rates in the first half of next year to only 0.25%," said Capital.
Save