Canadian Dollar Shifts into Forward Gear Against the Pound and we Forecast More Gains Ahead
The Pound to Canadian Dollar exchange rate (GBP/CAD) is breaking out from a wedge pattern which has been forming during July, and looks set to penetrate lower as the outlook for Sterling turns notably more negative.
One of the worst performing currencies pairs on Thursday the 4th of August was the GBP/CAD rate.
The pair took a beating, with declines approaching 2%, in the wake of the Bank of England's announcement that it would cut interest rates and increase asset purchases in response to the Brexit vote.
The commodity currency complex - this includes the CAD, NZD and AUD - were outperformers as their interest rate yield advantage over the GBP increased.
The UK now offers a basic yield of 0.25%, compared to the 0.5% offered in Canada. A small difference, but a yield advantage nevertheless that could prompt flows from Sterling into Canadian Dollars.
The scale of the losses bode negative.
"Heavy losses today so far are more in line with our underlying view here that recent price action in the GBP represents a consolidation of the heavy losses seen through June ahead of another push lower," says Scotiabank's Shaun Osborne in a post-event analysis of GBP/CAD.
Osborne sees the formation of a wedge pattern advocating for significant downside potential:
"The broader pattern of trade since the early July low reflects a bear wedge pattern; the break under the base today at 1.7296 suggests the broader bear trend is getting back on track. We target support now at 1.67 and suspect that the longer - term decline in the GBP could extend to the 1.50/1.60 area." Added Osborne.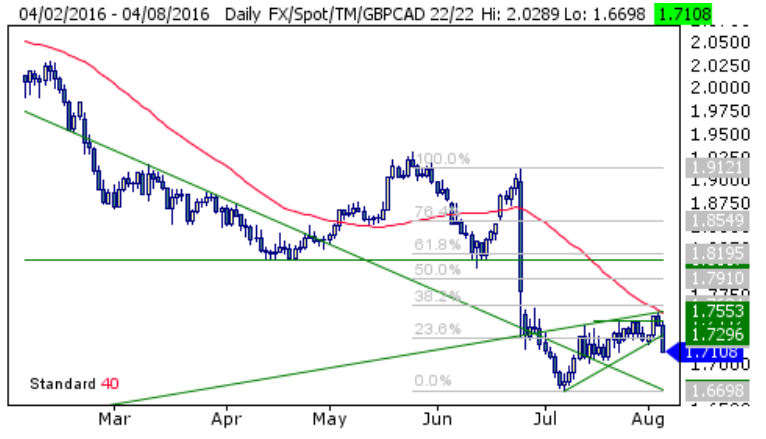 We also see a breakdown out of wedge or triangle pattern, as shown on the four-hour chart below, however, we are more cautious in our downside estimates, looking for a move below the 1.7087 lows as providing a signal for more downside to 1.7000.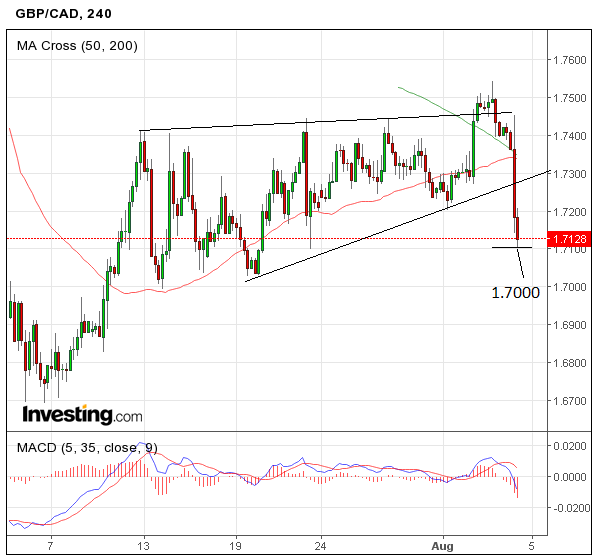 The Canadian dollar has more bullish fundamental drivers than bearish, thus we expect it to strengthen overall, especially versus a currency with a weak outlook like sterling.
One supporting factor is the continued high demand for Canadian bonds in an environment where most mainstream sovereign bonds yield less than zero percent per annum, which led to a surplus of 10bn in capital portfolio inflows in May, and probably increased in June and July due to the impact of Brexit on pushing down mainstream yields even lower.
Another factor in favour of the Canadian dollar (loonie) are the generally still quite bullish forecasts for oil, which include $62 a barrel by the end of 2016 from Bank of America Merrill Lynch and most other forecasts above 50.
Currently Oil has fallen to 40 dollars a barrel as the usual increased demand in the summer as people use their cars more for holidays and day trips has failed to suck up as much supply as expected.
However, this is considered just a correction and is expected to soon pass and see oil climb back up to 50 or so a barrel at least, which would be positive for CAD as it remains highly correlated to the commodity.
Latest Pound / Canadian Dollar Exchange Rates
* Bank rates according to latest IMTI data.
** RationalFX dealing desk quotation.
A further positive for the loonie is that the government has a fiscal stimulus agenda which means the Bank of Canada is not expected to have to lower interest rates any lower as previously expected in order to meet the stimulus needs of the economy - instead the job will be done by infrastructure spending and investment.
The Pound in contrast has few positives in its horizon as there is still much uncertainty about what trade agreement the UK makes with the EU, and it could take years of negotiation before a clearer alternative is at hand.
There is also concern as to how much Brexit has impacted on the economy, however, with only survey data in the form of July PMIs to go by it is a little too early to know what the eventual cost will be. The fact that markets have recovered so quickly, however, is a positive point, since markets tend to precede fundamentals, so with markets springing back relatively well, its possible downside risks may have been overegged.
Nevertheless we expect sterling to be under pressure in the short-medium term until the 'fog clears'.