Buy Canadian Dollar, Sell the Pound say TD Securities Strategists
- Sell GBP/CAD says TD Securities
- "Noisy tone" on Brexit to weigh
- GBP/CAD forecast to go below 1.67
Image © Bank of Canada
GBP/CAD spot rate at time of update: 1.7096
Bank transfer rates (indicative guide): 1.6500-1.6618
Transfer specialist rates (indicative guide): 1.6712-1.6943
Information on why specialist providers offer better rates, here.
Foreign exchange strategists at TD Securities - the investment banking arm of Canadian lender TD Bank - have recommended selling GBP/CAD in anticipation of Brexit-related concerns driving the pair lower, echoing a similar strategy initiated by Wall Street giant JP Morgan.
"The risk of a No-Deal outcome by the end of the year remains a possibility and the latest developments are certainly not very helpful in that regard," says Ned Rumpeltin, European Head of FX Strategy at TD Securities in London.
The Pound-to-Canadian Dollar exchange rate looks set to record its fourth successive delay of declines, with the pair reaching two-month lows at 1.7101 amidst a broad-based sell-off in the Pound.
This week has seen the EU and UK sit down for a 7th round of Brexit trade negotiations, with temperatures rising amongst politicians on both sides of the channel owing to an impasse in talks.
Threats by the UK to break the Withdrawal Agreement that was struck by the EU and UK in 2019 have proved to be a particular flashpoint, with the UK on Wednesday presenting legislation designed to guarantee Northern Ireland's access to UK markets in the event of a 'no deal' outcome to trade talks.
The UK says the legislation is required to overcome ambiguities in the Withdrawal Agreement legislation, but the EU says this would amount to breaking international law and it damages the chances of a free trade deal being struck by October. Markets judge that the chances of a deal have declined since the summer months and this is being expressed via a weaker Pound which was in fact one of the better performing currencies in the world during the July-August period.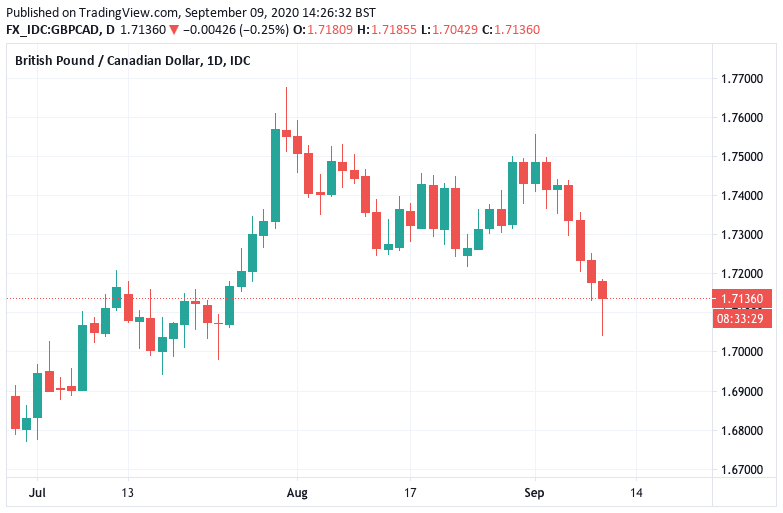 Above: GBP/CAD summer strength unwinds
TD Securities says despite the acrimony the two sides will reach a deal, but this does not mean the Pound will not fall further against the Canadian Dollar in the interim.
"We are looking for this noisy tone to continue. We think both sides will seem to harden their positions and take on more of a brinksmanship stance. Even at this late stage, this remains a rational negotiating strategy — to a point. If nothing else, it plays well to key domestic audiences on both sides of the Channel," says Rumpeltin.
"Still, we think the hardening of positions by both sides is likely to keep sterling on the defensive," adds Rumpeltin.
The UK's economic rebound is meanwhile expected to be questioned now that covid-19 cases are rising sharply once more and the Government has tightened up restrictions on large groups meeting.
Should the case load grow and further restrictions be introduced it might be the case that sentiment towards the UK economy sours, providing further downside for the Pound.
"With new coronavirus cases accelerating rapidly and running at their fastest pace since May, we think sentiment toward GBP will remain fragile," says Rumpletin.
Based on assumptions for further weakness in Sterling, TD Securities have recommended a tactical trade to sell GBP/CAD at 1.7191, with a target located just below 1.67.
The TD Securities trade echoes a similar call made by J.P. Morgan who forecast a further decline in GBP/CAD this September.
"We remain negative on capital importers with very negative real yields (GBP and NZD), especially GBP which seems to have relegated Brexit to a mere curiosity. But a no deal would be no joke, and remains a worrying high probability," says Paul Meggyessi, head of FX research at J.P. Morgan. "We tactically sell a basket of EUR & GBP versus CAD, to capture nearterm risks (ECB, COVID-19) and structural concerns (Brexit, fiscal cliff) while CAD screens as a buy in our growth framework and is relatively underweight."
J.P. Morgan forecasts the Pound will fall to 1.29 against the U.S. Dollar by month-end and that USD/CAD will hold around 1.31, implying a GBP/CAD decline to 1.69 that would leave the British unit at three-month lows. The bank also forecasts a recovery to 1.75 by year-end.
"Deadlines of late October [are] growing uncomfortably close. The UK is also staring down the prospects of a fiscal cliff with the expiration of its furlough program, which at the least will provide some headwind to the UK's already-belated recovery," Meggyessi says. "The fact remains that even a bare-bones trade deal could prove significant and damaging to the economy in early 2021, which should warrant a currency adjustment."
---
Achieve 3-5% More Currency: The Global Reach Best Exchange Rate Guarantee maximises your currency purchasing power. Find out more.
Brexit Helpline: Free one-on-one financial, currency, pension and legal guidance and preparations for 2021.
Find out more

Invest in Spanish Property. A selection of discounted properties due to the covid-19 crisis, online viewings and transactions possible. Download the guide. Download the Guide
Featured Content
Mortgage Direct - a Spanish mortgage broker specialising in the provision of mortgages for expats - have confirmed they have secured their Spanish license.