Canadian Dollar Steams Higher vs. Pound and U.S. Dollar Despite Jobs Disappointment
- Labour Force Survey disappoints
- But CAD jumps as investor sentiment turns bullish
- "the going is getting tougher" for ecnomy says CIBC
Image © Adobe Stock
GBP/CAD spot rate at time of publication: 1.7324
Bank transfer rates (indicative guide): 1.6718-1.6839
FX specialist rates (indicative guide): 1.6930-1.7170
More information on bank beating rates here
The Canadian Dollar outperformed the Pound, U.S. Dollar, Euro and a host of other major currencies ahead of the weekend as markets overlooked domestic jobs market data that came in worse than expected and instead continued to focus on a recovery in global equity markets.
Canada created 245.8K jobs in August according to Statistics Canada, which is less than the 275.0K markets were looking for and less than the 418.5K jobs added in July.
The Unemployment Rate stood at 10.2% in August, which will disappoint markets which were expecting a figure of 10.1% to be released. Nevertheless, this is an improvement on July's 10.9%.
However, global stock markets went higher as investors took positives out of the U.S. employment report which came out alongside the Canadian report and this appears to be where foreign exchange markets are focussing on at present.
The Pound-to-Canadian Dollar exchange rate went 0.60% lower to trade at 1.7316 while the U.S. Dollar-to-Canadian Dollar exchange rate went 0.30% lower to trade at 1.31. The Euro-to-Canadian Dollar exchange rate traded half a percent lower at 1.5471.
The Canadian Dollar tends to outperform the likes of Sterling, euro and US Dollar when stock markets are rising as it has a higher 'beta' than this group of peers (a beta is best described as a positive correlation to the S&P 500).
However, the outlook for the Canadian Dollar will undoubtedly have been complicated by the jobs numbers which will keep the door to further monetary easing at the Bank of Canada open.
"The labour market recovery continued in August, but the going is getting tougher," says Andrew Grantham at CIBC Capital Markets. "There's no mistaking that the overall jobs count is still 1.1 million below it's February level. And with provincial reopening plans having largely gone as far as they will go before a vaccine is available, we will be entering a new phase of the recovery where the path higher for employment is slower and potentially uneven.
There were nevertheless some positives for CAD bulls to take home, with the participation rate rising back to 64.6%, which puts it within 1.0% of the levels seen prior to the covid-19 crunch.
CIBC Markets also note there was a greater leaning in towards full-time job gains than part time ones in August (206K vs 40K).
Economists at RBC are however not surprised by the slowdown in the jobs improvement, saying in a note to clients this was to be expected with the initial recovery-boost from easing virus containment measures in the spring fading through the summer.
Furthermore, the details of the August employment gain were a little better than the headline employment numbers says Nathan Janzen, Senior Economist at RBC Economics who notes full-time positions accounted for 84% of the headline jobs gain after an increase heavily weighted to part-time work the prior month.
"To be clear, labour markets are still very weak. Employment is still down more than a million from February," says Janzen. "But conditions continue to improve, even if at a more gradual pace."
Protect Your International payments Budget
Lock in today's rate for future use
Secure today's rate for use in coming months, thereby protecting your international payments budget
Book an ideal rate or set a floor automatically
Learn how to automatically book your ideal exchange rate, or your bare-minimum rate to protect your budget.
---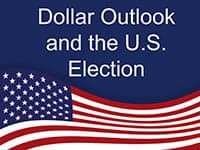 Goldman Sachs, UBS, Credit Suisse, JP Morgan give their views on the Dollar on a 'Blue Wave' outcome.
Featured Content
Mortgage Direct - a Spanish mortgage broker specialising in the provision of mortgages for expats - have confirmed they have secured their Spanish license.