Canadian Dollar Troubled as USD/CAD and GBP/CAD Rally after GDP Surprise Overlooked by Market
Image © Adobe Images
GBP/CAD spot rate at time of writing: 1.7338
Bank transfer rate (indicative guide): 1.6729-1.6851
FX specialist providers (indicative guide): 1.7076-1.7180
More information on FX specialist rates here
The Canadian Dollar was caught on the hop by a tentative rebound in the U.S. Dollar Friday even after Statistics Canada unveiled June growth figures that surpassed market expectations before forecasting a strong July performance too, although this didn't prevent the Loonie from turning lower.
Canada's economy grew 6.5% in June following a 4.5% increase in May, when the consensus was for only a 5.2% increase last month. Nonetheless, and for the quarter overall the economy suffered a historic decline of -11.5% that rises to -38.7% when expressed as an annualised percentage.
"Shutdowns of non-essential businesses, restrictions of travel and tourism, and border closures were exacerbated by sharp quarterly declines in major trading partners' economies, such as the United States (-9.1%), the United Kingdom (-20.4%), France (-13.8%), Italy (-12.4%) and Japan (-7.8%)," Stat Can says.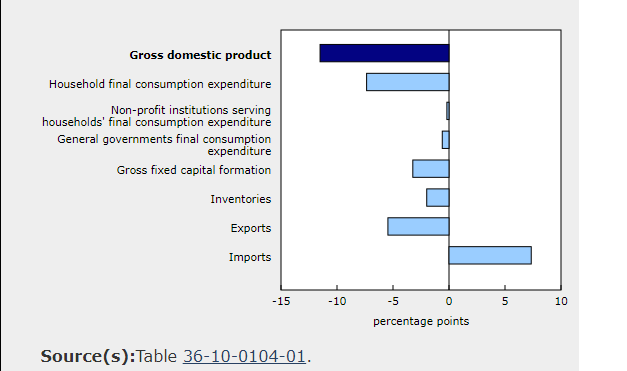 Above: Contributions to Canadian second-quarter GDP contraction.
The fall reflected sharp decreases in household spending, business investment, and international trade, Statistics Canada says, following government mandated closure of supposedly non-essential businesses in response to the coronavirus that's thought to have escaped Chinese borders between January and February.
Statistics Canada preliminarily estimated that July GDP growth was 3%, with manufacturing, healthcare, wholesale trade, construction, accommodation and food industries as well as social assistance all contributing.
"To be sure, the recovery from the pullback in the first half of this year will not be quick, even with an early bounce-back that looks stronger than feared," says Nathan Janzen, a senior economist at RBC Capital Markets. "Labour markets are still exceptionally soft, and it will take time to reconnect workers with jobs. Activity in the oil & gas sector is still very depressed, and possible resurgence of virus spread will remain a risk until and unless an effective vaccine can be distributed. We continue to expect the economy to operate well-below capacity into next year, but perhaps not quite as far below capacity as previously feared."
Above: USD/CAD rate shown at 15-minute intervals.
Canada's contraction surpassed even that seen in the U.S. and UK, two countries thought to have suffered comparatively greater damage. U.S. GDP declined -31.7% in the second quarter while the UK economy contracted -21.7% when the quarter was compared with the same period one year ago.
The UK's June GDP rebound was also stronger too, at 8.7%, although it's not clear whether this helped the Pound-to-Canadian Dollar rate on Friday.
GBP/CAD initially turned lower after the release, falling from 1.7390 to 1.7350, before reversing losses and subsequently rising above 1.74.
Sterling is a good candidate for short-sellers according to CIBC Capital Markets strategists, who're waiting for better levels from which they can sell GBP/CAD. The bank forecasts a year-end finish of 1.69 for the Pound.
Above: Pound-to-Canadian Dollar rate shown at daily intervals.
"UK data has outperformed and has driven the economic surprise index higher since July. Of course, this is the result of low market expectations rather than real outperformance, as the UK has lagged most G10 counterparts during the pandemic," says Bipan Rai, CIBC's North American head of FX strategy. "Weakness in domestic fundamentals will be made worse by Brexit risks, especially as we approach the end of the transition period."
Friday's Pound-to-Canadian Dollar rate recovery may have been helped by a bounce in USD/CAD, which turned higher upon the GDP release after having fallen sharply earlier in the session as well as week.
The Canadian Dollar reached its highest level since January against the greenback this week when USD/CAD fell to 1.3046 and CAD/USD rose to 0.7665, but the Loonie was in retreat from that peak ahead of the weekend amid a tentative rebound by the U.S. Dollar.
The greenback had previously received a drubbing on Friday.
Above: USD/CAD rate shown at daily intervals with Fibonacci retracements of 202 uptrend.
The U.S. Dollar drubbing came after Federal Reserve (Fed) said Thursday that it will deliberately seek to foster above-target inflation pressures and that interest rates will still remain pinned to the floor as these materialise, implying further falls in 'real' or inflation-adjusted returns for investors.
Strategists at Canada's Scotiabank say USD/CAD could soon fall to 1.30 and below, however, which is a sentiment that's been echoed by other firms across the industry as the U.S. Dollar outlook deteriorates at a rate of knots.
"The CAD is a relative under-performer on the session—what's new, you ask?—but is still heading for its strongest weekly close against the USD since January, reflecting broader USD weakness," says Shaun Osborne, Scotiabank's chief FX strategist. "USDCAD's break under the short-term range low at 1.3130 leaves the door open for the broader USD decline to extend towards 1.2950/1.30—effectively fully retracing the USD gains from early this year. However, intraday price action is turning a little less USD-bearish as our session picks up speed, with the USD edging a little off the intraday low and the hourly charts hinting at a minor bull reversal. Given the strength of the underlying trend lower, however, we expect firm USD resistance to emerge in the low 1.31 zone."