Avoid Canadian Dollar ahead of this week's BoC Decision say Analysts
Image © Pavel Ignatov, Adobe Stock
- CAD retreats in new week as market eyes BoC rate decision.
- Analysts avoid CAD amid worries about a BoC shift to "neutral".
- CIBC says buy USDCAD dips and sell the Loonie "on the crosses".
The Canadian Dollar started what promises to be an important week in the red, with analysts warning the currency is at risk over coming days as markets eschew the currency ahead of the Bank of Canada's (BoC) March interest rate decision due on Wednesday.
Canada's economic performance has been uninspiring in recent months and, given that momentum has ebbed from the economy at the same time as risks to the outlook have built, it shouldn't be difficult for observers to see why the BoC has adopted a more cautious tone of late.
A general election is due later in 2019, the new trade deal replacing the North American Free Trade Agreement has still not been ratified in the U.S., and a diplomatic feud with China over the arrest of Huawei executive Meng Wanzhou is now threating Canadian relations with the world's second largest economy.
"Put Huawei with Friday's GDP and do you want to be long CAD?" asks Michael Emery, a strategist at Rabobank, in a note to clients Monday. "The Huawei issue still signals serious US-China and Chinese-Canadian tensions, and markets should focus on that rather than the noise of the nth iteration of a Panglossian WSJ trade article."
Markets will be wary of the example of Australia: China has already reportedly banned imports of Australia's high-grade coal in a move which local journalists have claimed may be in retaliation for the government having blocked Huawei, and China more generally, from providing equipment and services to the nation's 5G network.
If the allegations about the coal ban are correct then there's a non-negligible risk that Canada could face similar treatment if its extradition of Wanzhou to the U.S. goes ahead. China will after all, need to cut back imports from some other countries if it is to reduce its bilateral trade deficit with the U.S. by buying more American goods.
This means there are plenty of risks to keep the Bank of Canada and investors up at night during the months ahead. And Wednesday's interest rate decision and statement will provide the BoC with enough space to opine on the potential implications these issues might have for policy further down the road.
The Bank of Canada had been a supportive force behind the Canadian Dollar for much of 2017and 2018 as it raised interest rates and hinted at further hikes to come. A currency tends to rise when its central bank is in hiking mode as the promise of higher returns can act as a magnet for capital flows. However, the BoC turned cautious late last year and has since become a burden for the currency.
Another problem for the Canadian Dollar is that pricing in the overnight-index-swap market, where the implied cash rate for October 30, 2019, was 1.78% on Monday, suggests investors still see at least some chance of a BoC rate hike being delivered this year. And analysts are increasingly of the view that such bets are foolhardy.
Above: Pound-to-Canadian-Dollar rate shown at daily intervals.
"The GDP figures do raise valid questions over the Bank's ability to tighten further, and as such we see a material risk that the Bank pivots to a purely neutral policy stance. We are therefore biased towards long positions in CAD front-end rates ahead of the release," says Andrew Kelvin, a rates strategist at TD Securities.
Kelvin and the TD Securities team are betting that Canadian government bond prices rise and yields, which is the interest return earned by investors who hold the bonds, fall before the BoC decision due at 15:00 London time on Wednesday.
That means the Canadian Dollar could remain heavy until at least after then.
"We think the focus will shift back to the Bank's tone, especially in light of the poor showing of December GDP. It is not clear that a single print will derail the message, especially as the average of the core inflation readings sit around 1.9%. We suspect that the GDP will reverse some of the recent momentum in USDCAD, though we like the risk/reward of fading the rallies into the recent highs near 1.34," says Mark McCormick, head of FX stratetgy at TD.
Wednesday's policy update will come less than a week after official data showed the economy contracting for a second consecutive month in December. The data also showed growth decelerating to its slowest pace since the second quarter of 2016 for the final three months of last year.
The economy shrank by -0.1% in December, repeating the contraction seen back in October, while GDP growth was just 0.1% for the final quarter of 2018. The economy expanded by just 1.8% last year, down from 3% in 2017.
A fall in investment spending, likely connected to international trade tensions through the year and a double-digit bust in oil prices during the fourth quarter, was the main driver of the slowdown. But net exports also weighed on the economy after falling -0.1%.
"The CAD is extending Friday's GDP-driven reversal and pushing to the lower end of its one month range. Domestic concerns are elevated in the aftermath of Friday's Q4 GDP disappointment as market participants look to Wednesday's Bank of Canada policy decision. A hold is widely anticipated and the statement tone will be crucial," says Shaun Osborne, chief FX strategist at Scotiabank.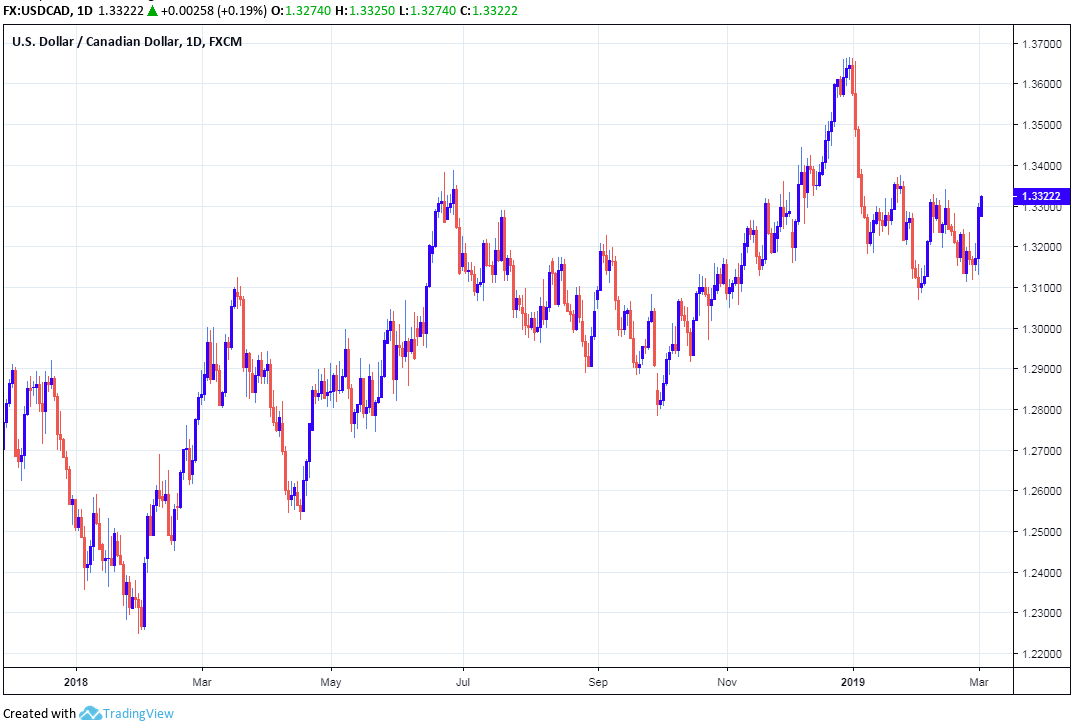 Above: USD/CAD rate shown at daily intervals.
The BoC raised its interest rate to 1.75% in October 2018, its third rate hike for that year, and warned at the time that another year of steady rate hikes was in the cards for 2019. It said the policy rate would eventually top out somewhere between 2.5% and 3.5%.
However, in December the BoC waivered on its earlier commitment and by January it had completed a full u-turn from the earlier pledge to go on hiking in 2019 exactly as it had done last year and in the second-half of 2017. That dealt a crushing blow to the Loonie.
Strategists at CIBC Capital Markets said Monday that it might not be long before investors begin speculating about a possible BoC rate cut being delivered at some time in the year ahead. If they're right, then the Canadian Dollar could suffer greatly during the months ahead.
"Our economics team points out that this week's labour force survey will be important for a market that might be growing more comfortable with pricing in rate cuts. We share that assessment, but there are compelling reasons to go ahead and start shorting the CAD on the crosses ahead of then," says Bipan Rai, a strategist at CIBC.
Investors are already betting the U.S. Federal Reserve will cut its own interest rate before the year is out and it would be unusual for Canadian rates to sit unchanged, or continue climbing higher, at a time when the Fed is cutting.
Markets are also betting that borrowing costs will be cut in Australia and New Zealand at some time over the next 12 months and they've long given up hope of seeing a 2019 interest rate rise from the European Central Bank.
"The decline in investment and consumption may lead to a moderation of the Bank's tone which would put further pressure on the CAD to weaken," Rai says. "We like buying USD/CAD on dips to 1.3260 to target a move to the 1.3600 level for one. Alternatively, if you want a USD neutral strategy, shorting CAD/SEK makes some sense given the growth divergence and the fact that the Riksbank seem prime to hike once or twice more."
Time to move your money? Get 3-5% more currency than your bank would offer by using the services of foreign exchange specialists at RationalFX. A specialist broker can deliver you an exchange rate closer to the real market rate, thereby saving you substantial quantities of currency. Find out more here.

* Advertisement
Featured Content
Mortgage Direct - a Spanish mortgage broker specialising in the provision of mortgages for expats - have confirmed they have secured their Spanish license.