The Australian Dollar Collapses after Reports of Chinese Coal Ban Follow Westpac's Rate Cut Forecasts
© Greg Brave, Adobe Stock
- AUD slumps after reports of Chinese coal ban hit currency.
- And as Westpac forecasts two RBA rate cuts to hit in 2019.
- Overshadowing hopes of an end to U.S.-China trade war.
The Australian Dollar collapsed Thursday after Reuters reported that customs officials managing some Chinese ports are no longer allowing Australian coal into the country and after a leading economist forecast the Reserve Bank of Australia (RBA) will cut its interest rate twice this year.
Reuters reported Thursday that customs at China's northern port of Dalian have banned all imports of Australian coal and that they are imposing a quota on imports from other sources, citing an unnamed Dalian Port Group official.
"Australian iron ore and coking coal is generally better quality than the rest of the world. These high quality inputs allow Chinese steel mills to reduce emissions and increase productivity," says Vivek Dhar, a commodity strategist at Commonwealth Bank of Australia. "The motives still remain unclear, but we suspect that the restrictions will reverse in coming months."
That revelation comes after an earlier report from The Australian suggesting that coal travelling through other Chinese ports is now taking an extended period of time to clear customs. Cankaoxiaoxi, a paper published by China's state-ran Xinhua, said this week the delays are likely political.
Cankaoxiaoxi says the Dalian ban and delays at other ports could be a retaliation against the Australian government's decision to prevent the embattled telecoms firm Huawei from providing equipment for national internet infrastructure. Coal is a significant export earner for Australia.
"This year we could potentially see China's import cap set at a slightly lower level," says Dhar. "While the surge in China's coal imports last month likely played a role, the targeting of coal imports from Australia is peculiar raising concerns that political motives could be at play."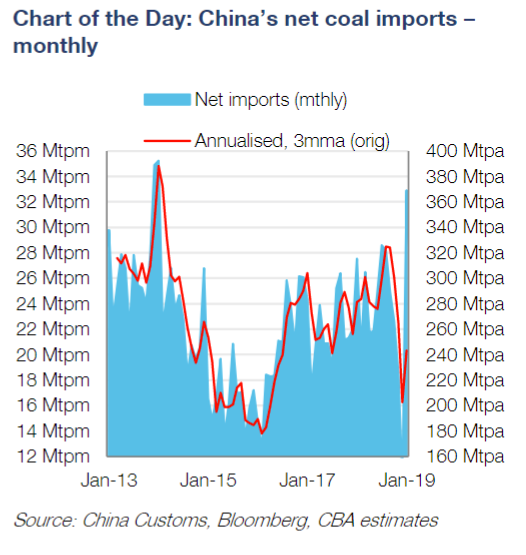 Above: Chinese imports of coal at monthly intervals. Source: Commonwealth Bank.
Chinese imports of coal rose to their highest level for more than four years in January, coming back from a seven-month low, although the country can continue to import coal at high volumes without buying it from Australia.
Australia's currency is substantially underwritten by a mammoth commodity trade with the rest of the world although China is by far and away the most significant buyer of Aussie resource exports. A fall in Chinese demand would hurt prices and shipment volumes, undermining fundamentals of the Aussie .
"Australian coal exports are the country's biggest earner, generating $64bn income," says John Meyer. an analyst at SP Angel. "We suspect the authorities are working off the assumption that China's power generators have sufficient coal stocks to manage without Australian coal for a few weeks / months."
Chinese action against Australian exports come as both economies grapple with the fallout of the U.S.-China trade war, which has hurt growth in the world's second largest economy and dented market appetite for the Aussie Dollar.
The strong bilateral commodity trade flow has given the Australian Dollar a close correlation with the Renmimbi, which saw the Aussie depreciate in line with the Chinese currency as the effect of White House tariffs became clear.
But markets are growing ever more optimistic that a deal to end the trade war between the U.S. and China is in the pipeline as President Donald Trump has continued to express confidence a deal can be struck before the March 01 deadline that will see tariffs on some imports from China more than double to 25% if a deal isn't struck before.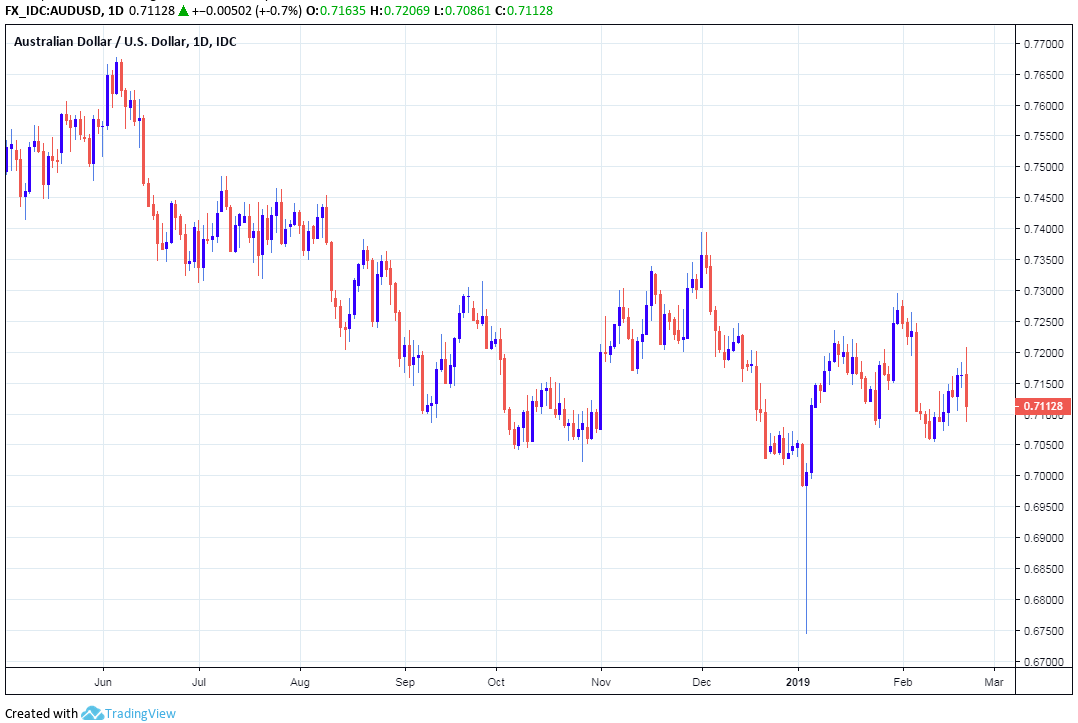 Above: AUD/USD rate shown at daily intervals.
The AUD/USD rate was quoted -0.67% lower at 0.7119 Thursday and is now up just 0.97% for 2019 after chopping back an earlier 2.7% gain last week.
The Pound-to-Australian-Dollar rate was 0.83% higher at 1.8350 and has now risen 1.4% for the year-to-date. The Aussie was lower against all G10 currencies Thursday.
Above: Pound-to-Australian-Dollar rate shown at daily intervals.
"The net impact of these forecast changes is for a further 25bp deterioration in the overnight cash rate differential. That puts downside risks to our current target of USD 0.68 for the AUD in the second half of 2019 particularly if the expected cuts from the Reserve Bank are ineffective," says Bill Evans, chief economist at Westpac.
Reuters' report covering Chinese action against coal imports came hard on the heels of Westpac's decision to change its forecasts for Australian interest rates. The lender now says the Reserve Bank of Australia will cut is cash rate twice inside 2019.
Evans says the RBA's new lower growth forecasts are still too high given the extent to which the economic expansion slowed in Australia last year. Taking GDP growth back up from an annualised pace of 1.5% to around 3% is too much to ask at a time when the Chinese and global economies are slowing.
He also says Australia's slowing GDP growth, faltering housing market and weak consumer spending are likely to persist and will mean the RBA's forecast of a 4.7% 2020 unemployment rate is far too ambitious.
The bank will slowly but surely realise this during the first half of 2019, which will prompt it to cut the cash rate in August and then again in November, taking Australia's main interest rate down to a new record low of 1%.
"Westpac now expects the Reserve Bank to cut the cash rate by 25bps in both August and November this year," Evans says. "Momentum in 2018 slowed dramatically through the year. The annualised growth rate in the first half was 4% whereas in the second half we estimate that the pace slowed to 1.5%."
The Reserve Bank of Australia said in February that a sustained increase in unemployment would be enough to force policymakers into an interest rate cut. The bank also downgraded its growth forecasts and warned about risks posed to Australia by a weak global economy.
This was the same point at which the bank shifted its interest rate stance to neutral. It's official position is the next move in the cash rate could now be either up or down, when before the bank had guided markets to expect the next move would be up.
For these reasons the January's jobs data was watched closely by the market, more so than it normally would be.
"The RBA aren't talking more strongly about cutting rates yet because they still think wages will pick up into a new-normal housing collapse, and because they believe it shows more confidence to do nothing. I repeat: rates down - sooner than you think; and AUD down with it," says Michael Every, a strategist at Rabobank.
Australia's economy created 39.1k new jobs during January, up from a downwardly-revised 16.8k previously, which was far ahead of the consensus for an increase of 15.2k. The unemployment rate was unchanged at 5%, in line with expectations.
The details underlying the data were strong too, with 65.4 k new full-time jobs created during the month, which more than offset a *-26.3k fall in the number of part-time employees during the month.
That's about as favourable as an Aussie jobs report can get, but it wasn't enough for Westpac. It's wasn't enough for investors either because the market is still betting heavily that the RBA will cut rates this year.
The overnight-index-swap-implied cash rate for November 05, 2019 was just 1.23% on Thursday morning. That suggests markets are already prepared for one rate cut this year, but not for a second in November.
If and when the interest rate and currency markets begin to come around to the idea the RBA might cut twice this year, the Australian Dollar find itself taking another leg downward.
Time to move your money? Get 3-5% more currency than your bank would offer by using the services of foreign exchange specialists at RationalFX. A specialist broker can deliver you an exchange rate closer to the real market rate, thereby saving you substantial quantities of currency. Find out more here.

* Advertisement