Pound-to-Canadian Dollar Rate Hits Six-month High, Bank of Canada Policy Key to the Outlook
Image © COSPV, Adobe Stock
- CAD cedes G10 best performer crown to GBP

- Brexit developments drive GBP, CAD traders eye oil price action
- Outlook: BoC could raise interest rates in the 3rd quarter, prompting CAD strength

The Canadian Dollar ceded its crown as the best performing G10 currency of 2019 to Sterling on Thursday after the Pound-to-Canadian-Dollar rate hit a six month high, meaning the British currency has now advanced against all of its major rivals this year.
Bids for Sterling have flooded in due to market hopes the UK's exit from the EU will be delayed, if not abandoned altogether, by parliament over the coming months. This has lifted the Pound to first place in the G10 league table.
"Sterling surged above resistance across the board on what appears a more decisive clearing away of no-deal Brexit risks, with the menu of options seemingly shrinking to either an approval of May's deal (in a vote on March 12), another extension for further negotiation (on March 13), and even rising odds of a second referendum that would allow the UK to change its mind," says John Hardy, chief FX strategist at Saxo Bank.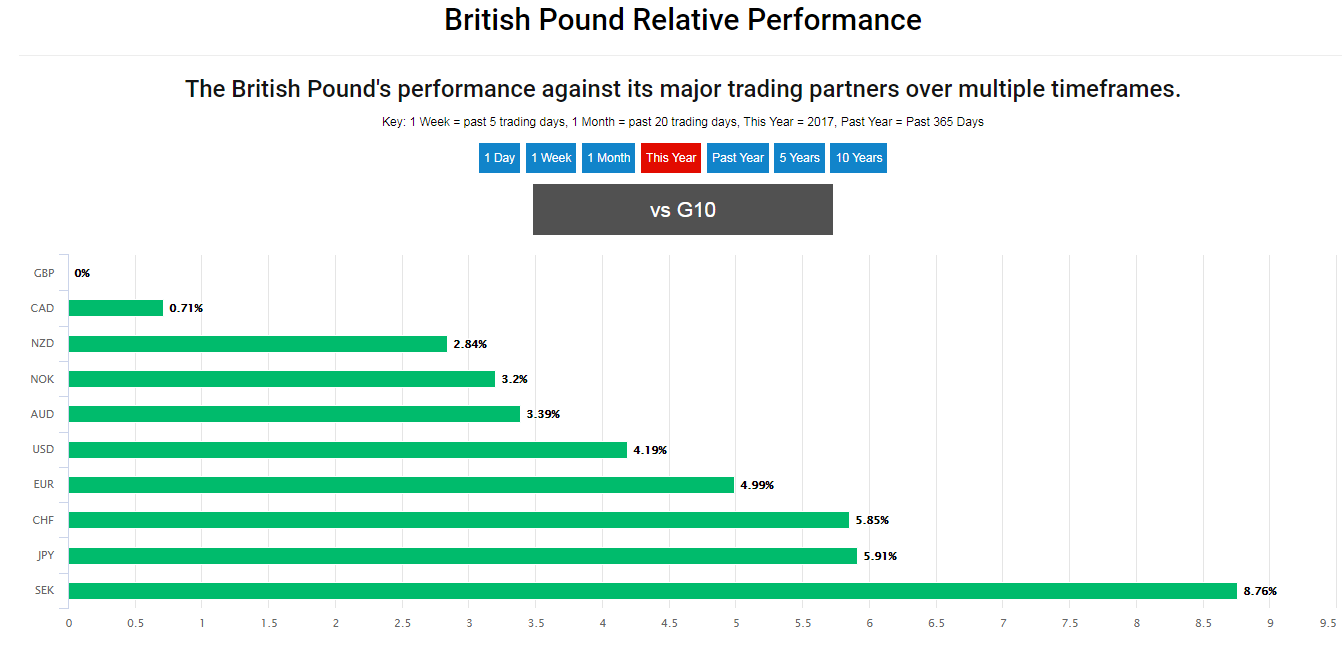 Above: Pound Sterling's performance relative to G10 rivals this year.
With the Pound-to-Canadian-Dollar rate up less than 1% for the year, Canada's Loonie is only one strong performance away from reclaiming its spot at the top of the league table. Likewise, Sterling is only one bad day, and a single political calamity, away from ceding its newfound crown back to the Canadian Dollar.
"An inadvertent "no deal/hard Brexit" is now our base case," says Stephen Gallo, European head of FX strategy at BMO Capital Markets. "Britain faces an appalling trade-off between sovereignty and short-term economic pain."
Prime Minister Theresa May said herself this week that extending the Article 50 negotiating period will not prevent a so-called no deal Brexit, claiming that an extending talks with the EU would simply push the "cliff edge" further down the road. Most MPs are opposed to a no deal Brexit.
They say such a thing would be bad for the economy, although it also happens to represent the cleanest possible break with the EU that the UK could hope to achieve, and there is a strong majority among MPs who have been opposed to Brexit from the outset of the debate.
Brexit developments have come amid a mild downward correction in oil prices, prompted by President Donald Trump's criticism of Organization of Oil Exporting Countries (OPEC) supply management policies, which helped knock the Canadian Dollar off its perch as 2019's top performer.
Above: Pound-to-Canadian-Dollar rate shown at daily intervals.
The Pound-to-Canadian-Dollar was -0.15% lower at 1.7479 Thursday but is up 0.71% for the year-to-date. The USD/CAD rate was quoted 0.12% higher at 1.3161 Thursday but has fallen -3.2% thus far in 2019, denoting a slightly softer U.S. Dollar and a much stronger Canadian Loonie.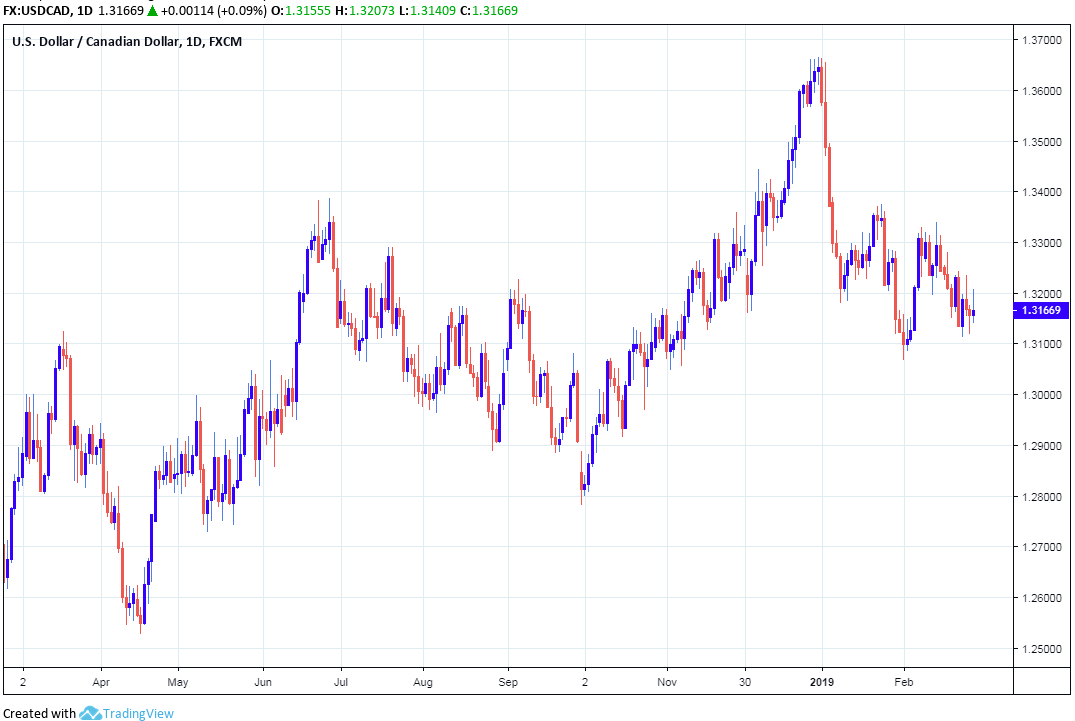 Above: USD/CAD rate shown at daily intervals.
Previously, a recovery of oil during January, which follows on from last year's double digit decline, had driven the Canadian Dollar to the top of the G10 league table, even as the Bank of Canada (BoC) told markets that it will be slower and more cautious before raising its interest rate this year.
Looking ahead, Friday, 01 March, which will see Statistics Canada publish its first estimate of GDP growth for December and the final quarter of 2018.
Markets are watching Canadian economic figures closely, particularly after inflation data showed consumer price pressures remaining elevated at the beginning of the New Year, because a good run of positive numbers could be enough to draw the Bank of Canada back off the sidelines and look to raise interest rates further.
Rising interest rates are a posiive for a currency as they tend to draw in foreign investor capital seeking out superior returns.
"The 'glass half full' view from the Bank of Canada has supported CAD and pushed the cross back to uptrend support. Central bank messaging, however, is unlikely to pivot for some time, leaving less scope for CAD to participate in any further rally in risk in the near term," says Richard Kelly, head of research at TD Securities.
The Bank of Canada said in January it will move more slowly than it did last year, but previously the Bank said rates would rise to between 2.5% and 3.5% by early 2020, leading markets to believe three rate hikes were in the cards for 2019.
The sudden downgrade in expectations by markets following the Bank's communications helps explains why the Canadian Dollar fell so sharply between early December and the middle of January.
Governor Stephen Poloz said last Thursday, in a speech to the Chamber of Commerce of Metropolitan Montreal, Canada's current 1.75% interest rate is still low and providing stimulus to the economy. He also said the path back to the neutral has become "less clear" amid multiple headwinds.
"The Bank of Canada still seems inclined to find an excuse to hike rates, with one final hike possible in Q3 after an oil production recovery shows up in temporarily better GDP prints. That will keep the Canadian dollar better bid, towards a 1.31 low for dollar-Canada this summer," says Avery Shenfeld, chief economist at CIBC Capital Markets.
However, others are more bullish on the outlook.
"The market tone continues to dominate as a critical near-term driver for the CAD however we've also noted a material recovery in CAD/spread correlations, suggesting a renewed focus on the outlook for relative central bank policy. Yield spreads have narrowed in response to the recent fade in Fed expectations and we continue to feel that markets are underpricing the risk of BoC tightening in the second half of 2019," says Shaun Osborne, chief FX strategist at Scotiabank.
Time to move your money? Get 3-5% more currency than your bank would offer by using the services of foreign exchange specialists at RationalFX. A specialist broker can deliver you an exchange rate closer to the real market rate, thereby saving you substantial quantities of currency. Find out more here.

* Advertisement