The Canadian Dollar Leads G10 Pack Even after Growth Data Sidelines the BoC 
Image © Bank of Canada, Reproduced Under CC Licensing
- CAD holds first place in G10s as oil market rebound continues.
- But economy is slowing and BoC is sidelined for the foreseeable.
- Analysts remain divided in their outlooks for Canada's currency.
The Canadian Dollar held onto its place at the top of the G10 league table Thursday even after official data confirmed that the economy slowed sharply into year-end, which led economists to claim the Bank of Canada (BoC) has been sidelined for the foreseeable future.
Canada's economy contracted by -0.1% during November, in line with market expectations but partially reversing a 0.3% increase seen in October. Growth has now fallen in two of the last four months, while other measures of activity have underwhelmed for a while longer.
Statistics Canada observed weakness in wholesale trades, manufacturing, construction and financial services which more than offset gains from 13 out of the 20 economic sectors that it monitors. Goods producing industries saw output fall for the third consecutive month while services output was flat.
"Nothing shocking here after seeing weakness in earlier data for factories, wholesaling and retailing, but consistent with our tracking for GDP for Q4 to be roughly 1%. That leaves the Bank of Canada, like the Fed, decidedly on hold for the next couple of quarters," says Avery Shenfeld, chief economist at CIBC Capital Markets.
Canada's economy has had a series of headwinds to contend with in recent months, including three interest rate hikes announced by the Bank of Canada in 2018 and a bust in the oil market that began in October but has since given way to a recovery in prices.
That nascent recovery of oil prices is what has helped the Canadian Dollar rise to the top of the G10 currency league table for 2019, although there is division among analysts ver how long this will last given the oil price outlook is uncertain and the economy has weakened for other reasons too.
Fears over the impact the U.S.-China trade war might have on global growth also helped dampen the economic outlook in recent months, although a March 01 deadline means a deal to end the tariff fight might not be far off.
The outcome of negotiations between the U.S. and China, other White House trade policies and events in the oil market will all be key to how the Bank of Canada policy outlook evolves during the months ahead. So too will any pledges made by the major parties ahead of this year's election.
"This has us mixed on the CAD; our fair value estimate augurs for topside USDCAD though a dovish Fed/soft USD may see a bounce from GDP disappointed faded. We prefer to seek refuge in topside AUDCAD however," says Mazen Issa, a currency strategist at TD Securities.
Currency markets care about the retail and GDP data because economic growth has a direct bearing on inflation and it is changes in consumer price pressures that central banks are attempting to manipulate when they tinker with interest rates, which are themselves the raison d'être for most swings in exchange rates.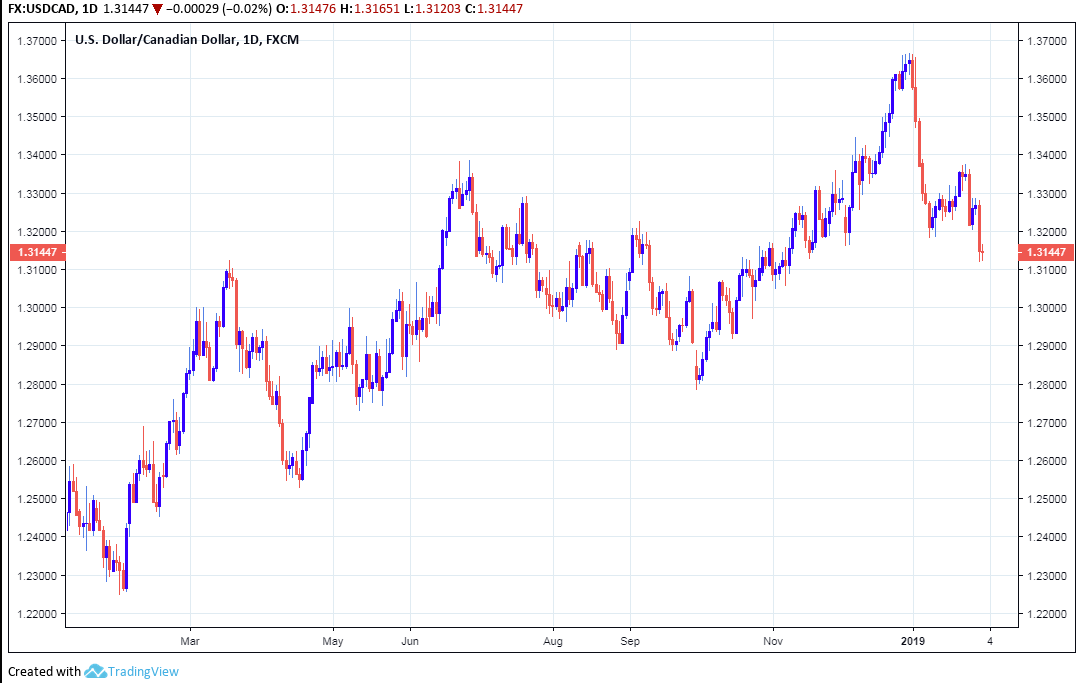 Above: USD/CAD rate shown at daily intervals.
The USD/CAD rate was quoted 0.03% higher at 1.3146 during the noon session Thursday but has now fallen by -3.3%, making the Loonie 2019's biggest winner against the greenback, even if the once-beleaguered Australian Dollar is now closing the gap fast.
The Pound-to-Canadian-Dollar rate was quoted 0.20% higher at 1.7275 but has declined -0.74% after capitulating at 1.7525 earlier this week. Sterling was once the G10's star performer for 2019 but the ongoing Brexit saga has since checked the market's appetite for the British currency.
"Firm oil (and news that Alberta will ease production cuts) alongside a dovish Fed combined to lift the CAD significantly through the close last night," says Shaun Osborne, chief FX strategist at Scotiabank. "We look for more CAD gains from here and good interest to sell USDCAD rallies."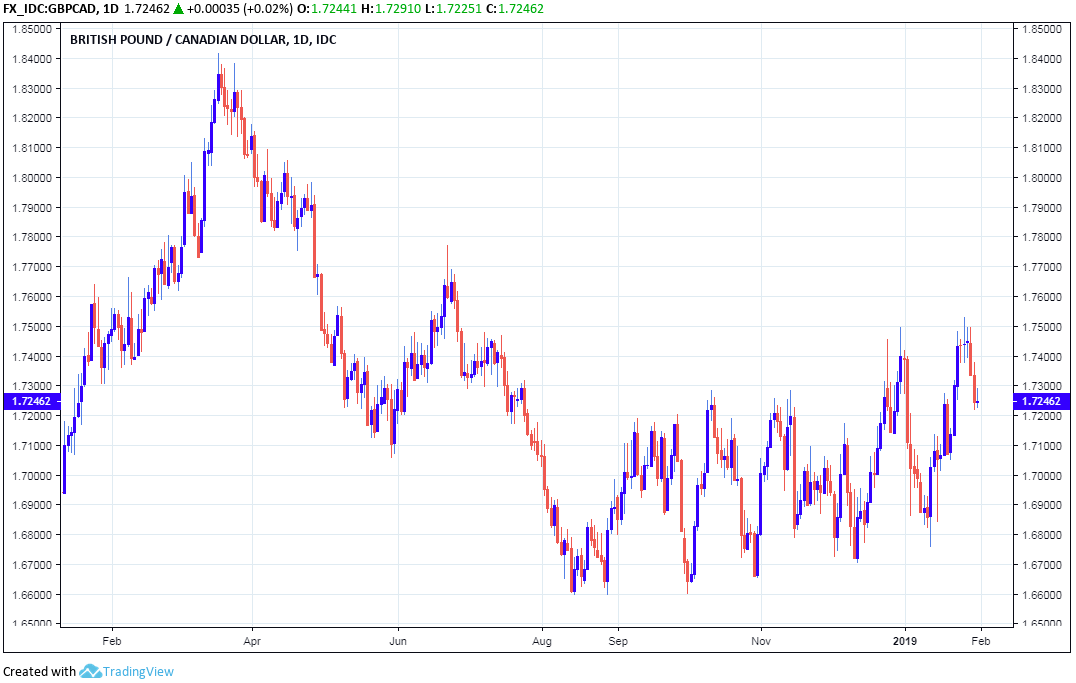 Above: Pound-to-Canadian-Dollar rate shown at daily intervals.
The Bank of Canada said in January it will be more cautious about raising interest rates going forward than earlier guidance had suggested it would. The message was clear: the BoC will move much more slowly than before.
Previously the BoC said rate could rise to between 2.5% and 3.5% by early 2020, which led markets to believe as many as three rate hikes were in the cards for 2019 and also explains why the Canadian Dollar fell so sharply between early December and the middle of January.
Few investors today see the BoC lifting its interest rate again any time soon, with traders in interest rate derivative markets betting heavily the bank will only manage to raise rates once toward the end of 2019.
However, this view is no longer such a burden for the Loonie to carry because other central banks are also taking stock of an evolving economic outlook that is increasingly hostile toward those cheering for further monetary policy tightening.
The Federal Reserve (Fed) and European Central Bank (ECB) have also already abandoned earlier plans to lift their interest rates during the months ahead, tempering investors' appetites for the Euro and U.S. Dollar while leaving the broader currency market in a state of day-to-day flux.
"The potential negative impact of lower oil prices on the Canadian outlook is more benign than assumed by the market. The BoC, which has noted that it might benefit from holding rates steady for now, has also indicated it anticipates data to rebound," says Hans Redeker, head of currency strategy at Morgan Stanley, in a note to clients Wednesday. "With the market pricing in about a 50% probability of a rate hike by year end, we think investors are underprepared for a hawkish shift in BoC rhetoric."

Time to move your money? Get 3-5% more currency than your bank would offer by using the services of foreign exchange specialists at RationalFX. A specialist broker can deliver you an exchange rate closer to the real market rate, thereby saving you substantial quantities of currency. Find out more here.