Canadian Dollar Markets seen Underpricing "Upside Risks"
Image © Pavel Ignatov, Adobe Stock
- CAD to advance further on USD and NZD says Morgan Stanley.
- As market is underestimating scope for BoC interest rate hikes.
- Oil recovery and a strong economy to force BoC into fresh action.
The Canadian Dollar has further to run in its rally against the U.S. Dollar and other currencies, according to strategists at global investment bank Morgan Stanley, because financial markets are significantly underestimating the extent to which the Bank of Canada (BoC) is likely to raise interest rates this year.
A recovery in oil markets is at the heart of Morgan Stanley's idea, given how important prices are for Canada as well as the fact that last year's losses led the BoC to warn markets in December and January that it will stop raising its interest rate until it can be sure of the effect the oil bust will have on the domestic economy.
Oil prices declined -30% in the final quarter of 2018, but WTI crude is now up by 16% for 2019 and Brent has gained 13.4% in response to production cuts from Organization of Oil Exporting Countries (OPEC) and due to an escalating poltical crisis in Venezuela.
"This 'double whammy' weighed on Canadian terms of trade, growth in oil-producing regions like Alberta, and helped to prompt the recent dovish shift in BoC rhetoric. Ultimately, though, we think markets are underpricing the upside risks here, both to Canadian growth and the BoC's rate path," says Hans Redeker, head of FX strategy at Morgan Stanley.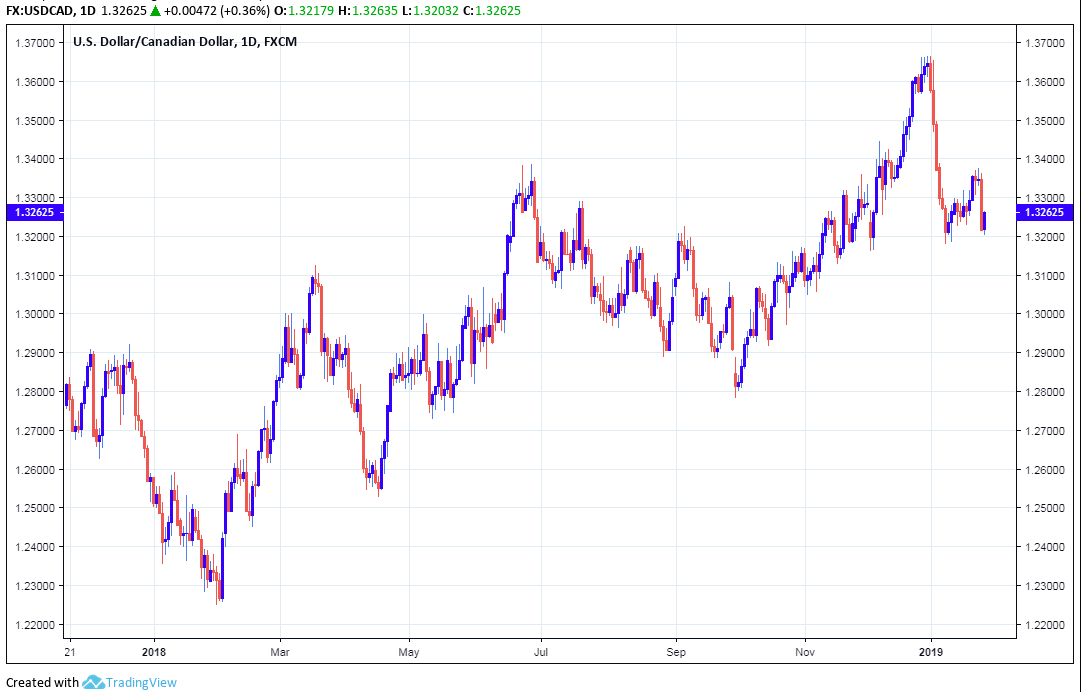 Above: USD/CAD rate shown at daily intervals.
Venezuela's political crisis has led to speculation about a possible loss of output from the OPEC member state disrupting the market over the coming months, which is now supporting global oil prices in their recovery.
This comes at a time when markets are becoming ever more hopeful that negotiators will soon reach a deal to end the so-called trade war between the U.S. and China, which could offer further support to growt-sensitive oil and prices during the months ahead.
But even if the environment for prices turns sour again over the coming weeks, leading the oil rally to stall or partially reverse, the Canadian Dollar might still be left undervalued. This because Morgan Stanley estimates that prices are no longer as important for Canada's economy as was once thought.
Redeker and the Morgan Stanley team say all Canadians will benefit from lower gasoline prices if and when oil comes back down to earth again, while just the 0.6% of Canadians who still work in the energy sector will be adversely impacted by the declines.
"This suggests to us the potential negative impact of lower oil prices on the Canadian outlook is more benign than assumed by the market. The BoC, which has noted that it might benefit from holding rates steady for now, has also indicated it anticipates data to rebound," Redeker says.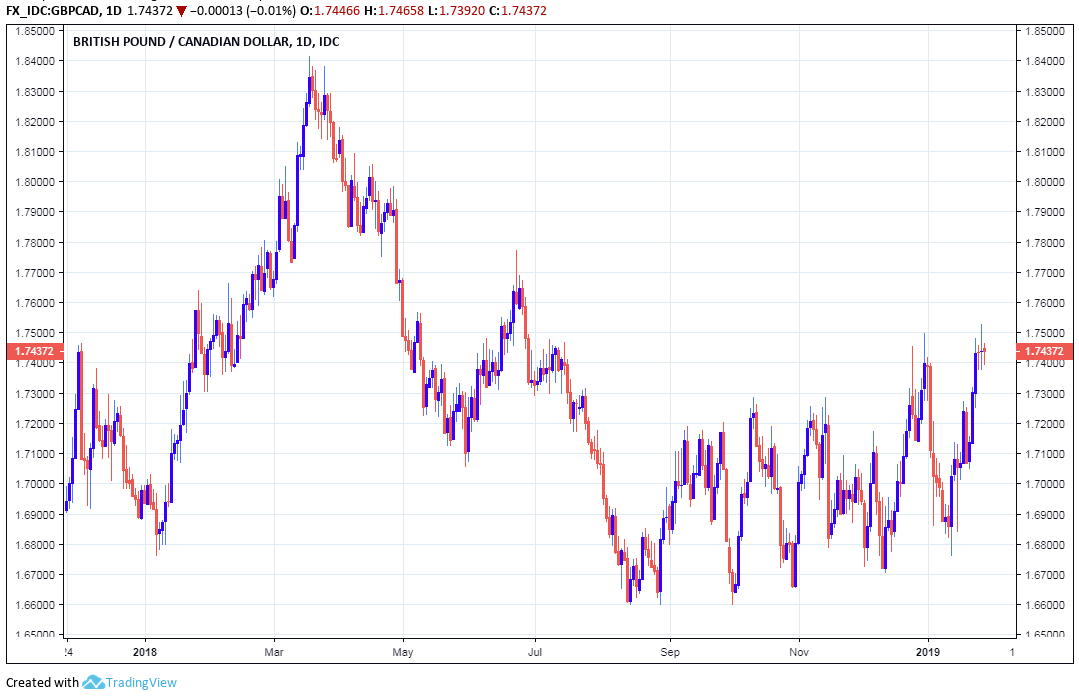 Above: Pound-to-Canadian-Dollar rate shown at daily intervals.
The Bank of Canada said in January it will be more cautious about raising interest rates going forward than earlier guidance had suggested it would. The message was clear: the BoC will move much more slowly than before.
Previously the BoC said rate could rise to between 2.5% and 3.5% by early 2020, which led markets to believe as many as three rate hikes were in the cards for 2019 and also explains why the Canadian Dollar fell so sharply between early December and the middle of January.
Redeker and Morgan Stanley say the underlying strength of the Canadian economy and ongoing recovery in oil prices will mean the Bank of Canada is forced to back-track on January's retreat from earlier interest rate guidance.
"With the market pricing in about a 50% probability of a rate hike by year end, we think investors are underprepared for a hawkish shift in BoC rhetoric. This is particularly true given that the labour market continues to tighten significantly, core inflation remains steady despite falling energy prices, and weak investment spending suggests that capacity constraints will continue to bite," Redeker says.
Redeker has recommended that clients of the bank sell the NZD/CAD rate to take advantage of an anticipated recovery by the Loonie, as well as decline by the New Zealand Dollar. However, he and the Morgan Stanley team are also forecasting the USD/CAD rate will decline to 1.28 this year.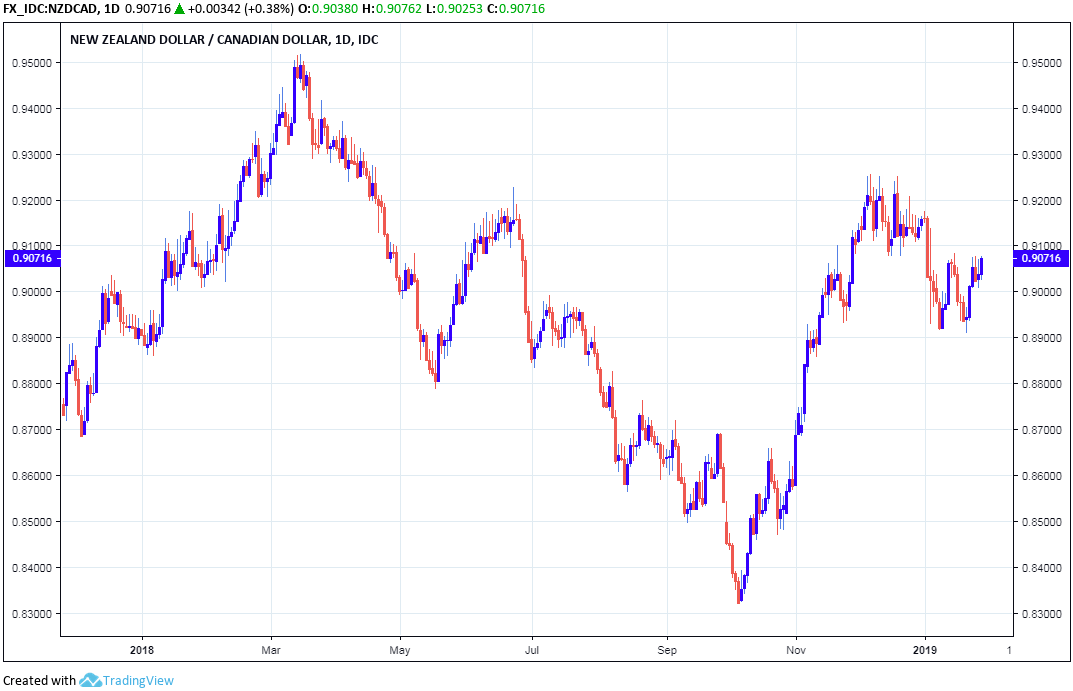 Above: NZD/CAD rate shown at daily intervals.

Time to move your money? Get 3-5% more currency than your bank would offer by using the services of foreign exchange specialists at RationalFX. A specialist broker can deliver you an exchange rate closer to the real market rate, thereby saving you substantial quantities of currency. Find out more here.