Australian Dollar Outlook Darkens Following Weak Q1 Wage Report
- AUD partially reverses overnight losses after weak wage data.
- Wages grow by 0.5% during first-quarter, below expectations.
- AUD to see further pressure as RBA hike pushed firmly into 2019.
© Taras Vyshnya, Adobe Stock
The Australian Dollar edged higher during the morning session Wednesday, partially recovering from an overnight slump, as markets responded to a disappointing first-quarter wages report and its implications for the Aussie interest rate outlook.
Australian wages grew by 0.5% during the first quarter, below the 0.6% consensus estimate, while the annual pace of wage growth remained steady at 2.1%. This was unchanged from the downwardly revised 0.5% growth seen in the final quarter of last year.
"With 2 further WCI prints this year and no sector registering annual wages growth of 3%/yr, the prospect of a year end rate hike is looking less likely. In terms of split Public Sector wages were +2.3%/yr while Private sector wages lagged at +1.9%," says Annette Beacher, chief Asia Pacific macro strategist at TD Securities. "The soft result suggests again the RBA could be left holding the cash rate for longer."
The importance of Wednesday morning's wage data cannot be overstated when it comes to the Australian Dollar and its trajectory over coming weeks because it is persistent weakness in wage growth that has helped keep Aussie inflation beneath the Reserve Bank of Australia target and stymied policymakers from raising interest rates.
Beacher and the TD Securities team had been one of the few solitary voices to still forecast an RBA rate hike in 2018 but have now moved their projection out until 2019.
"There was a bit of an uptick in wages including bonuses from 2.0%yr to 2.6%yr. But before you get excited and hope this a strong indicator that we are about to see a more broader lift in wages, we note that it is a very volatile series and this jump is due to base effects. The three quarter annualised pace is around 2.4%yr," says Justin Smirk, an economist at Westpac.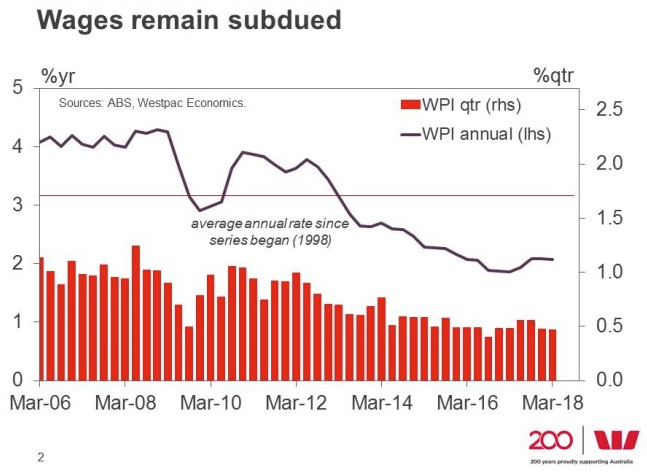 Above: Australian wages. Source: Westpac.
Markets care about wage data because of the influence that rising household incomes can exert over demand within an economy and therefore, on consumer price inflation. And it is inflation that central banks are attempting to manipulate when they tinker with interest rates, which are of course the raison d'être for most moves in currency exchange rates.
After all, changes in interest rates, or hints of them being in the cards, are only made in response to changes in domestic inflation but impact currencies because of the push and pull influence they have on international capital flows and their allure for short-term speculators.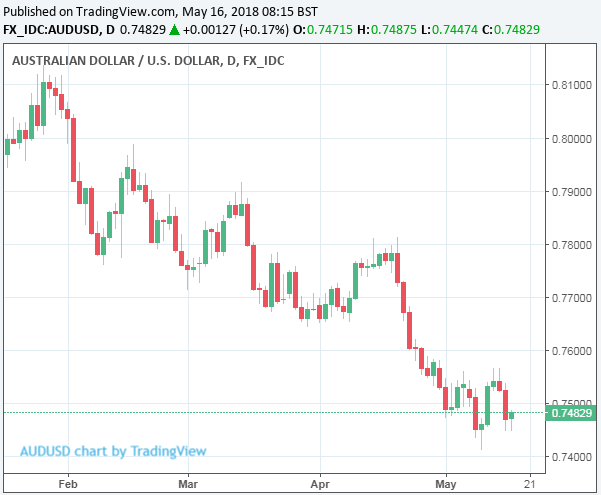 Above: AUD/USD rate shown at daily intervals.
The AUD/USD rate was quoted 0.27% higher at 0.7486 during the morning session Wednesday and the Pound-to-Australian-Dollar rate was 0.28% lower at 1.8026 after both having partly reversed earlier losses. The Aussie was also quoted higher against all other developed world currencies.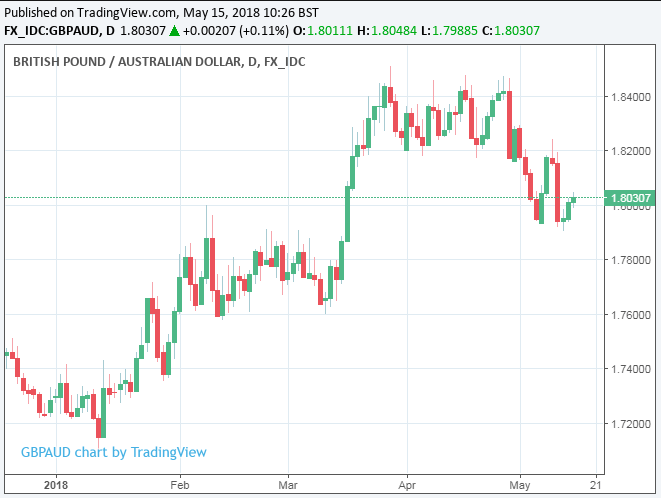 Above: Pound-to-Aussie rate shown at daily intervals.
Australian interest rates have been held at a record low of 1.5% for approaching two years now and, at the time of writing, markets do not expect a change in RBA policy until well into the 2019 year. However, other central banks have long-since begun to raise their interest rates as the global economic recovery from the financial crisis enters its advanced stages.
The Bank of Canada is firmly entrenched in an interest rate hiking cycle while the Bank of England and European Central Bank are also in the process of withdrawing stimulus from their respective economies.
This has been by-far the greatest source of downward pressure on Aussie exchange rates this year, which has suffered as the yield differential between Aussie and other alternative government bonds has moved to disadvantage the Antipodean currency.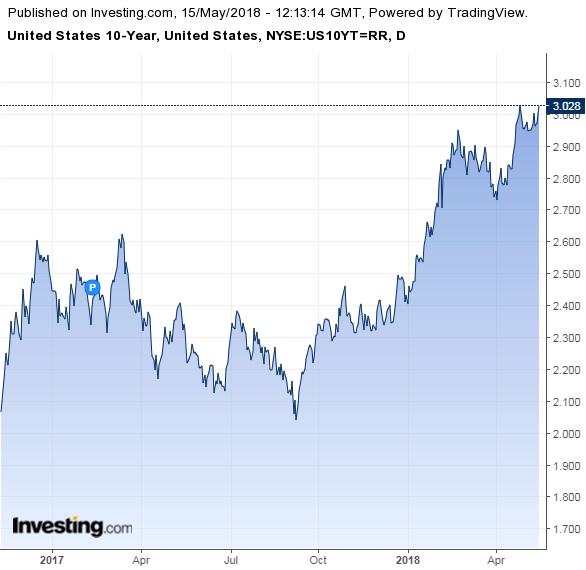 Above: 10 Year US Government Bond Yield.
US treasury yields broke back above 3% Tuesday, further widening the newly opened gulf between them and those of their Aussie counterparts, which means investors are further incentivised to sell Aussie Dollars and buy the greenback in order to invest in the American bond market rather than vice versa.
This is the opposite of how the so called carry trade used to work and has been the primary driver behind the Aussie's 4.4% year-to-date fall in value relative to the US Dollar.
The only thing that will prevent this from continuing during the months ahead is signs of a change in RBA policy being on the horizon. However, in the wake of Wednesday's wage report, it now looks as if markets will have few reasons to bet on a regime change at the RBA anytime soon.
Advertisement




Get up to 5% more foreign exchange by using a specialist provider to get closer to the real market rate and avoid the gaping spreads charged by your bank when providing currency. Learn more

here

.