The Australian Dollar Shifts Trend as Data Suggests "Purple Patch" for Australian Businesses
Adobe Stock
The Australian Dollar retains a robust tone amidst a fresh set of solid domestic economic data and advantageous positioning conditions on global foreign currency markets.
Australian economic data continues to point towards an economy that is in rude health, with the latest set of Business Conditions numbers showing conditions amongst businesses hit a new record level in February
According to February data, the Business Conditions gauge rose to +20.8 from January's 18.5 which compares to a long-run average of only plus two.
Business Confidence pared back a little to 9.2 from January's 10.7.
"The details of the report are encouraging and imply a positive outlook for the economy in 2018," says Daniel Gradwell at ANZ Bank in Sydney. "Businesses appear to be in a purple patch at present, and forward-looking indicators suggest this will continue to translate into a strong labour market."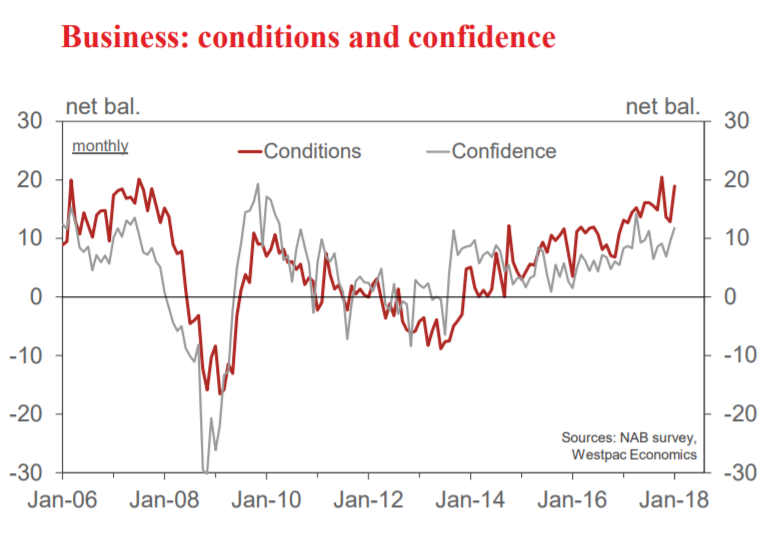 Of particular note was the high confidence in employment conditions, which bodes well for future labour market trends.
The stellar rise has been put down to "An improved global economic backdrop," which is "boosting confidence," according to Aussie bank Westpac.
It follows a poor Q3 in which a slowing housing market was thought to be the cause of a decline in confidence.
Interestingly, last night's data also included Housing Finance which showed a "plateauing" in January after a period of decline.
The positive domestic data appears to be assisting the Aussie Dollar which appears to be in the process of turning a corner against the US Dollar.
We can see an improving outlook for the Aussie Dollar reflected on the charts with the currency looking to be in the process of breaking above a trendline against the US Dollar; something that hints at a change in trend and therefore bodes for further gains.
Not everything is rosy for the currency on the economic front, however, with many analysts pointing out that the Reserve Bank of Australia is unlikely to raise interest rates until they see wages make a more concerted climb.
Recall, it has been Australia's superior interest rate advantage against global rivals that has supported the currency over recent years; with other nations starting raise interest rates that advantage is starting to slip.
Further, Credit Suisse in a recent note reflect "household leverage remains a source of concern" as Australians continue to have some of the highest indebtedness levels in the world.
It's also worth noting commodity prices might keep the currency restrained going forward even if they don't appear to be too much of a headache at the current time.
One reason may be that although iron ore prices have dropped to below the $70/tonne level on oversupply fears, Chinese imports continue to rise as steel works reopen after the winter shutdown, and it may be that the fall in price has been offset by an increase in volume, with no real change to aggregate AUD demand.
But those watching the currency should be wary that this dynamic could become more prominent at any time.
Advertisement


Get up to 5% more foreign exchange by using a specialist provider to get closer to the real market rate and avoid the gaping spreads charged by your bank when providing currency. Learn more here.
Market Positioning is Also Helping AUD
It's not just economic data that appears to be supportive of the Aussie; another reason why the Aussie has held up so well may be due to a flip in the positioning of market participants who have a stake in the currency.
In their analysis of the most recent set of positioning data on the Australian Dollar, Scandinavian lender SEB highlight bets for further declines in the Australian Dollar have recently reached excessive levels by historical standards.
Typically traders will be holding positions in anticipation of a currency moving in a certain direction, but when traders are all betting in the same direction the trade becomes crowded and at risk of a reversal back towards more neutral levels.
"AUD had the largest normalised negative sentiment for the second straight week and now also has the largest negative deviation from its 52-week average - ideal setup for a correction higher now when risk appetite is increasing!" says SEB.
SEB belive the recent recovery in global investor sentiment - which has historically enjoyed a positive correlation with the currency - could be the trigger that will lead to a rebalancing in the market towards more neutral positioning on the Australian Dollar.
Advertisement
Get up to 5% more foreign exchange by using a specialist provider to get closer to the real market rate and avoid the gaping spreads charged by your bank when providing currency. Learn more here.