Australian Dollar Looking Increasingly Fragile
The Australian Dollar is increasingly at risk of suffering further losses against both the British Pound and US Dollar we are told.
Against Sterling, the Aussie Dollar is seen as being a passenger to the currency's broader recovery; but even against the US Dollar the outlook has deteriorated which would suggest the broader AUD complex is looking exposed.
The Pound to Australian Dollar exchange rate (GBP/AUD) rallied on Tuesday following the news UK Prime Minister Theresa May would be calling a 'snap' gemeral election on June 8.
It is widely thought the election will return a stronger government given the Conservative's current massive lead in polls and that this will provide the UK with a stronger negotiating position in Brexit talks.
It is also suggested a larger majority in parliament for May's ruling Conservative Party will allow her to pursue the best possible Brexit deal with the European Union and ensure she is not held captive by a minority of party members that would seek a hardline position.
The notion that the UK might be heading for a 'softer Brexit' is therefore one Sterling bulls are buying into.
Following Sterling's surge, GBP/AUD pair has now arguably established a short-term uptrend on the daily chart.
It has also broken out of the large symmetrical triangle which has been forming since the October 2016 lows.
This breakout is a key development, suggesting a longer-term uptrend move to as high as 1.8000, as noted in our week ahead analysis.
The exchange rate has surpassed the level we gave for a breakout at 1.6850.
In addition, the succession of higher highs and higher lows, coupled with the mega-strong up-day on Tuesday are all signs pointing to a change of trend.
The pair has breached the key February highs and both the R1 and R2 monthly pivots.
It is now approaching the January 2017 highs at 1.7220, and just below the highs at 1.7200 sits the next upside target for the pair.
A break above 1.7100 would provide bullish confirmation for a move up to the aforesaid target, and potentially even higher to 1.73, 1.74 and perhaps even 1.8000 eventually.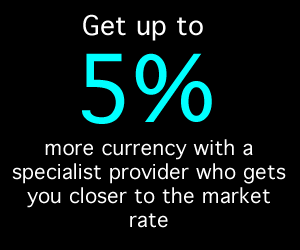 Westpac: GBP/AUD headed to 1.70
Foreign exchange strategists at Westpac have this week recommended a speculative trade that seeks to take advantage of further upside in the Pound against its Australian counterpart.
"UK May's calling a House of Commons vote for a snap General Election (June 8th) on the back of extremely positive poll support for the Conservative government will be seen as an opportunity to increase their slim majority and provide a clear Brexit-based mandate," say Westpac in a note to clients.
Providing political certainty and strength early in the Brexit negotiation period should be seen as positive in advance of the EU-27 Brexit Summit on 29th April.
Meanwhile, "slippage in bulk prices and affirmation of a neutral RBA and its concerns over housing and household balance sheets should see AUD remain under pressure in week light on AU data," says the note published on April 18.
Furthermore Westpac cite domestic attention in Australia will focus upon the 9th May Budget where Turnbull's weak Government endeavours to bolster popular support whilst avoiding a ratings downgrade.
"The break out of a tight range and above 200-day mov ave (1.6715) should provide technical support for a push higher," say Westpac.
The Australian bank are targeting the Pound to Australian Dollar reaching 1.70.
This is a noted level of resistance in GBP/AUD where it has failed to extend beyond in the past and therefore makes for a safe target.
AUD/USD Pointing Lower
As mentioned earlier, the Australian currency is also looking vulnerable against the US Dollar.
"The Aussie Dollar's long-term technical forecast was in danger of being upset last week but the pair's recent tumble back to support has revived the bear's hopes for a major downtrend taking hold. What's more, the broader argument for ongoing losses is looking stronger than ever," says Matthew Ashley, a FX Research Analyst for Blackwell Global.
Ashley says AUD/USD could be exposed to further weakness should the neckline of the overarching chart pattern be broken over coming days, even in the absence of a major fundamental shift in sentiment.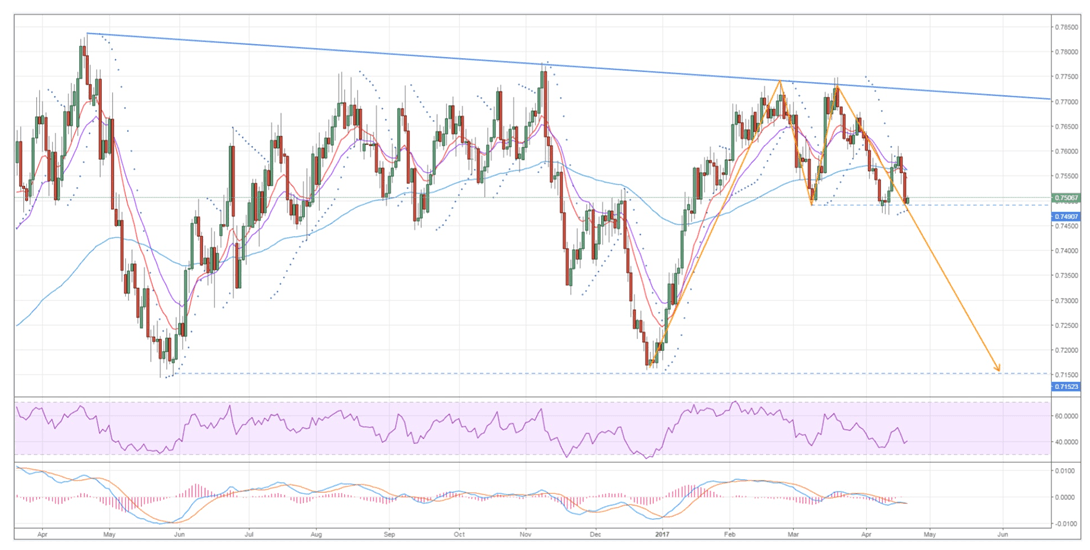 As illustrated above, the pattern Blackwell Global have been tracking recently is a fairly well defined double top with peaks around the 0.7735 level and a neckline evident around the 0.7490 handle.
"This neckline has come into focus over the past 24 hours given that it is once again being challenged and looking just about ready to yield to selling pressure," says Ashley in a note dated April 20.
"A breakout now could bring us into a period of fairly sizable losses. Indeed, if the retracements of the double top are any guide, the AUDUSD could plunge back to even the 0.7150 mark by June," says Ashley.