Pound to Australian Dollar Exchange Rate Forecast to Rise to 1.73 Near-Term
More upside is favoured for the GBP to AUD conversion as the Aussie economy grinds to a halt whilst UK Q3 GDP surpasses expectations and proves Brexit doomsayers wrong again.
Thanks to the divergence in economic growth fortunes, GBP/AUD is trading near to the recent newly-established 1.7178 highs and looks poised to break higher.
The short-term trend, which began at the October lows, is bullish and likely to extend in our view.
A move above the 1.7178 highs would confirm a probable continuation up to a target at 1.7300.
Above there lies resistance from the R1 monthly pivot, which is likely to present a tough barrier to prices.
Although the MACD is flatlining it appears neither particularly bearish or bullish and could move in either direction next.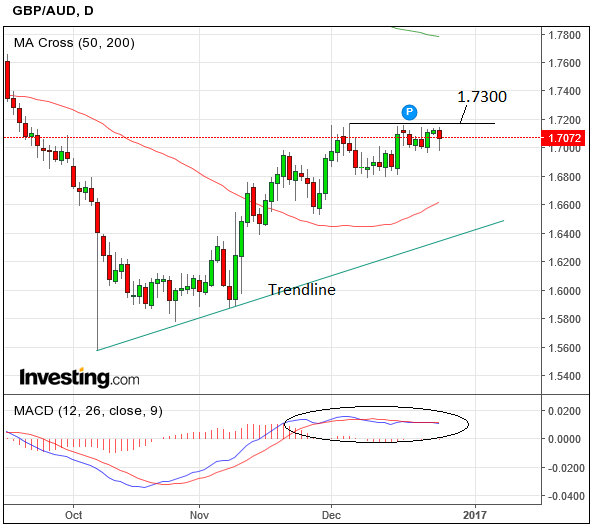 Our forecast for more upside chimes with fundamental analysis from Scotiabank's FX Strategist Shaun Osborne.
Osborne sees the Aussie as overvalued and likely to weaken after the Reserve Bank of Australia (RBA) cuts interest rates in 2017.
Osborne's views stand in contrast to the consensus view that the RBA will leave interest rates unchanged.
AUD will also see lessening demand from Carry Traders as the strategy is falls out of favour due to rising global rates and increasing risk aversion.
This prompted Scotia's bearish AUD/JPY call, which is an anti-Carry trade.
"The appreciation in the AUD has easily outpaced changes in short-term rate spreads (versus the JPY) and, with an RBA rate cut still on our radar for the AUD, a correction is possible," says Osborne.
Importantly, the Pound is supported against the Aussie in particular by their diverging growth paths.
The UK economy grew by 0.6% in Q3 whilst the Australian economy shrank by -0.5%.
And this growth comes despite the Brexit vote in June and the continued flow of negative commentary regarding the outlook for the UK economy coming from economists.
To conclude, the slowdown in the Australian economy combined with rising expectations of the RBA cutting interest rates is likely to weigh on the Aussie dollar going forward.
Latest Pound / Australian Dollar Exchange Rates
* Bank rates according to latest IMTI data.
** RationalFX dealing desk quotation.
Data for the Aussie
The main data release in the coming week is Private Sector Credit in November which is expected to show a 0.5% rise month-on-month and 5.3% rise year-on-year.
Data for the Pound
The main data release for the Pound is the British Banking Association's (BBA's) data on Mortgage Approvals, which is forecast to show a rise to 41.6k in the month of November from 40.3k in October.
Save
Save