The Australian Dollar is Still Cheap and its Fair Value is Rising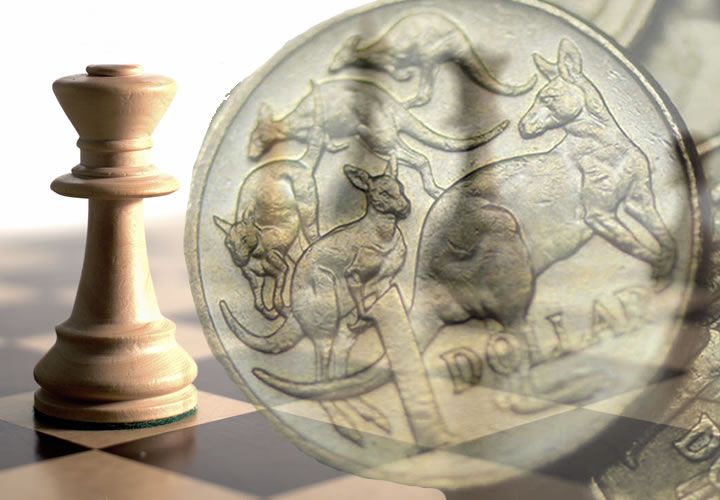 Pound to Australian Dollar exchange rate reference as of 7-12-16: 1.6941
Australian to US Dollar exchange rate reference: 0.7445
Euro to Australian Dollar exchange rate reference: 1.4412
The Aussie Dollar is undervalued but expectations for a sudden rally to fair-value could yet be some way off on the horizon.
Westpac's currency valuation model places the 'fair value' of AUD/USD higher than it is, so why is the exchange rate so low?
One of several factors may be that markets are not properly pricing in the effects of higher commodity prices, says Westpac's FX Strategist Robert Rennie.
Industrial metals including Iron Ore, Australia's single biggest export, have risen considerably on the back of booming demand and already- low prices.
"Commodity prices have risen over the course of this year, reflecting both stronger demand and cutbacks in supply in some countries. The higher commodity prices have supported a rise in Australia's terms of trade, although they remain much lower than they have been in recent years," says Rennie.
Indeed, the Reserve Bank of Australia (RBA) on December 6 remarked in their December policy statement that "the higher prices are providing a boost to national income."
Australia's economic transition from mining-driven to domestic demand-driven growth has been impacted by the sharp drop in commodity prices since 2011.
"We believe mining investment is close to bottoming out at current levels," says Chidu Narayanan, Economist Asia at Standard Chartered in Singapore.
Mining exports have suffered due to price declines, and while commodity export volumes are high, values have dropped since 2014.
Standard Chartered have an interesting message - a recovery in commodity prices may not have the positive impact on the Australian economy, and therefore the AUD, as it did in the past.
"We expect commodity exports to remain under pressure even as prices continue to rise, as volumes have plateaued," says Narayanan.

Standard Chartered expect household consumption to remain high and to be the strongest growth driver in the near term.
However, increasing weakness in the labour market and slowing wage growth are likely to cap any increase in household consumption. Wage growth dropped to a multi-year low of 1.9% y/y in Q3 and continues to edge lower.
Standard Chartered now forecast GDP growth of 2.8% y/y in 2017, but believe that the risks are skewed to the downside.
Latest Pound / Australian Dollar Exchange Rates
* Bank rates according to latest IMTI data.
** RationalFX dealing desk quotation.
Higher US Interest Rates on the Horizon
Although Westpac expect exchange rates to catch-up with their higher valuation metrics eventually, they see the pair capped by expectations of higher interest rates in the US.
The market now expects the Fed to raise interest rates in the US in December with an 80-100% probability.
Higher interest rates lead to an appreciation of a currency as they attract more international investors seeking higher returns on their capital.
Higher inflation expectations have also pushed up yields on three-year Treasury bonds, which are often used in currency valuations.
Westpac's Rennie sees the AUD/USD rising – but only as high as a ceiling.
"Our fitted fair value models suggest that the A$ is cheap at the moment and we remain of the view that a push towards 0.7500/50 looks likely, but should remain capped by a strong US$ and concerns about Trump's 'tariff and trade" policies," said Rennie.
RBA Grumbles About Aussie But Sits on Fence
In contrast to Westpac, the RBA still view the Aussie as overvalued – not undervalued.
"Guidance on the A$ was neutral, with the RBA again noting for the 8th consecutive month that "an appreciating exchange rate could complicate" the necessary adjustments in the economy," commented Rennie.
The RBA did not change its policy or its base lending rate of 1.5% at the December meeting.
There was no hint of further easing on the horizon either.
China Stockpiling Commodities
The new Trump administration's policies are likely to impact disproportionately on the Aussie.
Part of the reason behind the commodity boom is demand from China who fear the imposition of high (c45%) tariffs on Chinese imports.
They are stockpiling raw materials such as Iron Ore in expectation of trade tariffs so they can reduce the costs of production in the future.
The extent of Trump's reflationary programme is another potential source impacting on the Aussie.
A generous longer-term stimulus programme would impact on longer-dated US rates by raising inflation expectations.
"There will be no real change in view or shift in valuations, however, until global market participants get a better understanding of where 10yr US yields will settle under the current "Trump re-pricing".
"Our sense is that it is not too far from current levels (2.5% is a near-term target), but there will be no urgency by domestic, or global, market participants to pre-empt the end of the current correction.
"Rather we expect there will be time to get risk back on once current uncertainties reach some clearer resolution," comment's Westpac's Strategist.