Australian Dollar Gains Forecast to "Top Out" by CIBC Capital Markets
- AUD has been heavily supported by Japanese Investors
- Recovery "now looks to be topping out"
- AUD/USD and GBP/AUD forecast targets updated
Image © Adobe Images
GBP/AUD spot rate at time of writing: 1.8263
Bank transfer rates (indicative guide): 1.7624-1.7752
FX specialist rates (indicative guide): 1.7833-1.8099
More information about bank-beating rates here
The pace of gains in the Australian Dollar are likely to slow, according to new analysis from global financial services provider and investment bank CIBC Capital Markets.
The Canada based institution says a particular vulnerability for the currency over the next six months could be the behaviour of Japanese investors, who have been a key source of support for the currency in 2020.
"Gains year-to-date are a moderate 2.5%, and have been driven by a combination of upbeat messaging from the RBA, ongoing demand for Australian bonds by Japanese investors, broad global risk appetite underpinned by policy support, and a related weaker USD environment," says Patrick Bennett, a strategist at CIBC.
The Australian Dollar has gained 3.6% against the Pound in 2020, is down 1.90% against the Euro and up 3.7% against the U.S. Dollar. Over the course of the past month the Aussie is down slightly against Sterling but is up a percent against the Euro and 1.6% against the U.S. Dollar.
"A shift in preference for geographical denomination of foreign bonds purchased by Japanese investors has been noticeable over recent months, with strong buying of Australian holdings featuring. The yield achievable for Japanese investors in Australian bonds has topped that available elsewhere, helping to underpin the market in both bonds and the currency," says Bennett.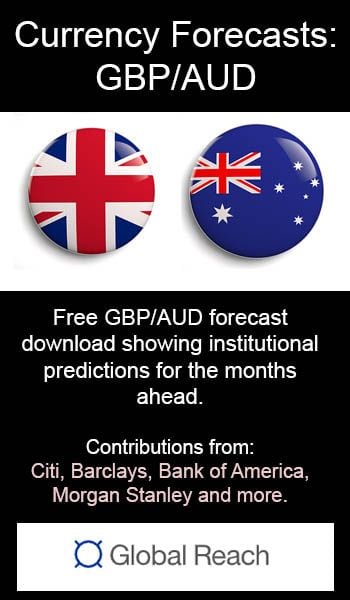 According to Bennet, this shift was associated with a strong rebound in the Australian Dollar against the Japanese Yen (AUD/JPY is up 1.81% over the course of the past month and 1.40% this year), "but that trend now looks to be topping out," says Bennet.
AUD/JPY is currently located 77.16 which puts it towards the top of the near-term range in CIBC's estimations. They forecast AUD/JPY shifting toward 74.00 by end-4Q and recommend shorts with stops above 77.00.
"The flare up in Covid-19 cases in the state of Victoria appears to be being brought under control, though the impact is still not fully felt. Tensions between China and Australia are again feeding into a cautionary undertone for the economy and the currency. A complaint over dumping of wine in the Chinese market is the latest flash point," says Bennet.
CIBC forecast the AUD/USD exchange rate to be at 0.71 by the end of 2020 and 0.72 by the end of March 2021.
The GBP/USD exchange rate is forecast to be at 1.30 for both the above points.
This gives a GBP/AUD cross exchange rate forecast of 1.83 for the end of 2020 and 1.80 by the end of March 2021.
The Pound-to-Australian dollar exchange rate is currently quoted at 1.8260, the Australian-to-U.S. Dollar exchange rate at 0.7270 and the Euro-to-Australian Dollar exchange rate at 1.6299.
We reported Thursday that further gains for the Australian Dollar are possible, according to a leading Asia-Pacific lender who have told clients they are upgrading their suite of forecasts for the currency.
"Both the EUR and AUD remain the key beneficiaries of the weaker US Dollar in the Developed Market space. We upgrade our positive EUR/USD and AUD/USD point forecasts further," says Heng Koon How, Head of Markets Strategy at UOB in Singapore.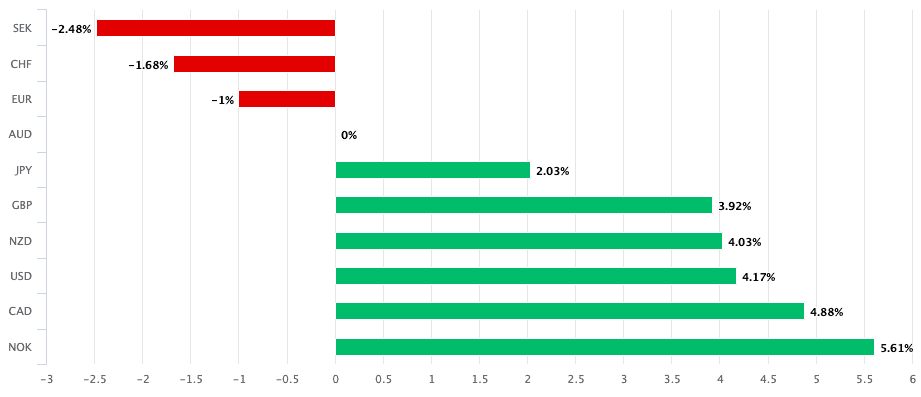 Above: AUD performance in 2020. If you would like to book today's exchange rate for use at some point in coming months, thereby protecting your budget, please learn more here.
"The AUD/USD also recovered strongly from the 0.71 handle to the 0.74 handle over the past month on signs of further stabilisation and recovery in China's economy," says How.
"We raise our AUD/USD point forecasts further to 0.74 for 3Q20, 0.75 for 4Q20 and 0.76 for 1Q21 and 2Q21 (from 0.71 for 3Q20, 0.72 for 4Q20 and 0.73 for 1Q21 and 2Q21 previously)," says How.
UOB forecasts show they expect the GBP/USD to be at 1.32 in 3Q20 and 4Q20 and 1.30 in 1Q21 and 2Q21.
Using their GBP/USD and AUD/USD forecasts to establish a cross-rate forecast, this gives a GBP/AUD exchange rate of 1.78, 1.76 and 1.71.
---
Achieve 3-5% More Currency: The Global Reach Best Exchange Rate Guarantee maximises your currency purchasing power. Find out more.
Invest in Spanish Property. A selection of discounted properties due to the covid-19 crisis, online viewings and transactions possible. Download the Guide
Invest in Portuguese Property. A selection of discounted properties, online viewings and transactions possible. Download the Guide
Featured Content
Mortgage Direct - a Spanish mortgage broker specialising in the provision of mortgages for expats - have confirmed they have secured their Spanish license.