Australian Dollar vs. Pound Sterling 5-Day Forecast: Rising in an Ascending Channel
Image © Taras Vyshnya, Adobe Stock
- GBP/AUD continues rising in a channel
- Break above highs would unlock target in mid-1.84s
- Brexit headlines out over weekend on balance Sterling-positive
- GDP and inflation on the radar for the Pound; Chinese trade data for the Aussie
The Pound-to-Australian Dollar exchange rate is trading at 1.8222 in late morning trade in London, ensuring it is quoted lower than where it ended the previous week at 1.8252.
The currency has commenced the week on a softer footing following the release of a slew of disappointing UK economic data, the highlight of which being a 0.4% month-on-month contraction in UK GDP in December.
While the data sets the Pound off on a softer start to the new week, if we take a step back and look at the market we can see Sterling is still at relatively elevated levels on a multi-week basis and our technical studies suggest the currency could see further gains near-term.
The technical outlook is marginally bullish as the pair is rising in a clear ascending channel which is expected to continue along the lines of the old adage that 'the trend is your friend'.
The pair bounced off the base of the channel and the cluster of moving averages and started to rise at the beginning of the previous week.
A continuation would require a break above the 1.8345 highs, which would provide confirmation and reinforce the bullish case; such a break would unlock a target at 1.8450.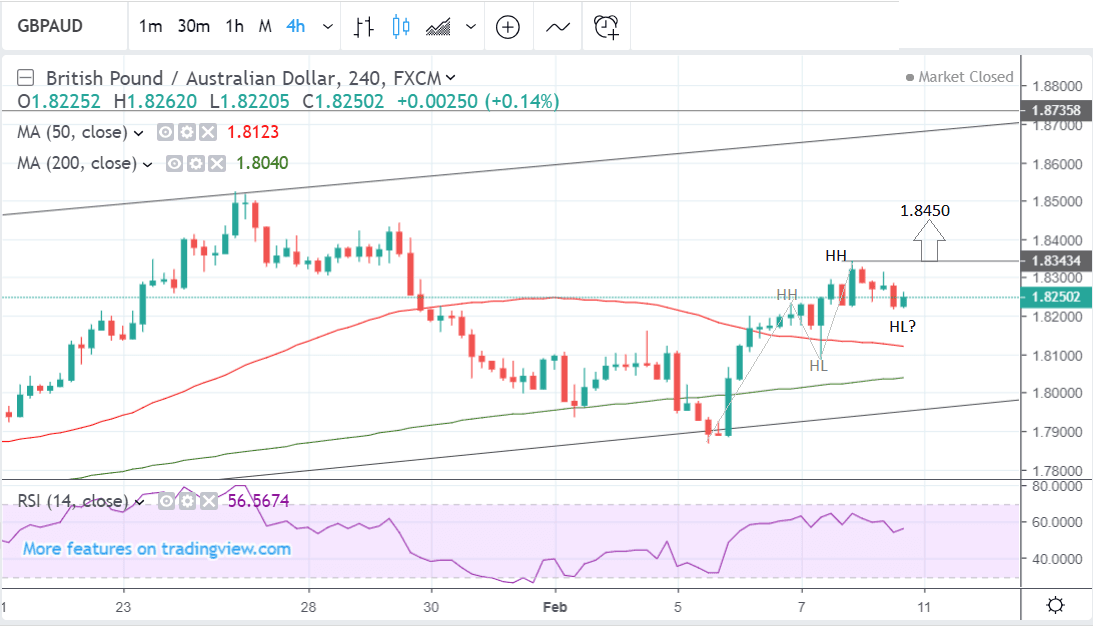 A break above the highs would also confirm the establishment of a new, young, uptrend with two higher highs (HH) and higher lows (HL).
There are, however, obstacles in the way for the bullish uptrend.
The weekly chart shows how the pair is currently touching the 200-week moving average (MA) at 1.8230, and this is likely to pose an obstacle to further upside.
The monthly chart shows how the 50-month moving average (MA), situated at 1.8329, has contained upside on multiple occasions in the past, and might, therefore, also be expected to do the same in the future.
A breakout higher is also possible since it is also the case that multiple attempts at breaking through a level can eventually succeed and lead to an even more volatile surge when successful.
Time to move your money? Get 3-5% more currency than your bank would offer by using the services of foreign exchange specialists at RationalFX. A specialist broker can deliver you an exchange rate closer to the real market rate, thereby saving you substantial quantities of currency. Find out more here.

* Advertisement
The Australian Dollar: What to Watch this Week
Australian data needs to be seen through the prism of a much more negative fundamental outlook for the currency after last week's u-turn in policy stance by the Reserve Bank of Australia (RBA).
https://www.poundsterlinglive.com/aud/10805-australian-dollar-slumps-after-rba-abandons-rate-hike-bias
The market is now favouring the next move at the RBA to be an interest rate cut, rather than rise in 2019, which would be negative for the Aussie, since lower interest rates are less of a magnet for foreign capital.
"Markets have responded to the combination of China's economic deceleration and domestic factors as well, as expectations have reversed from anticipated rate hikes in 2018 to the RBA cutting interest rates in 2019," says an economic briefing from analysts at Wells Fargo.
The Aussie Dollar will remain on its back foot next week because concerns about interest rate policy are about to be supplemented by fresh China-related losses that gatecrash 2019's party in the Antipodes on Monday, analysts say.
Australia's Dollar weakened broadly Friday after the Reserve Bank of Australia (RBA) took an axe to its economic forecasts and warned of increasing downside risks to the outlook, just as markets are beginning to doubt that the U.S. and China can reach a deal to end their so-called trade war before March 01.
The RBA said in its statement on monetary policy Friday it now expects the economy to grow by just 2.75% in 2019, down from the 3.25% forecast issued at the end of last year. And core inflation is set to rise only to 2% this year, rather than the 2.25% the RBA previously envisaged.
"These growth forecasts are still too optimistic and will likely be downgraded in coming quarters as soft consumption & falling residential construction become more apparent," says George Tharenou, an economist at UBS.
As far as data in the coming week is concerned, probably the most important release for the Australian Dollar will be Chinese trade data for January, out on Thursday at 3.00 GMT. A continued decline in Chinese trade figures is likely to cause concern about the outlook for the Chinese economy in general and the whole region, including Australia.
"China will likely post another worrying set of trade figures on Thursday as trade tensions with the US continue to dampen demand for Chinese goods," says Raffi Boyadjian, a currency analyst at XM.com.
China's trade surplus is expected to fall to $33.5bn in January from $57.0bn in December. Exports are likely to fall by -3.3% which would be slower than the -4.4% previously. Imports are expected to slow to -9.0% from -7.7% previously. Such a slowdown in imports is not likely to be positive for the Aussie, given Australia is a key exporter to China.
The other major releases which could impact the Australian Dollar are mainly sentiment gauges, which are reliable leading indicators for the economy and wider hard economic data.
The NAB Business Confidence gauge in January is out at 12.30 on Tuesday, and is forecast to show a balance of 3, no-change from 3 previously.
The Westpac Consumer confidence measure for February is out at 11.30 on Tuesday. In January it slumped -4.7%.
The Pound: What to Watch this week
Brexit remains the key driver for Sterling with the currency being a function of the markets expectation for a 'deal'or 'no deal' Brexit.
Markets are currently confident a deal, of some sort, will be achieved, hence the Pound's outperformance during 2019.
Weekend news is constructive in this manner amidst news the government has sought to buy Prime Minister Theresa May more time to put together a workable Brexit deal by promising MPs another say by the end of the month, as business leaders said the process was now in the "emergency zone".
Communities secretary James Brokenshire has said that if no finalised deal were put to the Commons by 27 February, MPs would again be given an amendable motion to consider. This would give them the chance to block a 'no deal' departure or make other interventions.
Markets will likely focus on the prospect of parliament being given another shot at blocking 'no deal', we believe this should prove supportive to Sterling.
May will make a statement to parliament on February 13 updating lawmakers on her progress so far in seeking changes to her deal. The debate on February 14 will be on a motion — a proposal put forward for debate - about Brexit more generally. However, because May is clearly engaged in negotiations with the EU, parliament is expected to give the PM more space and votes of significance will only likely be expected later in the month, in line with Brokenshire's guidance.
The main data release for Sterling is Q4 and December GDP data out at 9.30 GMT on Monday, February 11.
The data will provide investors with further hard evidence of how Brexit uncertainty, as well as the global slowdown, is affecting the UK economy.
"So far, we have seen only mixed signals from the economy, although the more up-to-date PMI data suggests businesses and individuals are delaying their purchasing plans as the Brexit debate enters crucial stage with the March 29 exit date fast approaching," says Fawad Razaqzada, a market analyst at Forex.com.
Current market expectations are for GDP to slow to 1.4% compared to a year ago (from 1.5% in Q3) and to rise 0.2% compared to the previous month of November. A deeper slowdown might have a temporary short-term negative effect on Sterling but it could also focus minds on avoiding a hard-Brexit and, therefore, ultimately have a positive impact on the Pound, if it reduces the chances of 'no-deal'.
"On top of this, Brexit will remain in focus as a desperate UK Prime Minister Theresa May struggles to renegotiate the withdrawal agreement with the EU leaders," adds Razaqzada.
Also released at 9.30 on Monday morning are Manufacturing Production data, with the headline expected to show a rise by 0.2% in December, Industrial Production, which is forecast to rise 0.2% and Business Investment, which is expected to rise by 0.2% quarter-on-quarter in Q4.
Inflation data out on Wednesday at 9.30 will be of interest. Usually, it is important for the Pound but this time it may be overshadowed as Theresa May could be making another major Brexit updating speech on that day.
"UK CPI will also be released on Wednesday. Although important, in the grand scheme of things, not many people will pay much attention to it because of Brexit, as mentioned above. Anyway, headline CPI is expected to have eased to +1.9% from +2.1% previously while core CPI is expected to have remained unchanged at +1.9%," says Forex.com's Razaqzada.
Time to move your money? Get 3-5% more currency than your bank would offer by using the services of foreign exchange specialists at RationalFX. A specialist broker can deliver you an exchange rate closer to the real market rate, thereby saving you substantial quantities of currency. Find out more here.

* Advertisement