Australian Dollar Cedes Ground as Wage Pressures Remain Elusive and China Creaks Under Weight of Trump
© Taras Vyshnya, Adobe Stock
- AUD cedes ground after uninspiring third-quarter wage report.
- Wage pressures elusive as China creaks under weight of Trump.
- But AUD has still "escaped" its downtrend, poised for recovery.
The Australian Dollar handed back earlier gains Wednesday after official data showed wage pressures remained elusive down under in the third-quarter and Chinese data cast a shadow over the world's second largest economy.
Australian pay packets rose by 0.6% during the three months ending in September, up from a downwardly-revised 0.5% in the second quarter, which was enough to lift the annual pace of wage growth from 2.1% to 2.3%.
This appears to be good news for the Aussie given that extreme pessimism about interest rates down under has its roots in weak inflation pressures made worse by subpar pay growth for workers over a number of years.
But the wage number loses its allure after considering it was flattered by a 3.5% lift in the minimum wage that came into effect in July.
"While today's stronger wages data helped reinvigorate AUD's rally this week, concerns over wage's ability to meaningfully influence the near-term RBA policy trajectory remain," says Adam Myers, a currency strategist at Commonwealth Bank of Australia.
Myers says the data supports the Reserve Bank's claim that an improving economy will gradually lift wage growth, but he warns that this story could easily be undermined by concerns over the domestic housing market or the Chinese economy, which is Australia's largest trading partner.
Markets care about the wage data because pay growth leads to increased demand within an economy and exerts upward pressure on inflation, with implications for interest rates and financial markets.
Changes in interest rates are normally only made in response to movements in inflation but impact currencies because of the push and pull influence they have on capital flows and their allure for short-term speculators.
"There was no sign of any impact from the lift in the minimum wage in either the private or public sectors. True, the increase this year at 3.5% was only marginally larger than the lift in 2017 of 3.3% but it is hard to fathom that in two years we have now seen no impact from the larger than average increase in the minimum wages," says Justin Smirk, an economist at Westpac.
The Reserve Bank of Australia (RBA) has held its interest rate at a record low of 1.5% for more than two years now, citing below-target inflation and a litany of risks to the inflation and growth outlook.
Inflation has been below the 2% to 3% target for much of the time since 2014 and remains there more than two years after the RBA cut its interest rate to a record low to stimulate growth and stoke consumer price pressures.
RBA interest rate policy was a key instigator of the spectacular sell-off that drove the Australian Dollar almost 10% lower against its U.S. rival during the 10 months to the beginning of October.
"The RBA expects above-trend growth to shrink labour market spare capacity and boost wages growth in due course. However, as the Bank's soft target is 3%/y wages growth, and as discussed in our preview, we drop our May 2019 hike, leaving an on consensus November 2019 25bp hike to 1.75%," says Annette Beacher, chief Asia Pacific macro strategist at TD Securities.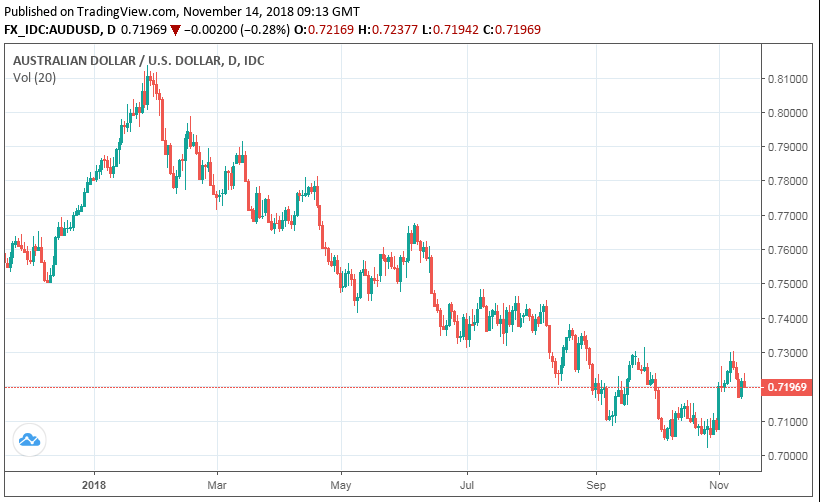 Above: AUD/USD rate shown at daily intervals.
The AUD/USD rate was quoted 0.36% lower at 0.7204 Wednesday after having reversed a minor overnight gain at the London open. It still carries a loss of 7.7% for 2018.
The Pound-to-Australian-Dollar rate was 0.01% lower at 1.7997 and has risen 4.4% this year. The Aussie was lower against all G10 currencies other than the Pound Wednesday.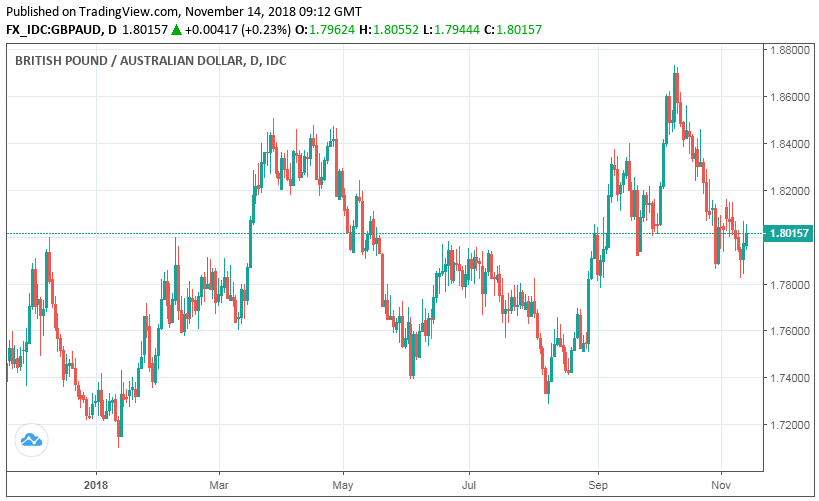 Above: Pound-to-Aussie rate shown at daily intervals.
"The AUD broke out of its 2018 downtrend earlier this month, and given the bounce off the 50-day-moving-average of $US0.0.716 yesterday, the old highs could now be the new lows," Beacher adds. "We are constructive AUD, but compared with our bullish lean for NZD, we prefer short AUDNZD, looking for tactical 1.05 in early 2019."
Wednesday's wage data and price action came alongside the latest industrial figures from China, which showed industrial production and fixed asset investment both growing faster than markets had anticipated during the October month.
Fixed asset investment grew by 5.7% during the 11 months to the beginning of November, up from 5.4% previously and ahead of the consensus for growth of 5.5%. Industrial production grew by 5.9%, up from 5.8% and ahead of expectations for continued growth of 5.8%.
However, an on the downside, Chinese retail sales grew by just 8.2% during the year to the end of October, down from 9.2%, when economists had looked for continued growth of 9.2%.
Markets were always going to scrutinise these figures closely for clues of any damage from President Trump's tariffs as well as signs that the government's various stimulus packages are beginning to support the economy.
"This makes us think that the fiscal stimulus from infrastructure is taking its time in arriving. And in the meantime, consumers have started to worry that the trade war will impact on wage growth and job security. We hope that this will only be temporary as tax cuts for salary earners in 2019 should support spending sentiment in coming months," says Iris Pang, an economist at ING Group.
Australia's currency is underwritten by its mammoth commodity exports to China so it is sensitive to good and bad news emerging from the world's second largest economy.
Chinese industrial production growth has declined from 7.2% in February, the month before White House tariffs on Chinese steel and aluminium were announced, to just 6% in July when the levies were actually implented.
Meanwhile, fixed asset investment growth has slowed from 7.9% to just 5.5% over the same time period. The economy slowed during the third quarter, with GDP rising at an annualised pace of 6.5%, down from 6.6% previously.
These declines, and their underlying "trade war" related causes, correlate closely with some of the biggest falls seen by the Australian Dollar this year.
Advertisement




Bank-beating exchange rates. Get up to 5% more foreign exchange by using a specialist provider to get closer to the real market rate and avoid the gaping spreads charged by your bank when providing currency. Learn more

here