MUFG: Japanese Yen to Remain Under Pressure Against the Dollar as Japan's Investors Splash Out
- JPY weakness seen near-term
- Japanese investors seeking global investments
- Low volatility environment favours JPY weakness
- Technical studies add to conviction
- But longer-term JPY strength predicted
Image © Adobe Stock
- Spot market: GBP/JPY: 143.31 -0.24% | USD/JPY: 110.18 -0.21%

- Indicative bank rates for transfers: GBP/JPY: 138.29-139.29 | USD/JPY: 106.09-106.86

- Indicative rate from specialist providers: GBP/JPY: 141.50-142.00 | USD/JPY: 108.00-108.95 >>Get a quote.
Japan's MUFG - the world's largest bank outside of China as measured by total assets - says the Japanese Yen is likely to remain under pressure against the U.S. Dollar, in part driven by the desire of Japan's investors to seek out global opportunities.
"Over the short-term there is increased potential of a further move higher in USD/JPY," says Derek Halpenny, Head of Research at MUFG in London. "Risk appetite is favourable and with major central banks either expected to ease or already have eased, we see favourable monetary conditions continuing for now."
The Dollar-to-Yen exchange rate is currently quoted at 109.92, and remains near a multi-month high at 110.29 which was reached last Friday and saw the Dollar holds its strongest level since the 23 May 2019.
The Pound-to-Yen exchange rate is meanwhile quoted at 142.95, and while not near multi-month highs, is nevertheless well supported. We would expect this support for Sterling to remain a feature of GBP/JPY as long as USD/JPY is moving higher. Indeed, for the majority of Yen exchange rates, what happens in USD/JPY remains key, and for now the Dollar is on the march higher.
The Yen is the world's premier 'funding currency' that tends to decline when global markets are on the up, and with the S&P 500 benchmark maintaining a resolute run higher, it is little wonder the Yen continues to struggle.
Volatility in global currency markets is meanwhile on a downward trend, as the deluge of easy money pumped out by central banks minimises the risks of a global slowdown, thereby blunting the traditional cautioning role of FX in the global economy.
MUFG data shows USD/JPY 6-month implied volatility fell to a new record closing low of 5.2975% on Friday with further declines likely.
"These conditions are certainly conducive to greater risk-taking and Japanese investors could be tempted into foreign markets on a more un-hedged basis than before. After a lull over the Christmas and New Year period, data last week revealed a sharp increase in outflows – in fact the latest data to week ending 10th January, revealed the largest one-week outflow to foreign bonds since September 2018 (JPY 2,322bn)," says Halpenny.
Meanwhile, an expected announcement from the Government Pension Investment Fund following its regular 5-year review, due before the end of March, is being tipped by MUFG to confirm an increase in foreign asset investments.
This will likely underpin the current dynamic whereby the Yen rises when global markets are selling off, and falls when they are rallying.
"While the changes to asset compositions will not be as large as in 2015, the increase will still be supportive of increased outflows into foreign equities which tend to be far less hedged than investments into other securities," says Halpenny.
The Dollar-Yen has been in an uptrend since bottoming out in August 2019 amidst a broad-based rally in stocks.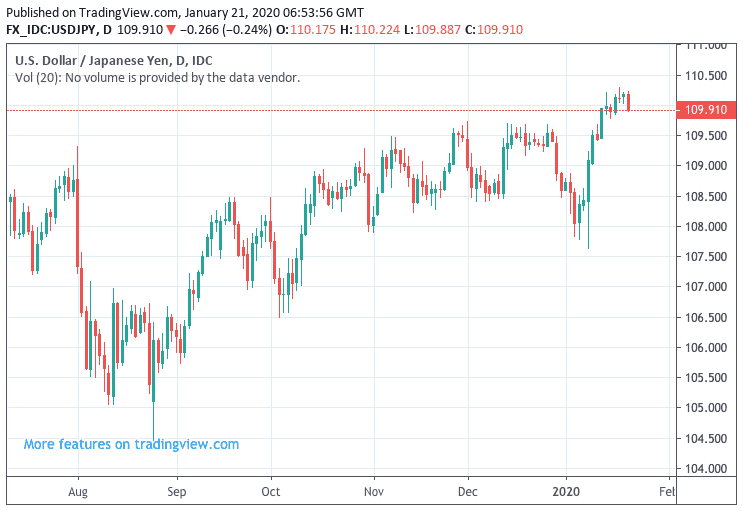 "We rarely cite technical factors here unless we believe there is a compelling development taking place. That might be the base now. The long-term downtrend resistance line from the high in 2015 (125.86 June 2015) and the highs in 2018 has just been broken and could signal a more meaningful move to the upside," says Halpenny.
MUFG is forecasting a range in USD/JPY of 107.00-112.00 to be respected for the short-term.
However, looking at the longer-term, MUFG is expecting the Japanese currency to remain well supported.
"While there is scope for yen weakness over the short-term, we are also mindful of the yen already being under-valued and of the fact that Japan continues to run very large current account surpluses and hence, over the medium to long-term, we hold a more constructive view of yen direction," says Halpenny.
Time to move your money? The Global Reach Best Exchange Rate Guarantee offers you competitive rates and maximises your currency transfer. They offer great rates, tailored transfers, and market insight to help you choose the best times for you to trade. Speaking to a currency specialist helps you to capitalise on positive market shifts and make the most of your money. Find out more here.

* Advertisement