Analyst: Pound to Dollar Exchange Rate to Recover Through 2017
The British Pound is tipped to ride a wave of volatility over coming months but should ultimately come out of 2017 higher than the level it entered the year.
This is according to the latest assessment of the foreign exchange pairing conducted by analysts at Lloyds Bank Commercial Banking.
The UK high-street giant has written to commercial customers this week saying they believe GBP-USD should recover towards 1.30 through the course of 2017.
The call comes amidst a time of heightened pressure on the Pound with the familiar 'Brexit fear' theme running high once again.
Against its G10 peers, GBP has been the worst-performing currency of 2017, ahead of the USD which has performed only marginally better.
But looking at the performance over the past year we can see the GBP/USD is sharply lower: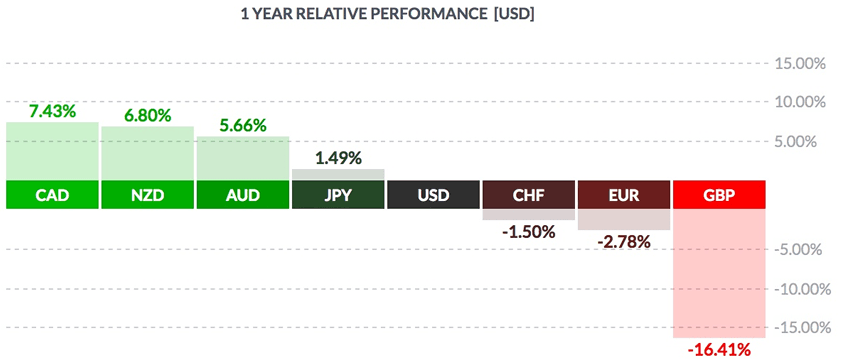 "Uncertainty surrounding the UK's Brexit negotiations and the potential impact of a Donald Trump presidency on US monetary and fiscal policy have been the key drivers of the recent move. Against this backdrop, domestic data have played second fiddle," says a note from Lloyds to commercial clients, seen by Pound Sterling Live.
With many saying fears of a hard-Brexit have been reignited by Theresa May in a recent interview we would point out that absolutely nothing new has been said by the PM and find the media/market reaction odd.
Indeed, May has stated clearly this week that she sees the UK operating within the single market after Brexit.
If there is an element of misplacing amongst market players, then forecasts for a stronger GBP/USD by the end of 2017 are likely to carry some weight.
But, expect further volatility near-term.
"Near-term, the Supreme Court's ruling on Article 50 and an upcoming keynote Brexit speech by the PM present two clear flashpoints for the Pound," say Lloyds. "Donald Trump's inauguration on 20 January could also increase Dollar volatility."
Thereafter, Lloyds Bank believe there is scope for a recovery in GBP/USD back up to around 1.30 by year end.
"The Pound should be supported by what we expect to remain a relatively resilient UK economy. Meanwhile, there is also scope for GBP/USD to benefit from a weaker US dollar, given that a lot of 'good news' surround ing a Trump administration, is already priced in," say Lloyds.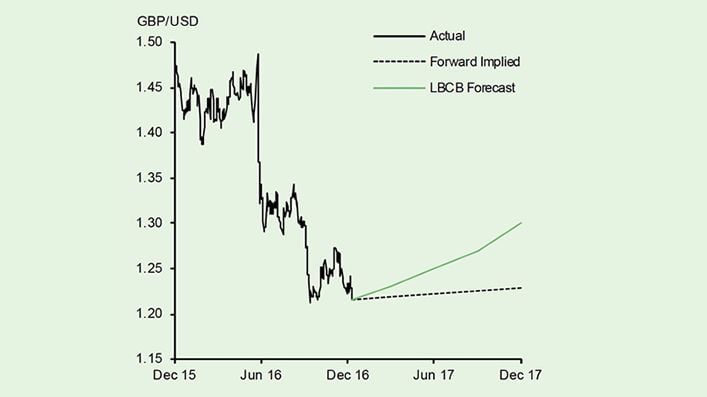 Hard-Brexit Ahead as Corbyn Signals Support for Restricting Immigration
The Pound remains resolutely driven by sentiment concerning Brexit at present, and therefore headlines matter.
Headlines drive the kind of volatility that Lloyds warns of as predicting the next utterance by a politician is nearly impossible to forecast against.
The latest developments on this front are significant with the Labour party confirming they support the restriction of free movement of EU nationals.
The Labour leader, in a speech on Tuesday on Brexit, says he is not wedded to the free movement of EU citizens as a point of principle.
Latest Pound / US Dollar Exchange Rates
* Bank rates according to latest IMTI data.
** RationalFX dealing desk quotation.
He would seek to limit immigration if it meant protecting British jobs and pay.
The move will be taken as a tacit approval for the Government to put immigration restrictions as a red-line in upcoming negotiations.
It also suggests there will not likely be any bounce in Sterling should the UK's supreme court rule in favour of giving Parliament more of a say in the conditions attached to triggering Article 50 in March.
The thinking was that Parliament would seek full membership to the single market, and in doing so allow for the free movement of EU citizens.
But with Labour now opposed to this, it seems even Parliament will now be willing to make a the required trade-off for the UK to secure its borders.
Expect Sterling to remain under pressure until actual details start emerging from negotiations.