British Pound to Dollar Rate: Further Weakness Forecast in Both Long-Term and Short-Term Studies
Pound Sterling's precipitous fall in 2016 is unlikely to be repeated in 2017; nevertheless there remains an overbearing sense that another pulse of selling lies ahead.
Indeed, with calls for up to 10% further gains in the Dollar on Trump's Border Tax proposal alone it is understandable that analsysts are wary of GBP/USD's chances.
At this stage we have no idea what fundamental-based surprises lie ahead: what will happen to Pound Sterling in upcoming Brexit negotiations? What polices will be enacted when Donald Trump eventually assumes office?
For this reason technical analysis is arguably a cleaner way to approach the job of forecasting GBP/USD.
And, time perspective is everything when it comes to technical forecasting as sometimes a currency's near-term prospects could vary greatly from its longer-term prospects.
With that in mind, Pound Sterling Live have looked at the weekly and daily charts for GBP/USD to get a better understanding of how the medium and short-term may play out from a technical perspective.
Starting with the outlook over the next few days, the daily chart shows the Pound to Dollar exchange rate has been falling since the early December highs.
With no sign of recovery, the exchange rate looks likely to continue down to the 1.22 lows.
A break below them would see the pair move down to the next target on the chart at support at 1.2100.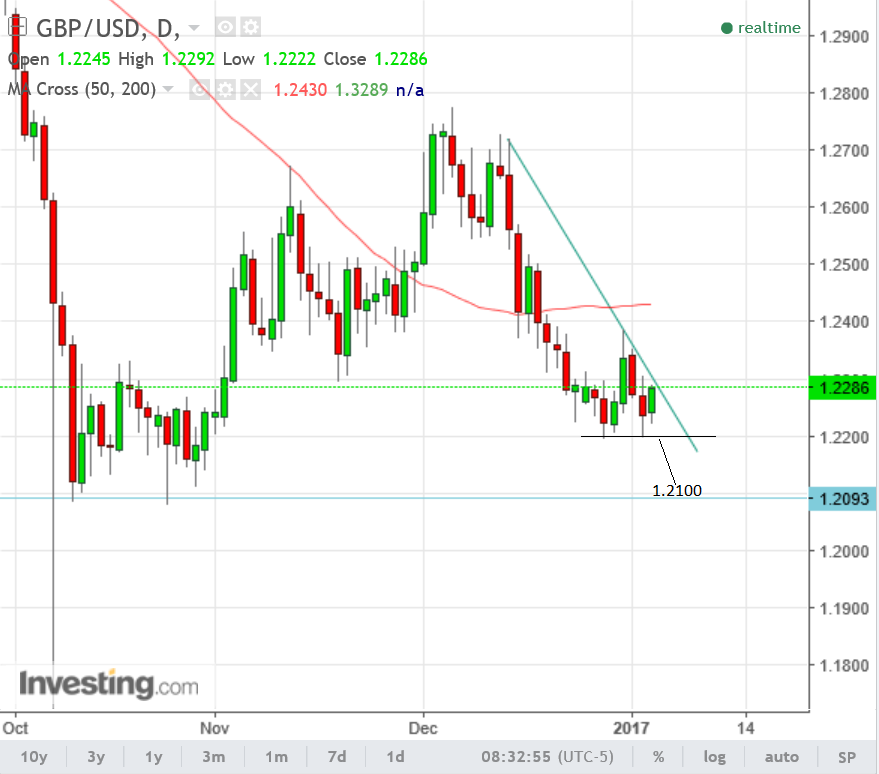 Outlook for Next Two to Three Weeks
On the weekly chart the main technical feature is the long exhaustion bar in October (circled in the below chart).
This accompanied market fears of a 'Hard Brexit' and may have indicated a level at which the very worst fears were reflected in the exchange rate.
It is unlikely these lows will be breached.
Indeed, a break above the 1.2778 highs might well signal a recovery higher to heavy resistance at 1.35, however, this is not our base case, as we lean on a bearish scenario.
After the exhaustion bar the market rallied but then stalled in the 1.27s.
The exchange rate has fallen since the establishment of the late November highs but there is a lack of corresponding bearish momentum as measured by the MACD, indicating the move lower may be short-lived.
Nevertheless, the fact the market formed three down days in a row, which is an especially bearish sign called a "three black crows" Japanese candlestick pattern, may be sufficient to suggest more downside on the horizon.
The 'horizon' mentioned here is roughly two to three weeks.
Those with impending GBP/USD payments would do well to get in touch with their foreign exchange provider to ensure they have the relevant buy and sell orders put in place in the event of this call being correct.
Latest Pound / US Dollar Exchange Rates
* Bank rates according to latest IMTI data.
** RationalFX dealing desk quotation.
Longer-Term: Wave Analysis Suggests Another Notable Slip
Another way of reading a chart is by using a Elliot Wave analysis - and on this front the outlook is certainly more bearish.
This method of analysis confirms that a final impulse lower remains possible.
Elliot Wave analysis is a form of cycle analysis which views the market as undergoing predictable cycles of growth and decay.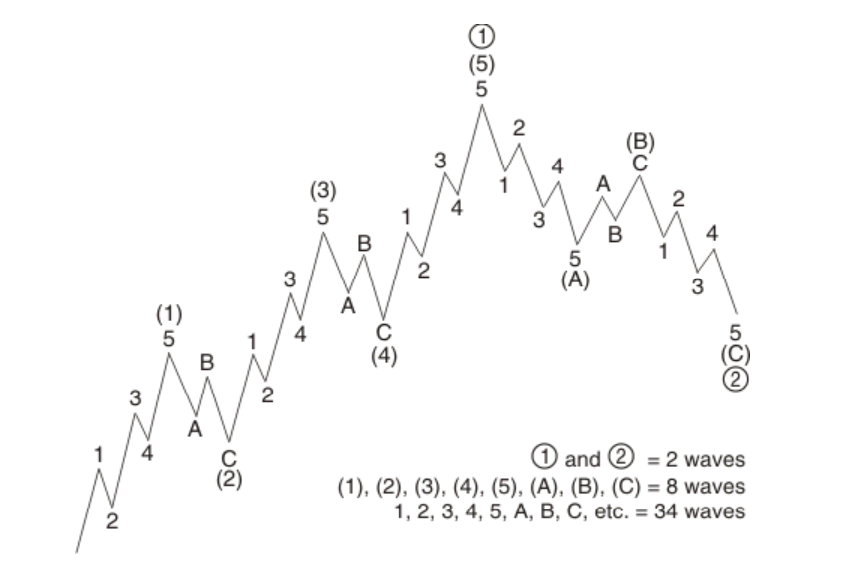 The theory says that cycles move up and down in five waves.
Waves 1,3 and 5 always move in the same direction as the bigger trend whilst 2 and 4 are corrective.
Analysts at JP Morgan have applied Elliot analysis to GBP/USD and forecast the pair to eventually fall back down to the 1.1450 October lows.
They labelled the big move down which ended in the October lows, as a wave 3, whilst the recovery up to 1.2770, a wave 4.
They forecast wave 4 would recover to highs of between 1.2650 and 1.2800, which encompasses the 1.2770 market highs achieved in November.
There is a possibility now that wave 4 has ended and wave 5 down may be underway.
However, there is also a chance that wave 4 is still playing out, since 4's can be quite complex, however, regardless, 4 is unlikely to break above the 1.2770 highs and when 5 unfolds it will move lower to a probable target at the 1.1450 lows.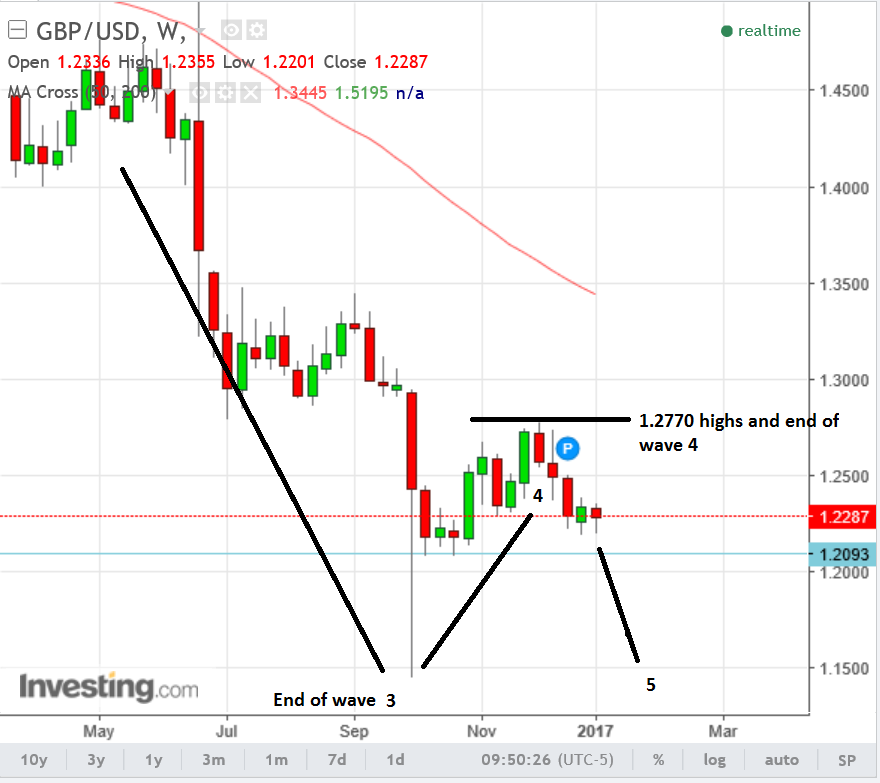 Save