Janet Yellen Boosts the Pound Against the Dollar, Next Resistance 1.4514
The pound to dollar exchange rate has shot higher as expectations over just how many times the US Federal Reserve will raise interest rates in 2016 are downgraded.
For now, the GBP/USD is seeing resilience on weakness back towards the 1.41 area and anything approaching that level now seem a a tactical GBP-buying opportunity.
Some are now arguing that the new-found resillience against the USD suggests a better way to play for Brexit concerns now lies on crosses, against EUR, AUD & NZD in particular.
On GBPUSD itself, next resistance now lies at 1.4514.
Sterling moved notably higher on Tuesday the 29th of March thanks to a broad-based dollar sell-off.
The move has seen us turn more positive on the GBP/USD's prospects thanks to the pair's move above both the 20 and 50 day moving averages.
Selling interest in the USD was sparked after US Fed Chair Janet Yellen told an audience in New York that caution in raising interest rates was "especially warranted."
Yellen says the dangers to the economy of raising interest rates at the start of the cycle were greater than at other points in the cycle.
She adds that she wants to see data improve from what is currently forecast, a big ask for an economy that continues to grow jobs at an impressive rate.
This has lead markets to speculate that the Fed may not raise interest rates two times in 2016 as previously assumed.
The promise of higher interest rates has been the bedrock of US dollar strength over recent years, and anytime the US Fed rows back from raising rates you can bet the dollar will fall.
In short, the US Fed is uncertain on how its policy will evolve, and currencies hate uncertainty. What makes Yellen's comments all the more cruel is that they fly in the face of the hints given by other Fed decision-makers.
Over recent days a number of Fed speakers had hinted at being more agressive in raising rates; the dollar rose in response.
Latest Pound / US Dollar Exchange Rates
* Bank rates according to latest IMTI data.
** RationalFX dealing desk quotation.
We now have two clear camps in the Fed:
Those in favour of higher rates – Jamie Bullard, John Williams and Denis Lockhart. All have said over the last two week that rate rises in 2016 remain on track.
Those who remain cautious of raising rates – Lael Brainard, Bill Dudley (both voting members) and Janet Yellen.
GBP/USD Still Not in an Uptrend
Thus far, re-emergent GBP strength is still corrective in nature - i.e these gains are not necessarily sustainable.
Even after the Yellen-inspired rally.
It is argued that unless key resistance at 1.4675 gives way, a broader descending sequence remains intact here.
"The past few weeks rally attempt looks complete already around 1.4500 and technical studies argue psychological support in the 1.4000 area is vulnerable to attack again initially. Once this gives way new cycle lows should follow with broad downside risk toward 1.3500 thereafter. Only above 1.4670/80 implies an important base is already in place," notes analyst Lucy Lillicrap at Associated Foreign Exchange.
There is still however the chance that the near-term recovery could advance.
"Short-term, the market has rebounded from important support in the 1.4065 region, to test 1.4265/75 resistance. A move up through this resistance is needed to signal a return to re-test the 1.45 range highs," say Lloyds Bank in a foreign exchange briefing to clients.
We have already analysed the GBP/USD today in the context of the meeting of the exchange rate with both the 20 and 50 day moving averages; we argue a successful break above these levels could open the door to a more sustained move higher.
Views are however mixed and our positive slant is questioned elsewhere, hence the forecasts presented below.
It does look like the success of a move higher in sterling depends largely on what happens to the dollar.
The US dollar has been supported by both safe-haven flows as a result of the Brussels terror attacks, as well as surprisingly positive comments from US Federal Reserve officials in recent days.
Market attention this week is focused primarily on Friday's US employment report, especially in light of recent comments from US Fed officials that an April rate hike is a possibility.
What does the outlook hold for sterling-dollar then? We have asked some of the leading lights in currency forecasting for their views, and this is what they have told us.
Forecasts for the Pound v Dollar
Head of Technical Analysis at Societe Generale, Stéphanie Aymes believes the rebound in sterling will likely only be limited in scope:
"GBP/USD has breached a multiyear upward channel support (1.46) and looks headed towards graphical levels at 1.36/1.35 (lows of 1986, 2001, 2009).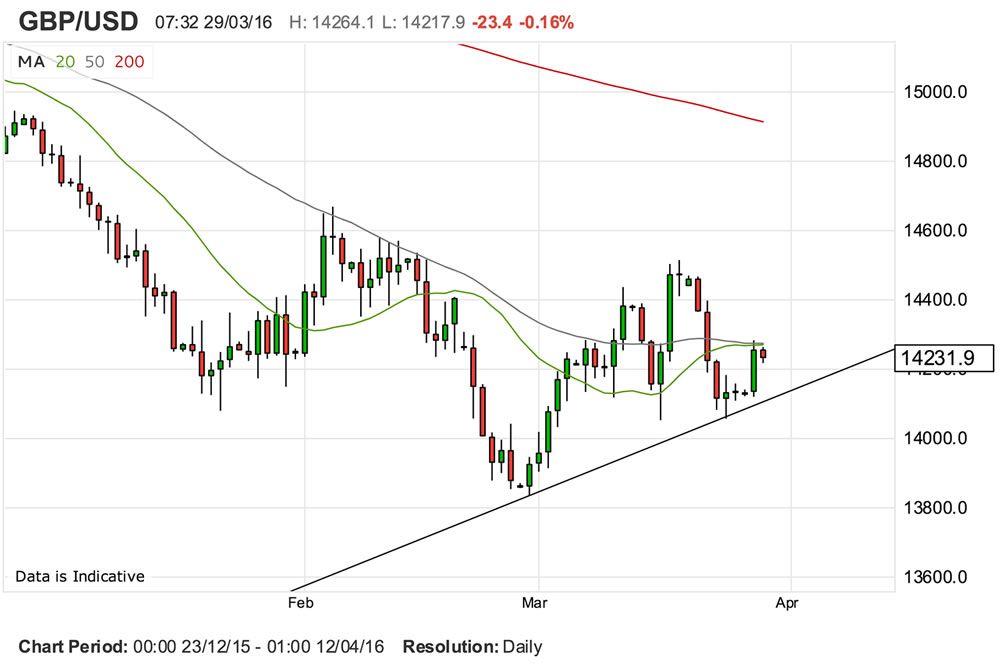 "Long-dated indicators are close hitting a floor pointing towards possibility of consolidation once these levels are achieved. 1.46/1.4670 should cap short term rebound."
Richard Perry at Hantec Markets says 1.40 should be the level that arrests any weakness over coming days:
"After a period of dollar strength helped to drag Cable lower again, the outlook has become somewhat mixed once more after yesterday's candle added over 120 pips for the bulls.
"The daily momentum indicators do not really know what to make of the recent trading on Cable as it has been all rather messy and there is little real trend that has developed over the past few weeks.
"Today's session needs to validate the strong bull candle to at least a certain extent, otherwise the pressure will return back on the key support at $1.4050. The Fibonacci retracements of $1.4051/$1.4514 are still acting as interesting turning points on the hourly chart with 50% at $1.5283 capping yesterday's high , whilst 76.4% at $1.4160 is supportive now."
LMAX Exchange are ultimately biased lower:
"The recovery rally out from a recent 7 year low has stalled out ahead of key resistance at 1.4668, potentially setting the stage for the next major lower top and bearish resumption.
"A daily close below 1.4053 will strengthen this outlook and expose a retest of 1.3836, which guards against the multi-year base at 1.3500 further down.
"Back above 1.4668 would be required to take the immediate pressure off the downside."
Lloyds Bank warn that over long-term timeframes the pound will likely break notably lower:
"Medium-term we expect the market to trade a range between 1.3850-1.35 support and 1.45-1.48 resistance.
"Long-term the trend remains down, with the greater risk still for a test below 1.35 key support (which has held since 1985). 1,28 is seen as key support below. A move back through 1.48/1.50 is needed to alleviate this underlying bear bias."