Pound Falls After Carney Says No Interest Rate Rise Coming Anytime Soon
The British Pound fell against the Euro, Dollar and other major currencies on June 20 following a speech by Governor of the Bank of England Mark Carney that cautioned markets against expecting an move on interest rate settings in the near future.
The speech was actually supposed to be delivered last week but it was delayed in the wake of the Grenfell Tower tragedy.
Carney has put paid to speculation that the Bank could consider an interest rate rise in coming months saying "now is not the time to raise rates."
The pound falls after Mark Carney says it's not yet time to raise interest rates in Britain https://t.co/8l0x5mr7gl pic.twitter.com/TBHvfg4q3h

— Bloomberg Brexit (@Brexit) June 20, 2017
Recall Sterling rallied after the Bank of England voted by a narrow 5-3 to keep rates unchanged at their June meeting.
Some members of the Bank's Monetary Policy Committee (MPC) felt that elevated inflation was becoming too much of a risk and by voting to raise rates there was a view that the Bank was becoming impatient with this inflation.
They were also becoming impatient with the low valuation in Sterling which is seen as the key driver of this inflation. By helping the Pound recover they could help inflation head lower - thereby sticking to their mandate.
However, it appears Carney has short thrift for this speculation.
Mark Carney has talked the UK Pound £ lower yet again! As it falls to US $1.267 after his Mansion House speech #GBP #BoE

— Shaun Richards (@notayesmansecon) June 20, 2017
Carney believes domestic economic data is such that a rate rise is not warranted - consumer spending and business investment remain subdued and therefore do not pose upward pressures on inflation.
"From my perspective, given the mixed signals on consumer spending and business investment, and given the still subdued domestic inflationary pressures, in particular anemic wage growth, now is not yet the time to begin that adjustment," says Carney.
The market reaction has surprised some commentators who always saw such a statement from the Governor as being the most likely.
"GBP/USD dropped as low as 1.26 while EUR/GBP hit a high of 0.8835. The BoE's leadership does not support tightening making a 2017 hike unlikely," says Kathy Lien at BK Asset Management.
Lien believes that, fundamentally and technically, the British Pound should be trading lower but it could be a rocky ride amidst BoE division and political uncertainty.
"GBPUSD slipped to week lows after Bank of England governor Mark Carney laid on a thick layer of dovishness at the Mansion House breakfast event. Quite why anyone was surprised is unclear but the market reacted," says Neil Wilson, an analyst with ETX Capital.
We would however argue that the market might have been open to the view that the Bank was willing to talk up rates and the Pound in order to let the market work against inflation by boosting the value of the Pound.
Clearly those betting on such a shift are wrong.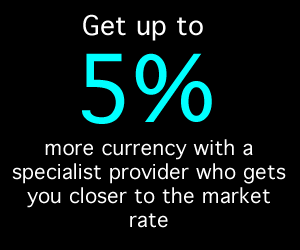 What does this mean for the outlook?
Analyst Kathleen Brooks at City Index notes GBP/USD has fallen below 1.2700, towards the bottom of its recent range, and she is watching key support at 1.2632 – the 100-day sma – as a break below here could see back to 1.2550 – the 200-day sma – and a major support level.
"In the very short term we are looking at 1.2650 – the bottom of the range from the last 10-days - if we break below here it would be a short-term bearish development," says Brooks.
We doubt that the Pound will do anything but trade in familiar ranges against both the Euro and US Dollar going forward.
As we note here, Sterling has actually stuck to well-rehearsed ranges against its major competitors and only a substantive shift in the Brexit story will trigger a big directional move.
"All this matters less for Sterling than Brexit negotiations, leaving GBP/USD increasingly range bound until we get a clearer steer on what sort of trading arrangement Britain and the EU is to strike. That could be a long time coming," says Wilson.
Where Would the Trend Turn Bearish?
The substantial weakness caused by Carney's comments at the Mansion house speech this morning may have pushed Sterling lower has it has not completely reversed the short-term uptrend against the Dollar.
A more bearish reversal hinges on the pair breaking below the 1.2632 lows as this would turn the sequence of higher highs and lows, to lower highs and lows, and would show a reversal of trend from the May peak.
Even if that happens, the exchange rate is likely to encounter strong buying at the level of the 200-day MA not far below at 1.2560, where it will probably stall or bounce.
Moving averages are dynamic levels of support which don't just provide an idea of fair value but also actually present a physical obstacle to trending price action.
Save
Save