BIS: London Still World's Foreign Exchange Trading Powerhouse, British Pound 4th Most Traded Currency

London traded nearly twice as much currency than did its nearest rival New York shows the latest data on foreign exchange markets provided by the Bank for International Settlements.
The daily average total turnover in foreign currency traded in London was $2.426BN in April 2016.
This is nearly double the size of trade sent through New York's institutions ($1.272BN) shows the latest data from the Bank of International Settlements (BIS).
The BIS offer the most comprehensive snap-shot of global foreign exchange trade via their Triennial Central Bank Survey of foreign exchange and over-the-counter (OTC) derivatives markets.
London has retained the top spot since 1995 when the data series was first produced.
London has however seen volumes traded decline from the $2.726BN recorded in 2013, as has New York which turned over $1.263BN.
It would appear that London and New York have both seen some of their market share slip at the expense of eastern trading centres.
Singapore occupied third spot once more in the global rankings with $517BN USD, up from 2013's $383BN.
Hong Kong SAR has over taken Tokyo for fourth spot having turned over $437BN, up from 2013's $275BN.
But Tokyo still increased turnover over the past three years having recorded $399BN, up from $374BN in 2013.
British Pound Fourth Most Traded Currency
Despite the UK's preeminence in global foreign exchange trade, the British Pound remains the world's fourth most traded currency on a net-net basis on account of the daily $650BN worth of Sterling traded.
This accounts for 13% of the market, which is actually up on 2013's 12%. The largest share of the market held by GBP was at 16% in the 2004 survey.
The US Dollar retains top spot with $4.458BN worth of turnover, the Euro second with 1.591BN and the Yen at $1.097BN.
The Australian Dollar falls under Sterling as the world's fifth most traded currency with daily turnover recorded at 353BN USD.
The Canadian Dollar is the 6th most traded ($261BN), the Swiss Franc 7th ($243BN), China's Renminbi 8th ($202BN) and the Swedish Krona is 9th ($113BN).
Trading in foreign exchange (FX) markets averaged $5.1 trillion per day in April 2016, this is down from $5.4 trillion in April 2013.
Foreign exchange spot trading declined for the first time since 2001, even as activity in FX derivatives continued to increase.
Trading in OTC interest rate derivatives averaged $2.7 trillion per day in April 2016, up from $2.3 trillion in April 2013.
Tables in Full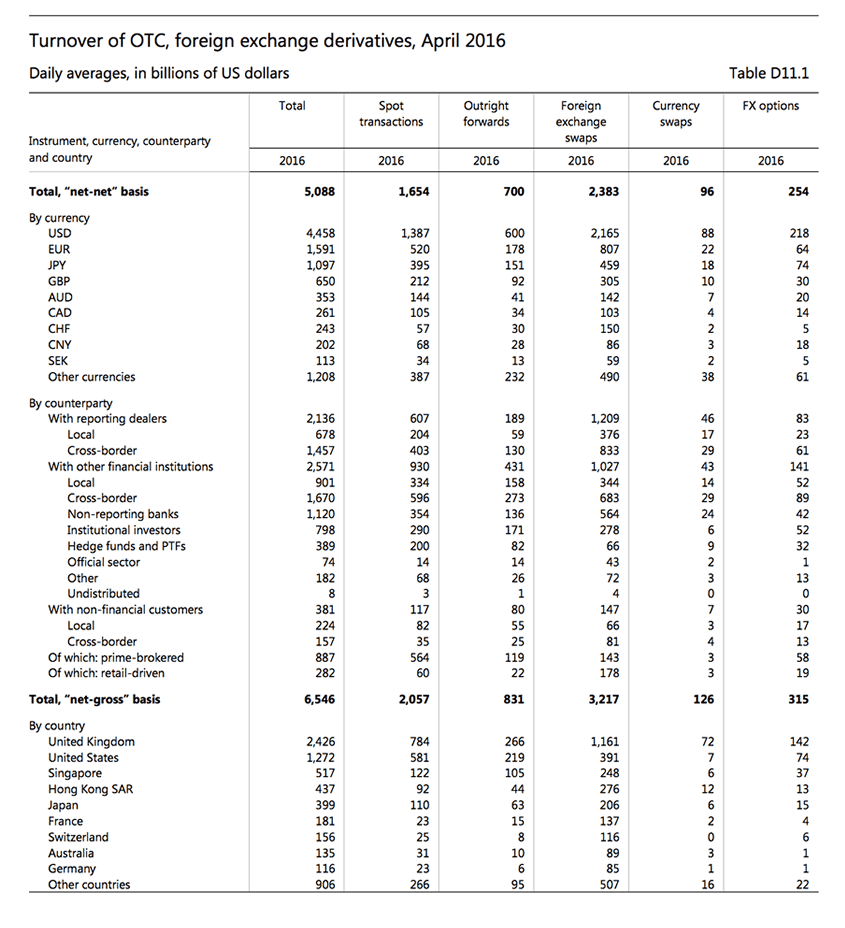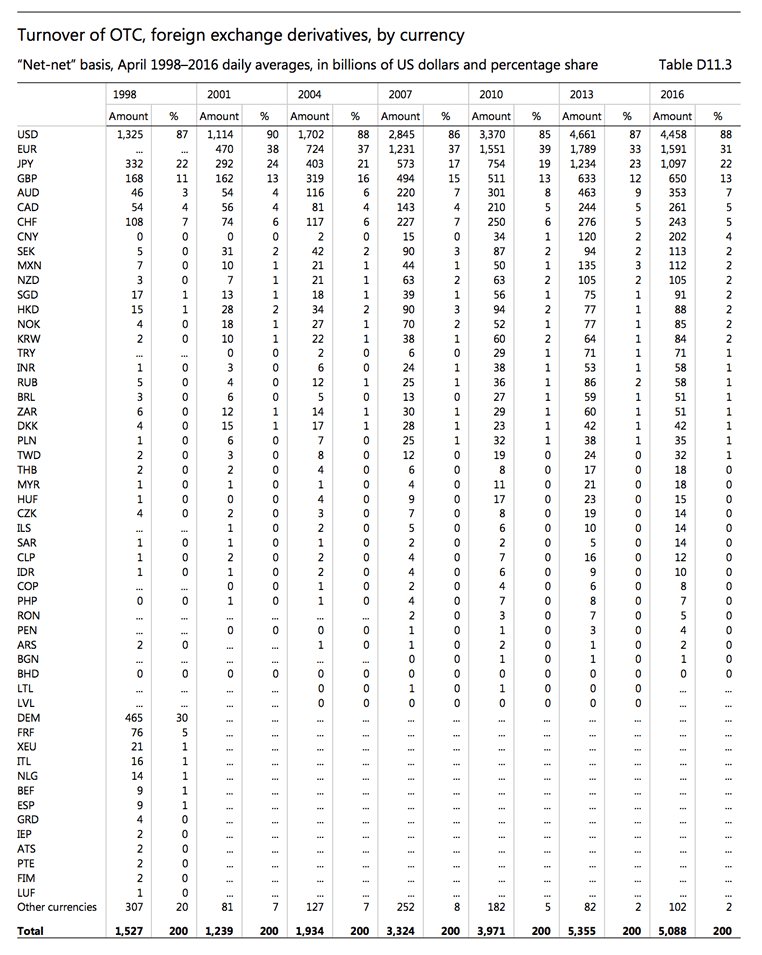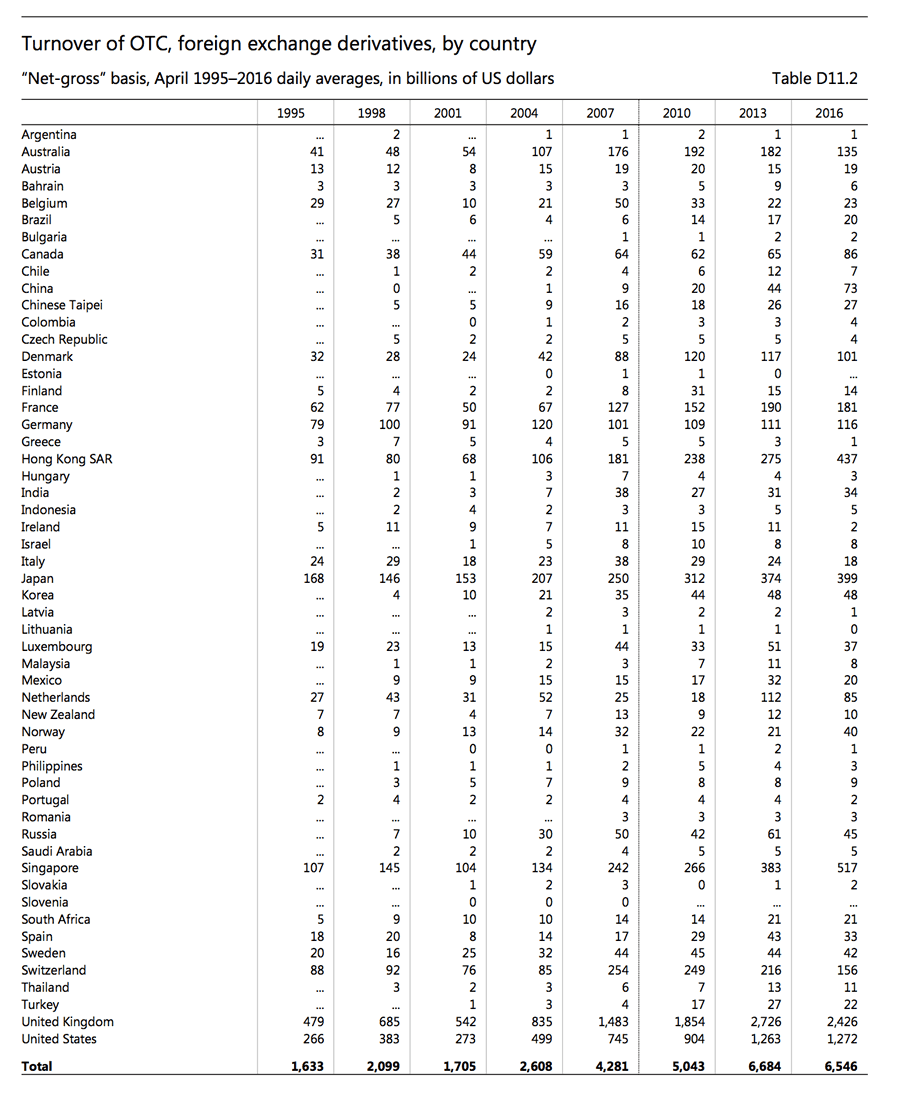 All images above from the BIS.