Not Even a GDP Beat Can Save the Sinking Pound
Image © Adobe Stock
---
A string of UK economic growth figures have beaten expectations, but the British Pound has found little comfort and is likely to remain under pressure over the coming days as markets relentlessly raise expectations for Bank of England interest rate hikes in 2024.
UK GDP for the third quarter was flat at 0% quarter-on-quarter, which was better than the -0.1% expected, helping growth rise 0.6% year-on-year in the third quarter, which is above the 0.5% figure the market was expecting.
September saw growth surprise at 0.2% month-on-month, said the ONS, better than the expected flat outturn.
A surprise rebound in construction stands out, with a 0.4% rise m/m in September, surpassing expectations for -0.5% and August's result of -0.8%. Services output - which accounts for the economy's largest sector - grew by 0.2% in September 2023 following growth of 0.3% in August 2023.
---
Above: UK GDP is flatlining following a volatile period. Source: ONS.
---
Manufacturing output recovered to 0.1% m/m in September from -0.7% in August, which nevertheless disappointed against expectations for an outcome of 0.3%.
Following the data, the Pound to Euro exchange rate was quoted at 1.1462, having recorded its lowest daily close since May on Thursday, confirming little appetite in the market for Pound Sterling.
The Pound to Dollar exchange rate remains under pressure at 1.2219.
---
---
"It's clear that higher interest rates are starting to bite, and demand has become less resilient. CBI surveys agree with that overall picture and suggest that private sector activity is likely to stagnate in the coming months," says Ben Jones, Lead Economist at the CBI.
"The pound is failing to benefit as the scenario remains negative: at last week's BoE meeting, the new growth forecasts for 2024 were lowered from 0.5% to 0.0%, whereas the projection for 2025 was left at only 0.25%. This could marginally penalise the pound against the euro beyond the near term as well," says Asmara Jamaleh, an economist at Intesa Sanpaolo.
The Pound has come under pressure since August as markets slash expectations for UK interest rates, reducing the odds of a further hike from the current 5.2% and rapidly raising bets for rate cuts in 2024.
The Pound's decline in the wake of these better-than-expected GDP numbers suggests the market wants to see significant upside surprises in the data before it bids on the Pound.
---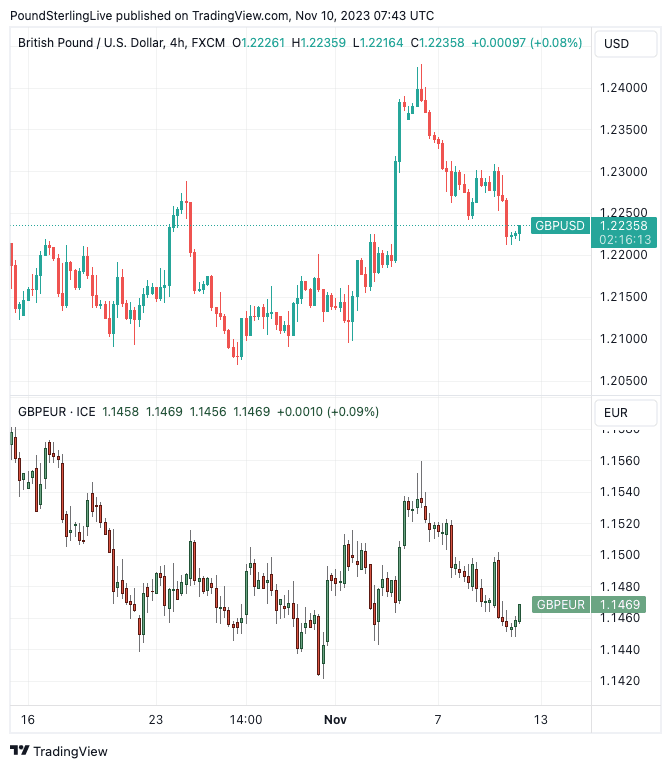 Above: GBPUSD (top) and GBPEUR at four-hour intervals. Set up a daily rate alert email to track your exchange rate OR set an alert for when your ideal exchange rate is triggered ➡ find out more.
---
The GDP figures underpin the Bank of England's latest forecasts that show the economy is due to flatline over the coming quarters.
The CBI says the government must take action in this month's Autumn Statement. "Unlocking business investment across the economy by making full expensing permanent could – according to CBI analysis - lead to a 2% increase to GDP by the end of the decade," says Jones.
The Autumn Statement also offer the government a chance to boost business confidence, which would also help business investment, which read at -4.2% y/y in Q3.
Households' real expenditure, meanwhile, fell by 0.4%. Nevertheless, one economist says the fourth quarter should see some improvements in the economy.
"We're confident that households' real expenditure will pick up in Q4, driven by a renewed recovery in real disposable income. Wages look set to rise more quickly than consumer prices again in Q4, as energy bills fall further and goods prices stabilise," says Samuel Tombs, Chief UK Economist at Pantheon Macroeconomics.
According to another analyst, an improving economic outlook, built on firming real incomes, could lend its hand to the Pound.
"With inflation having fallen rapidly and wage growth softening but not in outright collapse, rising real incomes should see household expenditure improve over coming quarters too," says Nick Rees, FX Market Analyst at Monex Europe.
Monex sees this development signalling positive signs ahead for the UK economy, though recession cannot yet be entirely ruled out.
"While this has failed to see the pound stage a recovery as of yet, we suspect that better growth conditions relative to Europe where a recession looks increasingly likely, should see appreciation pressure for sterling over coming weeks and months," says Harvey.