British Pound Softens after Retail Sales Slip Further for December
"Heavy snowfall and intensifying strike action in December likely contributed to the further drop in retail sales, but the underlying picture is weak too" - Pantheon Macroeconomics.
Image © Adobe Images
Pound Sterling exchange rates fell widely to open the final session of the week after the Office for National Statistics (ONS) said retail sales volumes fell by one percent during December, making for the eighth time in a row that retail sales have fallen in December.
The one percent fall in the number of items sold by retailers throughout the Christmas month adds to a 0.5% decline from November and leaves sales volumes 1.7% below their pre-coronavirus level from February 2020.
Demand fell the most for non-food store retailers.
"Food store sales volumes fell by 0.3% in December 2022 from a rise of 1.0% in November, with comments from some retailers suggesting that customers stocked up early for Christmas," the ONS says.
"Between 2021 and 2022, retail sales volumes fell by 3.0%, as the lifting of restrictions on hospitality led to a return to eating out, and rising prices and the cost of living affected sales volumes," it adds.
---
Source: Office for National Statistics.
---
The advent of Black Friday sales in November has often been cited for why retail sales have not risen during the festive month since December 2014, though this year November's sales volumes were also lower in an outcome widely attributed to the current high level of inflation.
"Our sales have become increasingly erratic and unpredictable since July last year. Smaller, day-to-day spending has dropped dramatically, undoubtedly as a result of people having less money in their pockets to spend on themselves," says Kate Ashwell of Bristol-based vintage clothes retailer Ashwell & Co.
"We sell vintage bridal wear alongside general vintage fashion and luckily our bridal wear was incredibly buoyant last year. This has cushioned us from feeling the drop in general sales too significantly but relying on larger one-off sales is not a comfortable place to sit as a retailer," she adds.
December was also marred by nationwide disruptions to postal and rail services due to industrial action, which many have cited for impacting sales.
"I am unsure about this year. People are still spending money but changing their spending habits so I feel it's about tailoring your business to match the changing behaviours of consumer spending," says Dalia Hawley, owner of Leeds-based skincare retailer Dalia Botanique.
"As a skincare brand, I am working on the lipstick effect. People still want to feel glamorous, they still want to pamper themselves and they will spend money on high-quality products," she adds.
---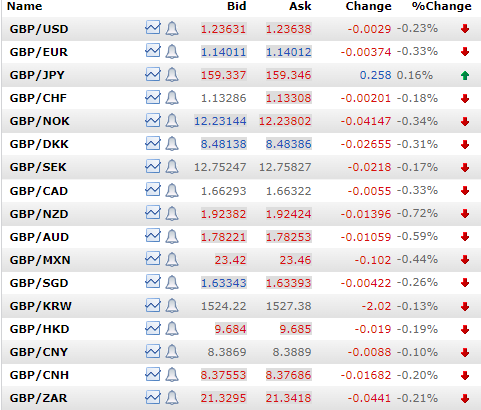 Above: Interbank reference rates for Sterling at 07:54 on Friday. Source: Netdania.
To optimise the timing of international payments, you can set a free FX rate alert here.
---
Sterling exchange rates fell broadly in response to the release though from relatively high levels and at the tailend of a week for which the Pound remained one of the top performing currencies within both G10 and G20 groupings.
"Heavy snowfall and intensifying strike action in December likely contributed to the further drop in retail sales, but the underlying picture is weak too," says Samuel Tombs, chief UK economist at Pantheon Macroeconomics.
Previously, data out on Wednesday indicated that inflation slowed last month but also suggested services-producing companies were still pushing through large price increases despite the steepest rise Bank Rate since the late 1980s.
Pay growth has also accelerated in some pockets of the labour force in recent months, data suggested on Tuesday, while last week GDP figures indicated the economy had not deteriorated in November to the quite the same extent envisaged by forecasters at the BoE and elsewhere.
"Looking ahead, households likely will have to contend with rising energy prices, higher new mortgage rates and falling employment. Indeed, a typical household's monthly energy bill, after grants, will jump to £250 in April, from £142 currently, reducing their disposable income by 2.3%," Tombs warns.