Pound Sterling Advances, Johnson / von der Leyen Meeting in Focus
- Johnson & von der Leyen to discuss future trade
- Sterling to be sensitive to trade talk developments
- Recent gains could evaporate on testy encounter
- GBP/USD to fall to 1.15 on 'no trade deal' Brexit
Above: Ursula von der Leyen delivers a speech at the LSE © European Union, 2019, Source: EC - Audiovisual Service, Photographer: Etienne Ansotte
- Spot rates: GBP/EUR: 1.1818, +0.54% | GBP/USD: 1.3159, +0.34%

- Indicative bank rates for transfers: GBP/EUR: 1.1504-1.1590 | GBP/USD: 1.2798-1.2890

- Indicative money transfer specialist rates: GBP/EUR 1.1650-1.17 | GBP/USD: 1.30-1.3040 >>Get your quote now
The British Pound is pushing higher against the majority of major currencies in mid-week trade with markets expecting a relatively constructive outcome to today's talks between Prime Minister Boris Johnson and European Commission President Ursula von der Leyen, who are to meet and set the groundwork for negotiations on trade and the future relationship between the EU and UK.
The two are expected to meet in Downing Street later and the meeting will be the first instalment in what promises to be a year of intense trade negotiations that will likely prove to be the Pound's primary focus. Ahead of the meeting Sterling is looking relatively well supported thanks to pre-meeting briefings from both sides that suggest there is a clear intent to ensure the next phase of Brexit negotiations are more constructive than those held over the past three years that lead to the Withdrawal Agreement.
Ahead of the meeting, Von der Leyen told an audience at the London School of Economics that the EU stood ready to agree an ambitious and comprehensive Free Trade Agreement, but there would not enough time for a full new partnership deal to be agreed by the end of 2020.
Therefore, the two sides would have to prioritise what they want agreed by December if no extension were to be delivered.
This would typically be seen as a negative scenario for Sterling, however we take a positive from this as it signals that there will no cliff-edge at the end of the year as some elements of a trade deal can be agreed while other items remain outstanding.
This should be a positive takeaway for Pound Sterling: recall, the deepest declines seen in the currency before the 2019 Brexit deal was signed came when the market was anxious that a 'no deal' Brexit would take place.
This is because the Brexit negotiations were built around an 'all or nothing' format: nothing is agreed until everything is agreed.
This is clearly not the same structure envisaged by both sides in the 2020 trade negotiations; therefore we do not expect to see the same levels of anxiety reflected by Sterling as before.
Above: Sterling has been recovering from a late December fall over recent days.
Von der Leyen said she wants a deal with "zero tariffs, zero quotas, zero dumping that, goes well beyond (others). Everything from climate to data protection energy fisheries space financial and security".
But, von der Leyen acknowledged there would be divergence between the EU and UK, and this would therefore impact on the nature of the future trading relationship in potentially negative ways.
"The truth is that our partnership cannot and will not be the same as before. And it cannot and will not be as close as before – because with every choice comes a consequence. With every decision comes a trade-off. Without the free movement of people, you cannot have the free movement of capital, goods and services. Without a level playing field on environment, labour, taxation and state aid, you cannot have the highest quality access to the world's largest single market," said von der Leyen.
🎥 Speech by President @vonderleyen at the London School of Economics with the title "Old friends, new beginnings - building another future for the EU-UK partnership"
🇪🇺🇬🇧 #Brexit

Watch the video: https://t.co/dRAb8Vwh96
More infos: https://t.co/K2CFw3Ax0Y pic.twitter.com/UoJ14yUc7v

— EC AV Service (@EC_AVService) January 8, 2020
Prime Minister Johnson does want some divergence, and divergence will indeed be required if the UK is to align with other nations when seeking other trade deals.
"The more divergence there is, the more distant the partnership has to be. And without an extension of the transition period beyond 2020, you cannot expect to agree on every single aspect of our new partnership. We will have to prioritise," says von der Leyen.
Time to move your money? The Global Reach Best Exchange Rate Guarantee offers you competitive rates and maximises your currency transfer. They offer great rates, tailored transfers, and market insight to help you choose the best times for you to trade. Speaking to a currency specialist helps you to capitalise on positive market shifts and make the most of your money. Find out more here.
* Advertisement
Still Plenty of Scope for Political Uncertainty in the Year Ahead
The EU and UK part ways on January 31, but a transition period lasting until year-end has been agreed to allow both sides to hammer out a trade deal. However, concerns that the negotiating period is too short has lead to some analysts suggesting the UK and EU could fail to strike a deal, a situation that could ultimately see the two sides revert to World Trade Organization trade rules, which are deemed to be an undesirable outcome for the UK economy.
"There will be plenty of Brexit headlines over the next 36 hours," says Richard Pace, a foreign exchange options analyst at Thomson Reuters, "but dealers shouldn't expect too much in the way of related GBP volatility, according to FX option pricing. Markets already know that Johnson will confirm his commitment not to extend the Brexit transition period past 2020 while seeking a free trade agreement, and that she has already cast doubt on whether that's possible and wants closer EU/UK alignment."
The Pound came under pressure in late 2019 after Johnson confirmed there would be no extension to the transition period, with some suggesting that the stance of the Prime Minister is a prime reason why Sterling fell at the end of 2020.
"The PM has changed legislation to avert extending this deadline, subsequently increasing fears of a hard Brexit scenario, which is expected to weigh on the Pound. EU officials believe such a complex trade deal will take a lot longer to negotiate and failure to reach a deal could lead to the UK falling onto World Trade Organisation Rules. Therefore, the talks at this stage are crucial and the tone of the comments made by both sides could play a part in Sterling price action this week," says Vessey.
Jane Foley, Senior Foreign Exchange Strategist at Rabobank, says "for the Pound there is still plenty of scope for political uncertainty in the year ahead." The analyst believes that the Pound could suffer significant declines should the two sides fail to agree a new trade relationship.
"Many EU politicians, including Commission President Von der Leyen, believe that this time frame is too short," says Foley. "Insofar as PM Johnson has ruled out an extension, the prospect of a rushed, bad deal or even a 'no deal' Brexit still looms large."
The meeting between von der Leyen and Johnson is however expected to be light on detail as the European Commission is yet to receive a mandate from European leaders to conduct trade negotiations. It is only once a mandate is given - i.e. the outline of the EU's position is agreed - will the two sides get down to the details. Johnson is believed to want to press von der Leyen to speed up the process in order to secure a deal before the deadline.
"The EU will open talks with the UK at No.10 Downing Street. Given the early stage of FTA talks we doubt there will be much market-moving information. If anything the Brexit premium remaining in UK markets is likely to continue to drift lower during this period," says Jordan Rochester, foreign exchange strategist with Nomura.
Rochester says the Pound should trend higher in 2020 as "bad news in the price" and green-shoots in UK economic data data should prove supportive. "Brexit to be more of a concern not now but in H2, rates spreads supportive, UK capital flows improving, central banks expanding balance sheets and U.S. twin deficits to weaken the USD," adds Rochester.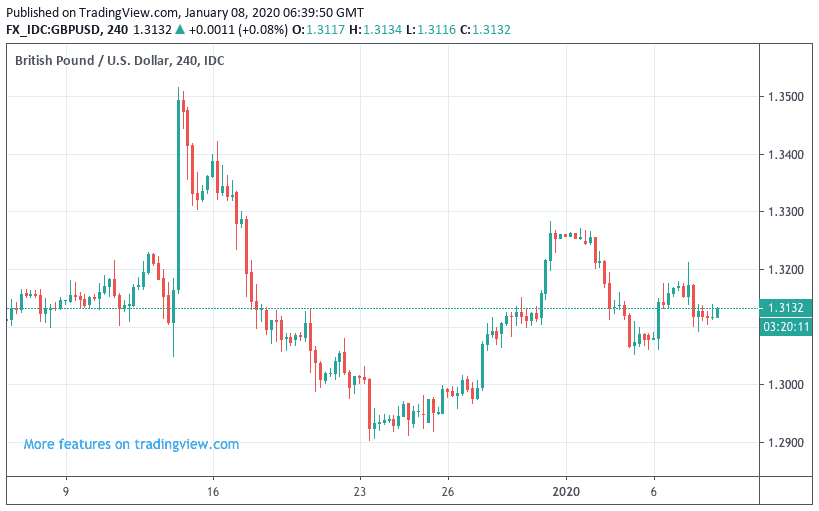 Indeed, we would expect the Pound to only really move substantially when the details of the trade deal are being discussed and the market is able to gauge the prospects for success in greater detail. Indeed, it could be many months before some tangible substance on the negotiations are given to the market.
"The tone and the pace of the talks between the UK and the EU will be instrumental for guiding GBP in the months ahead and we see ample scope for GBP/USD to dip back to the 1.28 area as politicians on both sides lay out their positions," says Foley.
If an appropriate deal is successfully negotiated Rabobank forecasts show GBP/USD could trade in a 1.35-1.40 range in 2021.
"That said, there is a lot of ground to be covered before this becomes a realistic prospect," says Foley.
Rabobank maintain the view that a 'no deal' Brexit would likely drive GBP/USD towards the 1.15 area.
Time to move your money? The Global Reach Best Exchange Rate Guarantee offers you competitive rates and maximises your currency transfer. They offer great rates, tailored transfers, and market insight to help you choose the best times for you to trade. Speaking to a currency specialist helps you to capitalise on positive market shifts and make the most of your money. Find out more here.

* Advertisement