British Pound Softens against Euro and Dollar even as Brexiteer Dominoes Fall, after Bercow Throws New Curveball
© Andrew Parsons/ i-Images, Flickr, Reproduced under CC Agreement
- GBP softens as market waits for word of 3rd Withdrawal vote.
- Brexiteer dominoes are falling but will May secure enough votes?
- Art 50 extension request certain, but question remains; how long for?
The Pound was softer at the beginning of the new week as investors wait to hear if Prime Minister Theresa May will put her EU Withdrawal Agreement before parliament again, while attempting to gauge whether she will have the numbers to see it pass.
One-by-one, opponents of PM May's proposal have indicated in recent days that they will now back the exit bill if it is put before parliament again. However, a controversial decision on Monday by Speaker of the House of Commons John Bercow came as a fresh curveball for Sterling.
Bercow told parliament that age-old convention, which is also the best description of the UK's constitution, means PM May cannot ask MPs in the House of Commons to vote on her Withdrawal Agreement again until there has been some form of meaningful change to it.
This is because convention states that parliament should not be asked to vote on the same question twice within the same parliamentary session, which puts in doubt the idea of a third parliamentary showdown over Brexit this week. A parliamentary session normally runs for around a year.
"This is a big blow for the government as it effectively closes off another vote this week unless May can pull a rabbit out of the hat. The Speaker will only allow a third vote if the proposition changes significantly – which seems rather unlikely ahead of the European Council meeting this week," says Mark Wilson, an analyst at Markets.com.
No deal is now the best outcome. https://t.co/gZtNaAoygT

— Jacob Rees-Mogg (@Jacob_Rees_Mogg) March 18, 2019
Bercow's intervention came in a session where European Research Group leader Jacob Rees-Mogg told LBC radio listeners that he is waiting to see what the Democratic Unionist Party will do at the next withdrawal ballot before making his own mind up on whether to support PM May's proposal this time around.
He also spoke strongly in favour of a so-called no deal Brexit, where the UK leaves the EU and defaults to trading with it on World Trade Organization (WTO) terms, before conceding that the choice facing MPs is between a "bad Brexit" and "no Brexit at all".
It is now unclear when MPs will next vote again on the EU Withdrawal Agreement but it is the question of whether the bill passes that is most key for Sterling. Either way, the uncertainty hanging over the economy will be prolonged beyond March, although the fate of the bill will determine exactly how long for.
"The focus will be on the DUP – if she can convince them to back her deal, it is likely that many of the Eurosceptic Conservatives will do so as well, as the backstop remains the most contentious issue of her deal. The DUP will come under increasing pressure to support her deal," says Lee Hardman, a currency analyst at MUFG.
Rees-Mogg's comments came after MPs including the Brexit-backing stalwart Esther McVey said they will now vote for PM May's proposal. This was after parliament backed with a majority of more than 200, a motion to extend the Article 50 negotiating window.
Last week MPs voted to delay Brexit & remove 'no deal'. With those cynical votes they changed the choice us Brexiteers face. We either vote for this bad deal or get no Brexit which would fly in the face of democracy. For that reason with nose held I will have to vote for the deal https://t.co/Jhx3SK1CWi

— Esther McVey (@EstherMcVey1) March 17, 2019
Foreign Secretary Jeremy Hunt said Monday that PM May will put the Withdrawal Agreement before the House of Commons again only if she can be confident of a victory. Former Foreign Secretary Boris Johnson called on Monday for MPs to reject the agreement again this week. Some 21 other Conservative Party MPs also say they'll continue to vote against the bill.
I will NOT be voting in support of the PMs Withdrawal Agreement. The British spirit is to fight on and not to back down to threats. The WA is not good for Britain. We deserve better:not to be locked in and tied to the EU. We voted to be free, not subjugation. 🇬🇧

— Andrea Jenkyns MP #StandUp4Brexit (@andreajenkyns) March 17, 2019
Media pundits were speculating in the afternoon session that PM May has so-far failed in talks that had sought to bring the Democratic Unionist Party on board with her EU withdrawal plan. The DUP will be key to the eventual outcome.
It is now almost 100% certain that there will be no deal between the DUP and the government this week, and therefore - as I said on Saturday - @theresa_may will not risk third meaningful vote this week. So the scenario I mapped out this morning of the vote on her deal...

— Robert Peston (@Peston) March 18, 2019
PM May has tried and failed twice to move her controversial and contentious EU Withdrawal Agreement through the House of Commons.
Some Brexit-supporting MPs say they'll now vote for the deal because it's the only way they'll ever see anything that looks even remotely like independence from the EU, given the composition of parliament.
However, many of them have been waiting for the outcome of talks between Downing Street and the Democratic Unionist Party, which represents the unionists of Northern Ireland. If PM May is able to entice them on board with her plan, then more Brexit-backing MPs could fall into line this week.
"Given the FX market's tendency to don "rose-tinted eyeglasses" on all things Brexit-related in recent sessions, we had thought the overwhelming bias today would have been a firmer GBP on expectations that pure duress would likely force more MPs to back May's deal in a third meaningful vote on Tuesday," says Stephen Gallo, European head of FX strategy at BMO Capital Markets.
Comment by the Democratic Unionist Party. pic.twitter.com/T5V4HvnKBt

— Nigel Dodds (@NigelDoddsDUP) March 16, 2019
"If the DUP end up supporting her deal, it is possible that the bulk of the rebel Tories as well as a handful of Labour MPs could as well, and that this could finally push her deal over the line. If this begins to look more likely, the pound should continue on its rise against the dollar from last week, edging higher in the 1.3300 to 1.3500 range," says MUFG's Hardman.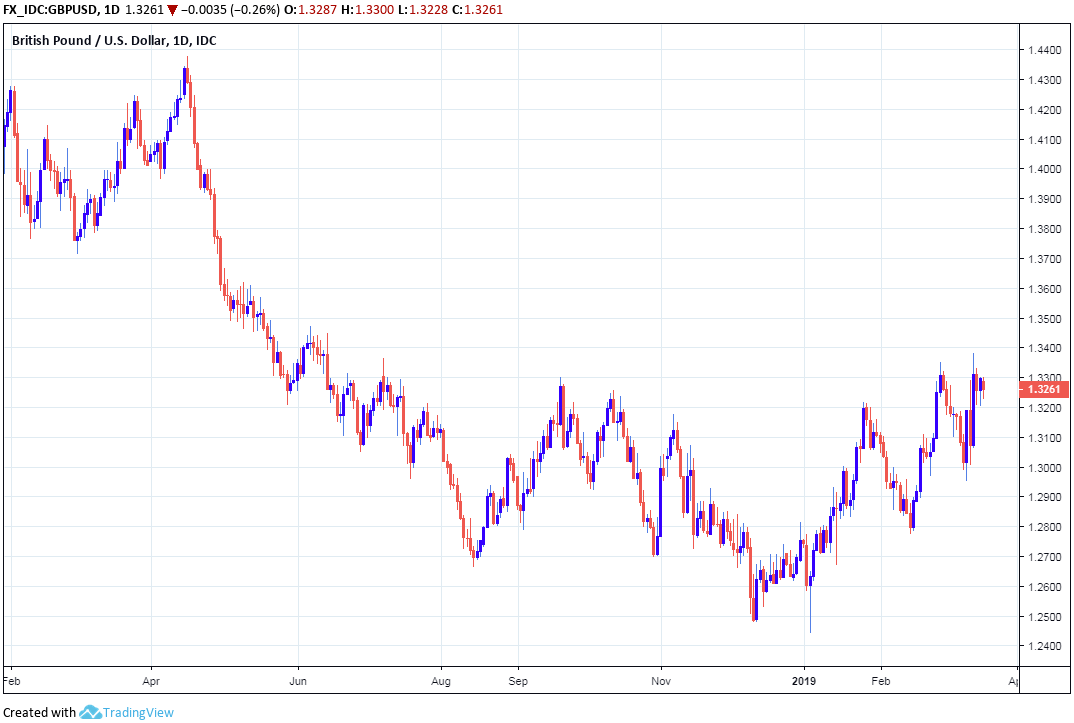 Above: Pound-to-Dollar rate shown at daily intervals.
"GBPUSD had spent the day easing off its highs around 1.33 as the government cooled expectations for an MV3. The Bercow comments saw the pound move sharply lower, with GBPUSD shipping about 50 pips and giving up the 1.32 handle briefly before recovering some poise," says Markets.com's Wilson.
The Pound was quoted -0.40% lower at 1.3230 against the Dollar late on Monday while the Pound-to-Euro rate was -0.48% lower at 1.1680. Both exchange rates have risen sharply this year, by 3.9% and 4.9% respectively.
"On the event of a chaotic exit from the EU we see risk of cable plunging below the GBP/USD 1.15 level and EUR/GBP soaring towards parity," says Jane Foley, a strategist at Rabobank.
Above: Pound-to-Euro rate shown at daily intervals.
The House of Commons including Prime Minister Theresa May voted last Thursday to have her return to Brussels and request from the European Union an extension of the Article 50 negotiating window, which is currently scheduled to end on March 29.
PM May has said that if parliament approves her EU Withdrawal Agreement then she will ask the EU for only a short two-month delay to enable ratification but that, if parliament rejects her proposal for a third time, then there could be a Brexit delay of between two and four years.
"If May's deal scrapes over the line, the government has said it would then request a short, "technical" extension to A50 at the European Council meeting (Thurs). If the deal fails, a request will be made for a longer extension to the exit date and parliament would then vote on alternative scenarios (another referendum, a different exit deal, etc). ). If the EU turns down either request, it could lead to a "No deal" Brexit," says Sue Trinh, Asia head of FX strategy at RBC Capital Markets.
All 27 leaders of EU members must unanimously approve any extension and there's no guarantee that they'll do it. There's also little telling what they might demand in return for granting an extension or exactly how long they could demand that such a thing be.
Unless and until an extension is agreed the course of action currently enshrined in law will see the UK leave the EU on March 29 and default to doing business with it on World Trade Organization (WTO) terms, which is for those looking to see a stronger Pound Sterling, the worst possible outcome.
However, Foreign Secretary Jeremy Hunt also warned on Monday that the support of all EU leaders for an extension of Article 50 cannot be taken for granted. This is because a seemingly unlikely European Council veto from either Italy or one of the Visegrad Four of Central and Eastern Europe cannot yet be ruled out.
The senior German MEP Elmar Brok is absolutely terrified that Italy's patriotic government could veto a UK request to delay Brexit. The peoples of Europe are waking up, and could act decisively to stop Britain being caged by Brussels! 🇮🇹🇬🇧

Support us at https://t.co/ntwXbJeHQw

— Leave.EU (@LeaveEUOfficial) March 18, 2019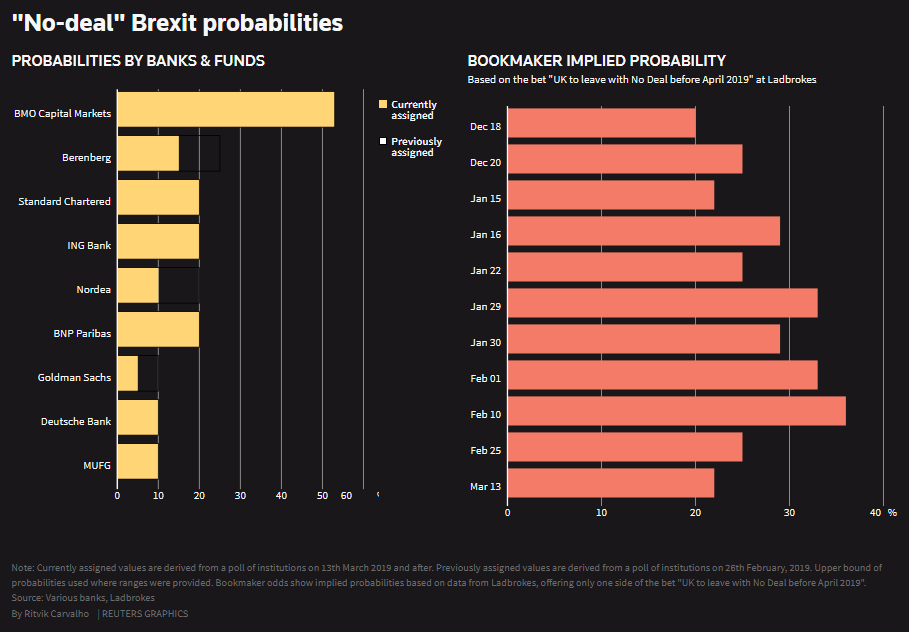 Above: Source: Thomson Reuters/Refinitive.
"GBP could be expected to rally on the news that a deal is in place and that a hard Brexit is firmly off the table. The knee jerk reaction could take GBP/USD above the 1.35 level, but profit-taking would then likely kick in," Rabobank's Foley writes, in a note to clients. "European Commission President Tusk has suggested that the EU could be open to a long extension "if the UK finds it necessary to rethink its Brexit strategy."
Markets like PM May's Brexit proposal because it defers a meaningful change in circumstance until at least the end of 2020 and even then, the exit envisaged by the withdrawal agreement and future relationship declaration removes the UK from the under the EU's wing in legal terms, but little more than that.
This is because the withdrawal agreement means that if the UK cannot or will not satisfy the EU's demands in the next stage of the negotiations, government will be forced to choose between two options.
That choice is between allowing the province of Northern Ireland to be annexed by the Republic of Ireland and European Union, or the UK remaining subordinate to the EU and subject to many of its laws on a potentially-indefinite basis and without any ability to influence those laws or EU institutions.
As a result, the proposal that PM May has been doggedly thrusting at parliament has gone down like a cup of cold sick with some MPs, although not nearly all of them. Many have appeared to oppose the pact simply out of a partisan and opportunistic desire to force a general election.
"While GBP would likely rally initially if the EU grants the UK any delay to Brexit beyond March 29, the fact that a no deal Brexit would still be on the table in these circumstances coupled with concern that the economy would continue to suffer under the burden of political uncertainty would likely limit upside potential," says Foley.
Time to move your money? Get 3-5% more currency than your bank would offer by using the services of foreign exchange specialists at RationalFX. A specialist broker can deliver you an exchange rate closer to the real market rate, thereby saving you substantial quantities of currency. Find out more here.

* Advertisement