Pound Sterling Bid on Latest Irish Border Rumours and Manufacturing PMI Beat
Above: The UK's chief Brexit negotiator, Dominic Raab. Image © European Union, 2018 / Source: EC - Audiovisual Service / Photo: Lukasz Kobus.
- Manufacturing PMI data beats expectations

- Newswires report U.K. prepared to shift on Irish backstop
- Hammond predicts Brexit deal dividend

- Pound Sterling suffered heavily at previous two party conferences
Pound Sterling strengthened against its main rivals at the start of the new month thanks to a strong Manufacturing PMI reading and news that the U.K. was prepared to shift its stance on the Irish border question to seal a Brexit deal before year-end.
U.K. Prime Minister Theresa May is reported to be preparing a significant new Brexit offer to the European Union in an attempt to open the door to a deal, according to a senior British government official quoted by Bloomberg.
Brexit negotiations are currently stuck on the question of how to avoid the need for police and customs checks on the border between the U.K. and Ireland, but the British side now sees a path to reaching an agreement, according to the official.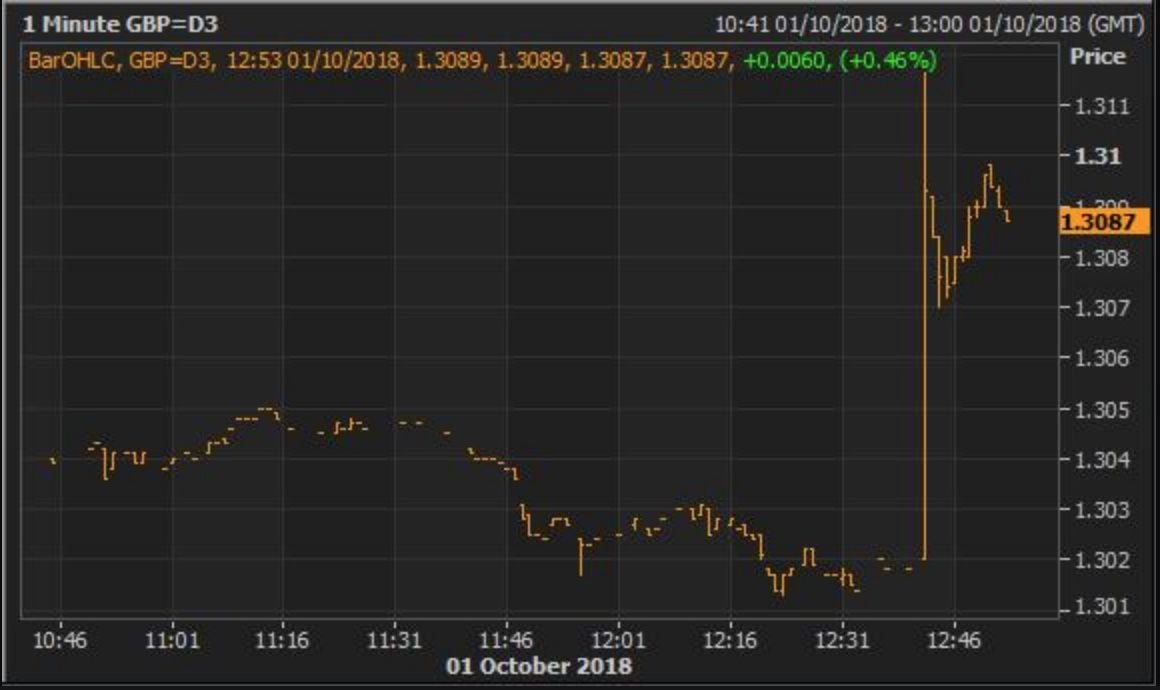 Above: GBP/USD reacts to the news of a potential step forward in breaking the Brexit impasse. Image (C) Reuters.
The outline of the proposed changes would potentially unlock negotiations which were declared by Theresa May in a speech on September 21 as being at an impasse.
Under the plan, which May is likely to put forward later this month, the U.K. would back down on its opposition to new checks on goods moving between the British mainland and Northern Ireland. In exchange, May's team would need the E.U. to compromise and allow the whole of the U.K. including Northern Ireland to stay in the bloc's customs regime.
The GBP/EUR is widely seen as the best barometer for Brexit sentiment, and the strong performance is indicative of optimism. The Pound-to-Euro exchange rate is quoted at 1.1273 at the time of writing, the pair's highest level since Septmber 20.
The Pound-to-Dollar exchange rate is quoted at 1.3022, the gains here are more contained owing to the Greenback's broad-based strength at present.
Details on the new compromise are light, and we wonder how her own party - currently locked into their annual conference in Birmingham - would digest the new plans. Indeed, the Times is reporting on Tuesday that "May is preparing to limit Britain's ability to strike free-trade deals after Brexit in a significant concession to the European Union aimed at breaking the deadlock in negotiations."
This has the potential to significantly entrench divisions in her own Conservative party.
"The potential offering is tantamount to Northern Ireland remaining within the EU customs agreement, thus pushing the hard border to the Irish sea rather than overland," says Joshua Mahony, Market Analyst at IG.
Indeed, foreign exchange strategists remain sceptical on Sterling in the short-term as a result.
"Such anonymous source comments may be inconsistent with the apparent efforts by PM May and her cabinet ministers to appeal to a broader range of Tory party members including those who are supporting a harder version of Brexit. We therefore see any bounces in GBP on the back of such stories as selling opportunities," says Marinov.
Advertisement


Lock in Sterling's current levels ahead of potential declines: Get up to 5% more foreign exchange for international payments by using a specialist provider to get closer to the real market rate and avoid the gaping spreads charged by your bank when providing currency. Learn more here
Manufacturing PMI Beats Expectations
The Pound was initially sent higher after it was reported U.K. manufacturing production rose for the twenty-sixth successive month in September, with the rate of increase rising to a four-month high according to the IHS Markit Manufacturing PMI report for September.
The PMI read at 53.8, where consensus was looking for a reading of 52.6, the beat helping Sterling start the new week on a positive footing.
IHS Markit report rates of expansion in output and new orders gained traction, while the trend in new export business saw a modest recovery following August's solid contraction.
September data signalled a broad-based improvement in business conditions. PMI readings for the consumer, intermediate and investment goods sectors all remained in expansion territory, with stronger rates of increase signalled in the latter two industries.
Also out were some lending numbers from the Bank of England which were more mixed. Mortgage approvals read at 66.44K, consensus had forecast 64.05K while consumer credit read at £1.118BN where markets had forecast a stronger £1.30BN.
Raab, Hammond Dominate Conference Agenda
Data aside, markets will be interested in the headlines coming from the Conservative party conference pertaining to Brexit.
Specifically, how will the conference shift Theresa May's Brexit strategy, if at all?
Immediate market attention lies with Chancellor Philip Hammond and Brexit Secretary Dominic Raab who have both delivered addresses defending the government's current proposals known as the 'Chequers plan', hinting that no major change in course will be delivered by May mid-week.
Brexit Secretary Dominic Raab told the conference the European Union needs to "get serious" on Brexit and "they need to do it now".
"Our prime minister has been constructive and respectful. In return we heard jibes from senior leaders. And we saw a starkly one-sided approach to negotiation, where the EU's theological approach allows no room for serious compromise," said the Brexit secretary. "And yet we are expected to cast aside the territorial integrity of our own country. If the EU want a deal, they need to get serious. And they need to do it now."
He also used his platform to confirm the government would not entertain a second referendum; something some analysts had suggested would be a positive development for Sterling.
Raab used his platform to accuse the opposition Labour party of "opening the door to reversing Brexit" and such a move would mean "trust in our democracy would all but vanish."
#Brexit Secretary Dominic Raab accuses Labour of "opening the door to reversing Brexit" in speech to Conservative Party conference https://t.co/yD4grOQOUl pic.twitter.com/wrc242XIKT

— BBC Politics (@BBCPolitics) October 1, 2018
He rejected the European Commission's proposal for a "backstop" solution to the Irish border issue under which Northern Ireland would remain part of the EU customs area.
Chancellor Hammond meanwhile predicted a Brexit deal dividend while attacking Boris Johnson's "fantasy world" Brexit plan. "Chequers delivers on referendum and avoids a hard Irish border," said Hammond.
"I am an enthusiast for the change that is coming," said Hammond on Brexit. "And for the benefits it will bring to our society. And I am committed to preparing Britain for it."
The conference comes at a difficult time for Brexit negotiations with both sides apparently unwilling to budge on their redlines, thereby creating a deadlock a mere few weeks ahead of a November deadline.
We will be watching Prime Minister Theresa May's speech on Wednesday to see whether she has shifted her stance or whether she is digging in. The past two conferences have seen Sterling move in response to her speech and we are wondering if conference 2018 will be any different.
"GBP was weakening back towards 1.30 as the Conservative Party conference only underscored the divisions within the party still about Brexit and demonstrated PM May's weak position. She doesn't address the conference until Wednesday, meaning her political opponents can dominate the airwaves until then. I think GBP is likely to weaken further as hopes for a successful negotiation to Brexit fade and the market takes in just how difficult a position the country is in," says Marshall Gittler at ACLS Global.
Traders will be wary that the Pound has suffered at previous conferences.
Data shows the Pound fell 3.75 cents in the first week of October last year, after a disastrous keynote conference speech by PM Theresa May.
"Sterling suffered from May's misfortune, amid perceptions that her hold on power had never looked weaker. A year earlier, the Pound fared even worse after May's conference message was perceived as signalling that Britain was heading for a hard Brexit," says Robert Howard, who sits on the foreign exchange desk at Thomson Reuters.
That first week of October 2016 ended with a "flash crash" for GBP, which saw cable tank to 1.1491 – its lowest for 31 years.
"Brexit developments can buck the market at any moment, either way," says Howard. "Fortune may favour the brave, but speculators holding or mulling Sterling longs must be wondering about just how bold they should be as the annual UK Conservative Party conference looms."
Advertisement


Lock in Sterling's current levels ahead of potential declines: Get up to 5% more foreign exchange for international payments by using a specialist provider to get closer to the real market rate and avoid the gaping spreads charged by your bank when providing currency. Learn more here