Deutsche Bank "Turning Bearish on the Pound", say Buy EUR/GBP as a Hedge into Year-End
The Deutsche Bank trading floor. Image © Deutsche Bank
- Brexit news-flow turning more negative
- Look for Pound weakness into year-end
- "A negative turn in the politics still leaves plenty of downside"
Foreign exchange strategists with Deutsche Bank have confirmed they are turning 'bearish' on the British Pound into year-end citing the increasingly acrimonious tone to Brexit negotiations.
The call from Deutsche Bank - one of the world's largest foreign exchange dealers - comes in the wake of Pound Sterling's largest one-day decline of 2018 following the assessment by U.K. Prime Minister on September 21 that Brexit negotiations had reached an impasse.
"While we still think a deal between the U.K. and E.U. 27 will be reached in November, news flow is turning more negative and the risk is that attention turns to the parliamentary vote after, where May's majority is in increasing doubt," says Macro Strategist Oliver Harvey at Deutsche Bank in London.
Harvey believes the Pound-to-Euro exchange rate is the pair to best express any Brexit anxiety and says buying Euros and selling Sterling will provide a hedge to investors against any increasing deterioration in Brexit negotiations.
"We recommend buying EUR/GBP to hedge against an increasing deterioration of Brexit negotiations," says Harvey.
The call by Deutsche Bank comes a day after we report strategists at Wall Street giant Goldman Sachs maintain there is a 75% chance Brexit negotiations will succeed and as such, the Pound should recover by about 5.0% when markets eventually realise success is likely.
The split in opinions by these two leading investment banks reflects a growing uncertainty on how the Pound will navigate the weeks into the November show-down when the E.U. and U.K. are aiming to finalise a deal at a special European Council summit.
However for Deutsche Bank's Harvey what is priced into the current value of the Pound regarding Brexit outcomes is difficult to gauge.
Pound is not Stressed, Therefore Can go Notably Lower
Deutsche Bank reckon the Pound is actually quite sanguine about the prospects of a 'no deal' materialising, even after the sharp fall seen on Friday, September 21.
As a result, there is the potential for substantial declines in Sterling should talks fail and a 'no deal' Brexit does in fact materialise.
Harvey notes that
1) While positioning in Sterling remains 'short' (i.e. more open trades on the market are betting on a decline than a rise) the positioning is also well below extremes. Therefore the market can substantially ramp up its bets against Sterling.
2) In options, a rise in buying of OTM Sterling puts in July was reversed in August.
3) Other measures of stress - including bank CDS, equities exposed to London real estate and risk reversals, have picked up but are well below past extremes.
And, "the Pound is not cheap versus fundamentals like London house prices, or on a PPP basis. A negative turn in the politics still leaves plenty of downside, in our view," says Harvey.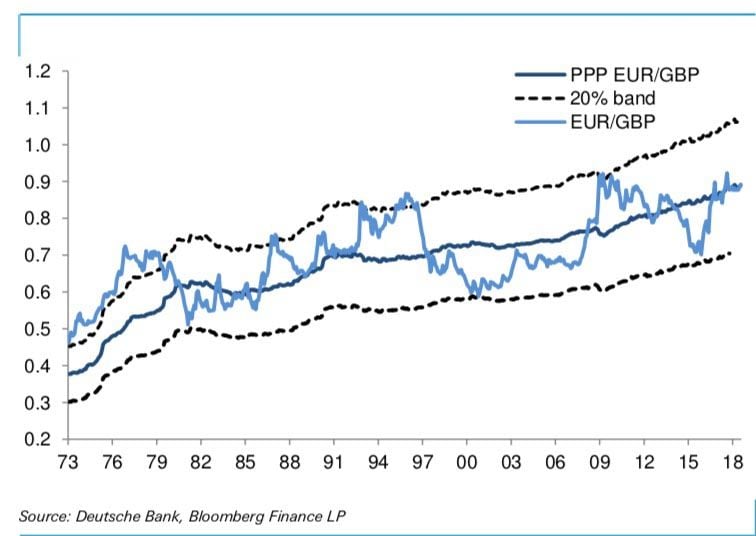 Above: Deutsche Bank analysis shows that on a Purchasing Power Parity basis the Pound is at fair-value against the Euro. (What is Purchasing Power Parity?). Image courtesy of Deutsche Bank.
Advertisement


Lock in Sterling's current levels ahead of potential declines: Get up to 5% more foreign exchange for international payments by using a specialist provider to get closer to the real market rate and avoid the gaping spreads charged by your bank when providing currency. Learn more here
Look for Weakness into Year-End
Deutsche Bank nevertheless maintain a base-case scenario for a Brexit deal to be struck by mid-November at a summit called by the European Council.
However, Harvey and his team note the news flow has deteriorated in the last two weeks.
"An aggressive stance from the EU27 after Salzburg increases the probability May strikes a hawkish tone at the Conservative Party conference at the end of next week. Attention will also turn to the parliamentary vote if a deal is reached," says the analyst.
As such, Deutsche Bank warn risks are increasingly skewed towards negative newsflow in coming months.
"With UK rates having already repriced higher and underlying sterling flow dynamics still weak, we look for GBP weakness into the end of the year," says George Saravelos, a strategist with Deutsche Bank in London.
Forecasts for the Pound
Deutsche Bank forecasts - as per Reuters polling conducted at the start of September - show they are forecasting the EUR/GBP exchange rate to be at 0.8640 in three months: this takes in year-end.
The exchange rate is forecast to be at 0.8550 in six months and 0.8720 in twelve months.
In Pound-to-Euro exchange rate terms this gives 1.1574, 1.17 and 1.1468 respectively.
Note these forecasts were issued prior to the communications saying the Pound would weaken into year-end and we would not be surprised to see the forecasts revised lower.
Advertisement


Lock in Sterling's current levels ahead of potential declines: Get up to 5% more foreign exchange for international payments by using a specialist provider to get closer to the real market rate and avoid the gaping spreads charged by your bank when providing currency. Learn more here