Pound in +1.0% Slump as May Confirms Brexit Negotiations have Reached Impasse
Prime Minister Theresa May acknowledges there is much work to be done if a Brexit deal is to be delivered. Image (C) European Union.
Pound Sterling suffered a significant fall ahead of the weekend after Theresa May has delivered an extraordinary briefing in Number 10 Downing Street confirming negotiations between the E.U. and U.K. have reached an impasse.
The U.K. currency slid over a percent against most majors and recorded its largest decline of 2018 against the Dollar as foreign exchange market participants rushed to buy downside protection against further declines in the event of a 'no deal' Brexit transpiring.
May said the two options on the table from the E.U. are unacceptable to the U.K. in that they compromise both the will of the British people delivered in the referendum and the integrity of the United Kingdom.
May says the E.U. now has to put viable solutions on the table to provide a route forward.
"No one wants a good deal more than me, but the E.U, should be clear: I will not overturn the results of the referendum, nor will I break up my country. We need serious engagement on resolving the two big problems in the negotiations, and we stand ready," says May.
A terse May effectively accused the E.U. of disrespect in their treatment of her at the Salzburg summit and that she expects the same respect from her European colleagues as she affords them. "I have treated the EU with nothing but respect, and the U.K. expects the same," said May.
"At this late stage in the negotiations, it is not acceptable to simply reject the other side's proposals without a detailed explanation and counter proposals. So we now need to hear from the EU what the real issues are and what their alternative is so we can discuss them. Until we do, we cannot make progress," added the Prime Minister.
Thomas Pugh, UK Economist at Capital Economics says May's "combative comments" indicated that the chances of a 'no deal' scenario have risen, "causing the largest one-day fall in the Pound in eleven months. Indeed, the two sides remain far apart, meaning that the chances of an agreement being reached in October and finalised in November seem pretty slim".
May was however unequivocal in saying the rights of E.U. citizens would be respected in the event of a 'no deal' Brexit while the U.K. would not unilateraly place a hard border on the Northern Irish border.
The Prime Minister adds that she is serious about her threat that "no deal is better than a bad deal".
The British Pound - the purest barometer of expectations for the final Brexit outcome - certainly believes her.
The Pound-to-Euro exchange rate is down 1.16% at the time of writing at 1.1138.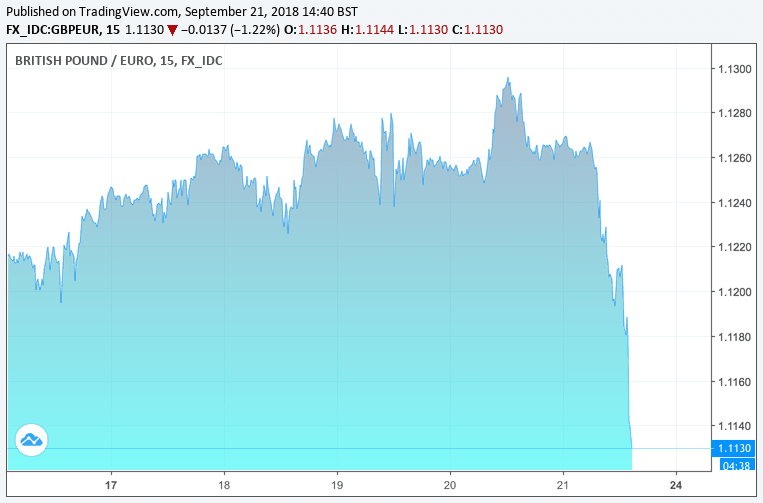 The Pound-to-Dollar exchange rate is 1.43% down at 1.3080.
"The rhetoric that 'no deal is better than a bad deal' is startling, and undermines recent hopes that a deal could be finalised soon. If neither side makes any concessions, more uncertainty and further Sterling losses will follow. The Euro has also lost ground against the US Dollar, indicating that this current impasse helps neither the UK nor the EU," says Hamish Muress, currency analyst at OFX.
Advertisement


Lock in Sterling's September gains before they are reversed: Get up to 5% more foreign exchange for international payments by using a specialist provider to get closer to the real market rate and avoid the gaping spreads charged by your bank when providing currency. Learn more here
May's address and the slump in the Pound come in the wake of a decidedly unconstructive meeting of the European Council in Salzburg, Austria where leader after leader lined up to reject the key elements of U.K. Prime Minister Theresa May's so-called Chequers proposal.
It is also noted by political commentators that there appears to have be a coordinated 'ambush' on May by fellow leaders to brief against her plan right at the end of the conference. Personal slights came from the likes of European Council President Donald Tusk's Instagram account where he was seen belittling May with a quip concerning cherries and cake.
Imagine staging this photo just so you can rinse a fellow world leader in your Instagram story. Absolutely brutal From Donald Tusk. pic.twitter.com/4JZgo9PDSn

— Joey D'Urso (@josephmdurso) September 20, 2018
Commentators suggest the disrespect shown to May might strengthen the 'no deal' cause in the U.K. and will certainly be behind May's steely resolve in front of the press today.
Following the Salzburg summit there is certainly a sense E.U. leaders are more willing to entertain a 'no deal' Brexit with European Commission President Juncker saying the Commission are prepared for a 'no deal'.
Markets know that a 'no deal' outcome to Brexit negotiations pose significant downside risks to Sterling.
"A breakdown of negotiations cannot be ruled out," says Adrian Paul, a foreign exchange strategist with Goldman Sachs in London. "If it were to happen, our FX strategists argue that a combination of heightened uncertainty and prospective adjustment could precipitate a 10% nominal Sterling depreciation in the first six months."
Analysts at Swiss investment bank UBS meanwhile warn the Pound would be destined to trade below parity against the Euro for years to come in the event of a 'no deal' Brexit taking place in 2019.
In a recent strategy note to clients, strategists warns currency markets are actually taking a reasonably benign view of Brexit risks; "this leaves the balance of risks skewed to the downside."
The Pound-to-Euro exchange rate is forecast by UBS to trade at 0.88 in 2019 in the event of a hard 'no deal' Brexit.
This implies a +-20% decline in value within the space of a year.
Advertisement


Lock in Sterling's September recovery while it lasts: Get up to 5% more foreign exchange for international payments by using a specialist provider to get closer to the real market rate and avoid the gaping spreads charged by your bank when providing currency. Learn more here
European Leaders Bat Away May's Plan
The prospect of a 'no deal' Brexit remains alive following a clear souring in relations between the U.K. and Europe, something that could well keep Sterling gains in check going forward.
European Council President Donald Tusk says E.U. leaders agree May's Chequers plan for Brexit "will not work" because "it risks undermining the single market".
The Irish border remains the flashpoint between the U.K. and E.U. as the issue forms a proxy battle over trade relations with the E.U. seen ti be defending their precious single market.
However, May reminds the E.U. that the U.K. also has a single market to defend and they are not willing to see the province of Northern Ireland operated from the rest of the U.K.
European leaders have given May time to rework her plans and we expect May to shift her approach over coming weeks, but we do not expect her to commit a politically-suicidal compromise on the future status of Northern Ireland.
May told reports following the Salzburg summit that she has a plan, and we therefore believe the next flash-point for Sterling will be the revelation of said plan:
"We both agree that there can be no withdrawal agreement with no legally operative backstop. But that backstop cannot divide the UK into two customs territories, and we will be bringing forward our own proposals shortly."
While there is a lot of work to be done, May argues that a deal can be done if the E.U. shows political will.
After criticism of her Chequers plan by EU leaders, Theresa May stands by her #Brexit proposals as "the only serious and credible" option - but admits there's "lots of hard work to be done" to reach a deal https://t.co/7frZv4l8qo pic.twitter.com/FhjLv7j4VU

— BBC Breaking News (@BBCBreaking) September 20, 2018
May also reminded observers that the U.K. is prepared to walk away from the table.
"We are preparing for no deal, so that if we get to the position where it is not possible to reach a deal, then the British people can be confident that we we will have done what is necessary to ensure we make a success of leaving the European Union regardless of the terms we do so."
Have the chances of a no deal gone up? The Pound is the perfect barometer for 'no deal' probabilities, and in their estimation, a deal is less likely than it was at the start of the week.
"Expect a lot of negative noise over a 'no deal' around Tory Party Conference & questions of PM's leadership. Brexit and UK political risk premium may cap independent GBP gains (flat EUR/GBP). Labour's Brexit stance also key to watch," says foreign exchange strategist Viraj Patel with ING Bank N.V. in London.
Advertisement


Lock in Sterling's September recovery while it lasts: Get up to 5% more foreign exchange for international payments by using a specialist provider to get closer to the real market rate and avoid the gaping spreads charged by your bank when providing currency. Learn more here