Soc Gen: Pound-to-Euro Rate Could Hit 1.19 Near-Term
- Société Générale see Pound higher on more benign fundamental backdrop
- Difference in Eurozone and UK interest rates one driver for higher GBP/EUR
- But, gains would not be long-term phenomenon
© Mohamed Yahya, Reproduced under CC licensing
As the Pound-to-Euro exchange rate tentatively probes the top of its long-term range towards 1.15, analysts debate the possibility of an upside break which might finally deliver better exchange rates to those looking to buy Euros.
The fundamental landscape for Sterling has changed for the better, according to Kit Juckes, macro strategist at Société Générale, one of the City's more noted names in foreign exchange analysis, who has recently flagged the potential for further gains in the Pound.
According to Juckes, investors can now expect a combination of faster-than-expected economic growth, less political disturbance - particularly around Brexit - and a Bank of England (BOE) more willing to raise interest rates, after a decade in which they have been abnormally low.
The end result is a seductive mix which is likely to enhance the outlook for the Pound against the Euro, particularly in shorter time frames.
"Progress has been smoother than expected, because the UK has capitulated on most of the demands of the Hard Brexit rebels. There are still hurdles to overcome but a smooth exit from the EU have improved which would be supportive for growth and point to more monetary policy tightening than is currently expected," notes Juckes in a recent client note.
In addition to these reasons, the Pound is especially weak by long-term standards.
"Sterling is still trading over 10% below its 25-year average in trade-weighted terms," says Juckes, the inference being that it could drift back up over time.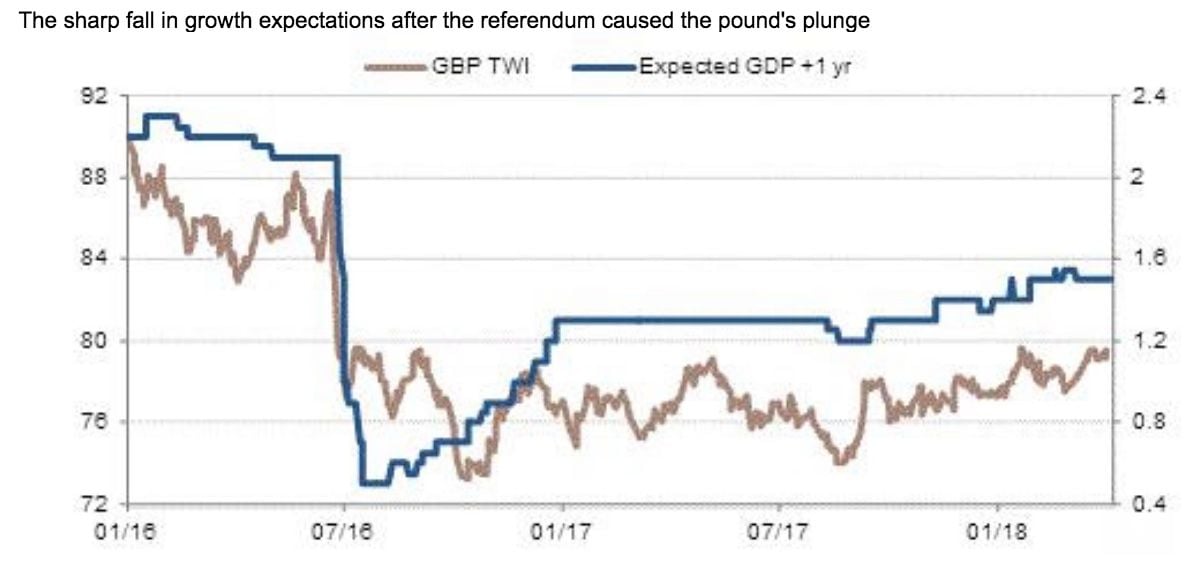 Above: The Pound is tracking UK growth expectations, which are heating higher and suggest some room for catch-up in Sterling. Image (C) Société Générale.
The tweaking higher of UK growth forecasts should play in favour of Sterling as it should bring into focus the prospect of higher UK interest rates, relative to those of the Eurozone.
"The correlation between EUR/GBP and relative rates is reasonable and there is room for UK rate expectations to rise by 25-50bp relative to European ones as growth forecasts are tweaked," says Juckes.
Interest rates are a major driver of currency trends with currencies in jurisdictions with higher interest rates - all other things being equal - tending to outperform as they offer investors parking their money there higher returns.
The outlook for interest rates in Europe is different to that of the United Kingdom. The European Central Bank, the body tasked with setting base interest rates, is unlikely to raise them in 2018, especially given how far behind target inflation still is and how high unemployment remains, at 8.5%.
The Bank of England is meanwhile expected to raise interest rates another 0.25% to a base 0.75% as soon as May (next month).
Since Eurozone base rates are around 0.0% this opens up a distinct advantage to investors staying in Sterling, with consequent upside pressure for the GBP side of the exchange rate.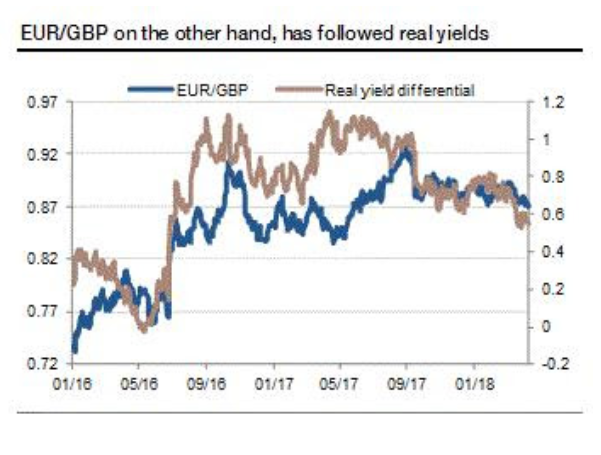 Image (C) Société Générale.
"The correlation between EUR/GBP and relative rates is reasonable and there is room for UJK rate expectations to rise by 25-50bp relative to European ones as growth forecasts are tweaked. A 20bp rise in UK real yields vs. Bunds, or a 25-50 re-price to further-out rate expectations, could take EUR/GBP below 0.85," says Juckes.
EUR/GBP below 0.85 translates into a Pound-to-Euro exchange rate above 1.1760.
Juckes does however see Sterling potentially going higher, "a move in EUR/GBP to around 0.84, where it was trading before the French election gave the Euro a boost, is likely, but would probably be a temporary affair."
EUR/GBP at 0.84 gives us GBP/EUR at 1.19.
Juckes adds the proviso that any move higher in Sterling against the Euro "would probably be a temporary affair."
"Rates will rise (in the UK), but will remain low. Real GDP growth may not be as bad as feared but will lag that of the Eurozone for a number of years. The current account deficit will persist," says the analyst, eyeing the longer-term picture.
Advertisement


Get up to 5% more foreign exchange by using a specialist provider to get closer to the real market rate and avoid the gaping spreads charged by your bank when providing currency. Learn more here.
More Sterling Bulls in the Pen
The call by Société Générale is not unique and forms one of a number of calls for a higher Pound against the Euro.
Deutsche Bank FX strategist Oliver Harvey notes similar advantages for the Pound but falls short of turning outright bullish Sterling. We reported this to be a notable about-turn by Deutsche Bank who have been one of the most pessimistic major institutions since the June 2016 EU referendum when it comes to Sterling's outlook.
There has been a major transformation in Brexit risks, for one, which have substantially eased, especially with the UK relaxing its position over Ireland, says Harvey, which "adds credibility to the Brexit transition and reduces near-term economic risks from corporate contingency plans being triggered."
That interest rates in the UK are likely to rise is no new thing, but that they are likely to rise to higher peak in the long-term, is a new idea currently gaining favour; previously the consensus had been that the world was in a new 'normal' of abnormally low interest rates for the foreseeable future.
A higher end rate, or terminal rates as they are called, further enhances the outlook for the Pound.
Harvey says "the chances that the next move in Sterling will be higher" has increased and see benefit in "expressing a tactically bullish view via short EUR/GBP, where positioning is lightest and the technical case for a breakout most compelling."
A further bullish factor for the Pound is 'seasonality' with the currency showing a statistically significant outperformance in April.
April is also expected to see gains for the Pound from dividend repatriation flows from overseas assets owned by UK investors.
"GBP TWI has rallied each of the last fourteen years during the month of April," says Harvey.
Yet despite all these arguments Harvey is loath to turn 'structurally bullish' the Pound.
"The UK's growth performance remains very weak in international terms and net M&A flows have been negative so far this year," says the strategist.
"This leaves current account financing up to the Bank of England, but given a soft housing market and risks to growth we are not convinced that tightening will be as aggressive as in previous high inflation regimes," he adds.
Foreign investment has fallen since the referendum as the Uk becomes a less attractive destination to invest, and although the damage has been offset by other factors, it remains a counterweight to Sterling strength.
"Brexit risks will also continue to weigh on structural inflows, even if they become less relevant near term," he concludes.
ANZ: The Pound is Going Nowhere
On the opposite side of the spectrum to SocGen's bullish and Deutsche's more constructive position is the bearish position of ANZ bank's head of FX research Daniel Been, who we reported yesterday still sees considerable downside risks to the Pound due to long-term changes and uncertainty in relation to its trading relationship with Europe.
"Our analysis shows that there is a higher risk premium in Sterling post the referendum," says Been, adding, "This structural change is likely to remain, owing to ongoing uncertainty over future UK international trade in goods and services."
The added risk premium due to Brexit which has kept the Pound's value capped at an unnaturally low level has also had the side-effect of breaking its usual sensitivity to interest rate differentials. The disconnect is likely to endure and means Sterling will not be able to gain as much advantage as it would normally from its higher interest rates compared to the Eurozone.
Finally, Been also notes how behind the rhetoric of continued robust business investment in the UK, lies the truth that much of that investment is British in origin because outside investment has been drying up since the referendum.
"In both portfolio and in direct investment flow, foreigners have been less willing to finance ventures in the UK. We expect that this will continue despite the negotiating progress made to date," says Been.
Even in the event that the UK manages to agree a relatively benign exit deal ANZ's Been is not convinced the economy will recover back to the level it was at pre-Brexit since Brexit will permanently alter the attractiveness of the UK as an investment destination.
Advertisement


Get up to 5% more foreign exchange by using a specialist provider to get closer to the real market rate and avoid the gaping spreads charged by your bank when providing currency. Learn more here

Pound-Euro transfer cost survey: How RationalFX racks up a 3-5% advantage against HSBC, Barclays, Lloyds, Natwest and Nationwide on Euro transfers. Find out more here.

* Advertisement