British Pound to Euro Exchange Rate will Avoid Parity say ING

One major bank has confirmed they are forecasting the Euro to reach parity with an under-pressure British Pound by the end of 2017 - however, others do not agree with this call.
~ British Pound to Euro exchange rate today: 1.1378, day's best: 1.1381
~ Euro to Pound Sterling exchange rate today: 0.8790, day's best: 0.8843
Having witnessed multi-year lows in a number of key GBP exchange rates over recent days it is no wonder we have heard increased talk of Sterling hitting a 1:1 exchange rate with the Euro, some 14% below current levels.
The much-publicised decline in Pound Sterling in early October was triggered by growing concerns over the economic implications associated with the UK Government's push for full autonomy from the European Union.
"Given how fast sterling has fallen in the past month, it does not seem implausible," says Kathy Lien, Director at BK Asset Management.
The biggest proponent of the call are UBS who have this week written to clients confirming they expect another major leg of Sterling weakness to transpire.
Having fallen 13.4% between July 2007-March 2008, sterling has traded sideways for four months.
"When the global financial crisis entered its acute phase, sterling resumed its rapid decline, falling a further 20% by the end of 2008," notes John Wraith, Strategist at UBS. "Although different in its underlying causes, a similar pattern of decline, pause, and fresh falls may be unfolding now."
UBS have thus reiterated forecasts for the end of 2017 of $1.20 for GBP/USD (currently 1.288), and 1.00 for EUR/GBP (currently 0.874).
Latest Pound/Euro Exchange Rates
* Bank rates according to latest IMTI data.
** RationalFX dealing desk quotation.
No Parity
On whether the Pound will par the Euro, analysts at ING are not convinced.
"We are not in the camp looking for parity in EUR/GBP," says Turner.
Risks to the view for a firmer EUR/GBP comes from Eurozone politics and the emerging story of stress in the Eurozone's banking sector.
ING do not see the Italian referendum in early December as a major EUR negative, but analysts warn Eurozone bank-stress bears are watching.
BK Asset Management's Kathy Lien says but for parity to happen, the process of Brexit would need to decimate the U.K. economy.
"To be clear, in the past 45 years, sterling has NEVER traded at parity with the euro or dollar - not after the ERM crisis in Britain when the Soros broke the Bank of England and certainly not after the euro was launched and it sank to a record low of 0.8440," says Lien.
Lien believes that while the U.K. economy will suffer from Brexit, it will not be destroyed.
Indeed, recent U.K. data has been quite good with manufacturing and construction sector activity improving significantly.
But, Bank of England to Cut Again and Drive More GBP Weakness
While ING do not belive the Pound will par the Euro they do believe further weakness is likely.
For Sterling, the downward trajectory of real UK interest rates is the key driver of weakness and driving interest rates are the policy-makers at the Bank of England.
Recent data confirms the UK economy continues to grow at an admirable pace.
This leaves the Bank of England with diminishing reason to cut interest rates again in November.
However, analysts at ING believe the Bank of England will remain proactive and willing to act again on rates:
"The BoE appears to have no fears about inflation expectations, where those derived through the two year inflation swap remain above 2.80% - largely on the back of GBP-inspired imported inflation and perhaps BoE credibility."
ING think it is far too early to declare the 'all-clear' on the UK macro story.
The market only prices a 20% chance of another BoE rate cut (probably by 15bp to 0.10%) on November 3rd.
"We think the probability is far higher than 50%, leaving GBP market rates and GBP to edge even lower," says Turner.
Thus real UK interest rates are falling and this should keep GBP soft suggests ING's Chris Turner in London.
"We still expect the political impasse from Brexit to weigh on GBP over the next six months, stretching EUR/GBP towards extremes of valuation at 0.90," says Turner.
EUR/GBP at 0.90 equates to 1.11 in GBP/EUR.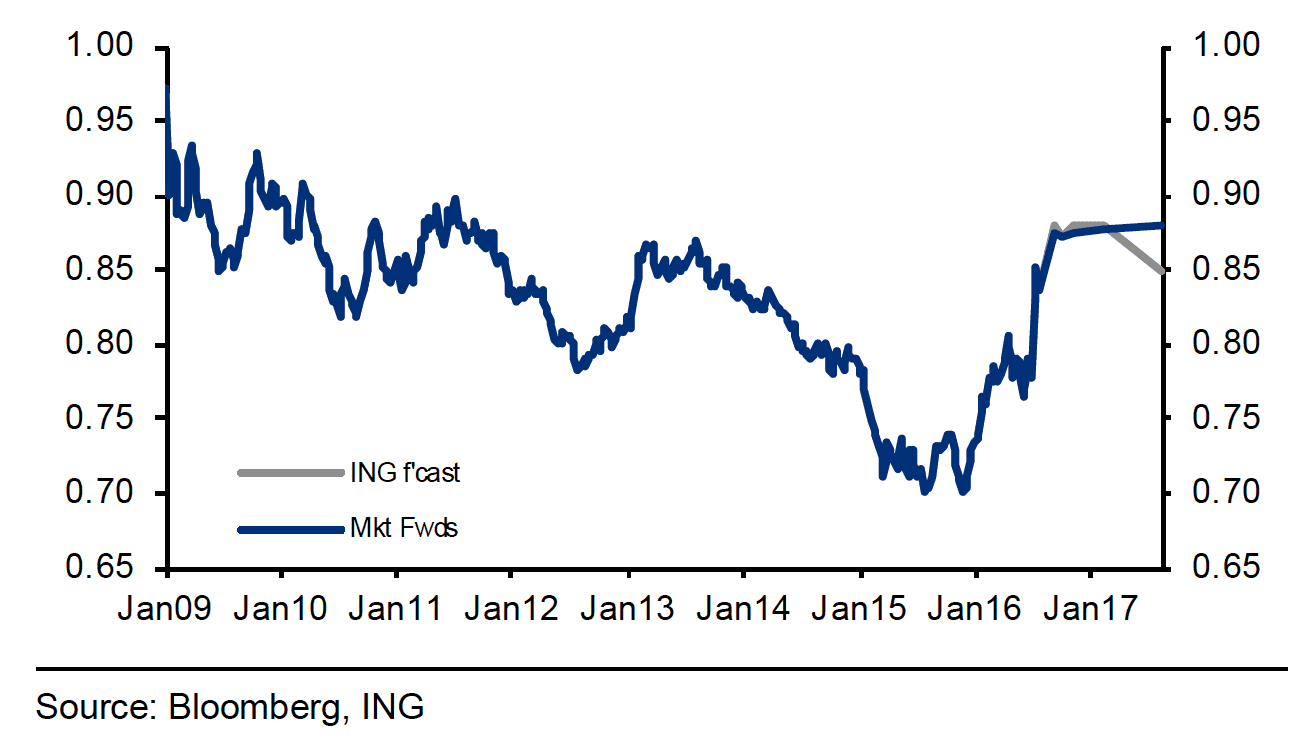 Pound Sees Relief in Mid-Week Trade
Slight relief has been offered by a better-than-forecast Services PMI release in mid-week trade, however we hear more declines are likely as sentiment remains in the driving seat for the UK currency at present.
The data leaves the average level of the economy-wide composite PMI over Q3 as a whole consistent with GDP growth of about 0.2% says Paul Hollingsworth at Capital Economics.
While this is a considerable slowdown from the 0.7% expansion seen in Q2, it is still better than most were expecting in the immediate aftermath of the referendum.
"And if the PMI remains around its current level then we could even see growth accelerate in Q4," says Hollingsworth.