Euro Exchange Rates Look to Extend Recent Gains

The euro exchange rate complex is higher across the board as decent economic data continues to paint the Eurozone in a positive light.
The euro maintains the upper hand that was the highlight of global currency markets in early May.
It is rare that strong economic data out of the Eurozone is reported, but that is certainly the case at the start of the new month.
The EUR to USD conversion remains in striking distance of the fresh 8 month highs at 1.1611. Look for the next level of resistance to sit at 1.1624 with support currently sitting at 1.1541.
The EUR to GBP conversion is at 0.7898 in mid-week trade and is turning softer following a good run.
However the pair saw the key support region around 0.7750 hold last week, we have extended the correction higher to test an important area of resistance in the 0.7860-0.7890 region.
"A move through here would suggest further EUR outperformance in the short-term to more important resistance in the 0.7950/0.80 region," says Robin Wilkins at Lloyds Bank.
An Outperforming Economy
There is good reason for the euro to be in demand on a fundamental basis.
Euro area flash Q1 16 GDP growth surprised to the upside printing above consensus forecasts at 0.6% q/q (0.55% at two decimal places).
This almost doubles its growth rate from Q4 15 and pencils in a new record high since the historical peak in Q1 08.
However, analyst at Olga Tschekassin at Barclays in London is a little sceptical about the latest data release:
"With no details released by Eurostat, very few national statistical offices having released their own GDP data, and only France to release a full expenditure GDP breakdown, there is an unusually low amount of information (mainly due to the fact that Eurostat decided to move its flash GDP release publication to 30 days after quarter end, from 45 days previously)."
Tschekassin notes that business and consumer surveys have moved sideways in the last few months, and she thus believe that Q1 GDP growth might constitute a one-off acceleration and the pace of growth is unlikely to be sustained throughout this year.
Support for the Euro Seen at Key Moving Average
The euro to pound sterling exchange rate's rally can also be explained by a clear refusal to break below the 100 day moving average: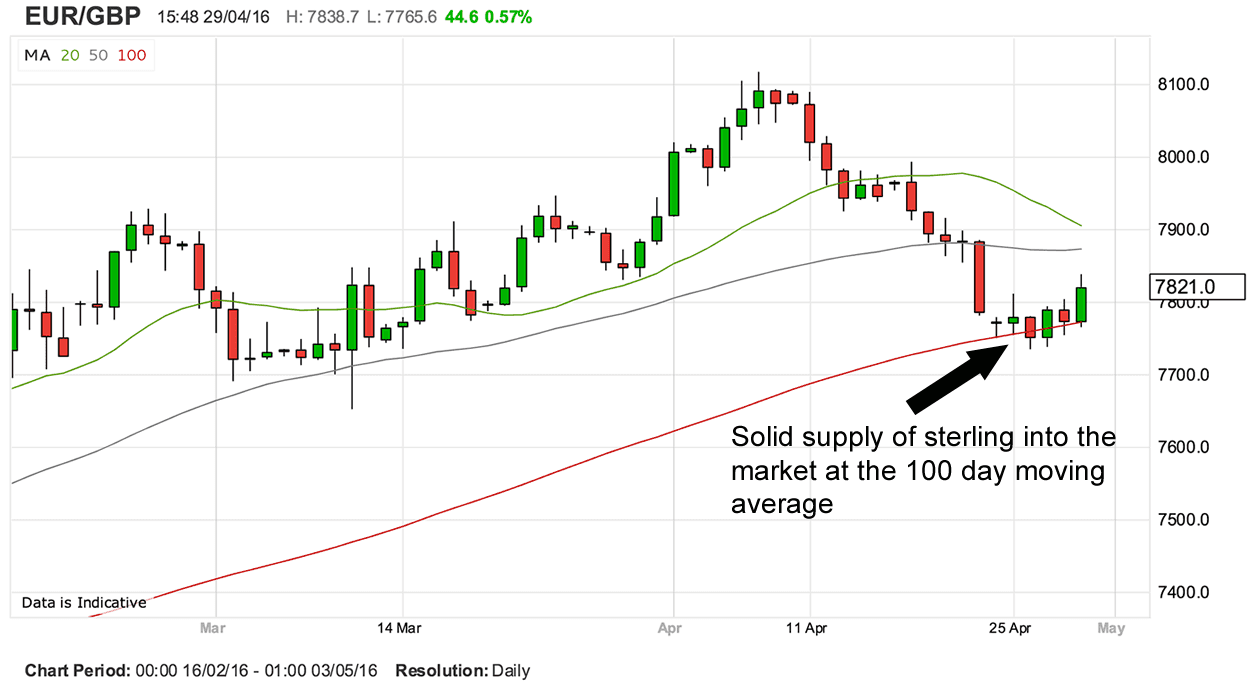 We have warned that buyers would be found in heavy supply here for days now, and so it has proven to be.
"I quite like the risk-reward associated with EUR/GBP at current levels and I am starting to re-build my long position," says professional trader Sean Lee at Forextell, "I don't have any targets in mind just yet. I will keep positions very small whilst the market develops and hopefully build a long position off if a .7750/.7800 base eventuates."
We could well see the British pound start the new month on the back-foot against the euro.
Latest Pound/Euro Exchange Rates
* Bank rates according to latest IMTI data.
** RationalFX dealing desk quotation.
EUR/USD Heads Towards top of Range
The euro is headed towards the top of its recent ranges against the US dollar defined by 1.12 towards the bottom and 1.1450 towards the top.
We would imagine that repeated failures to break above 1.1450 will have convinced markets to layer significant amounts of sell orders at 1.1450-1.15 and just above.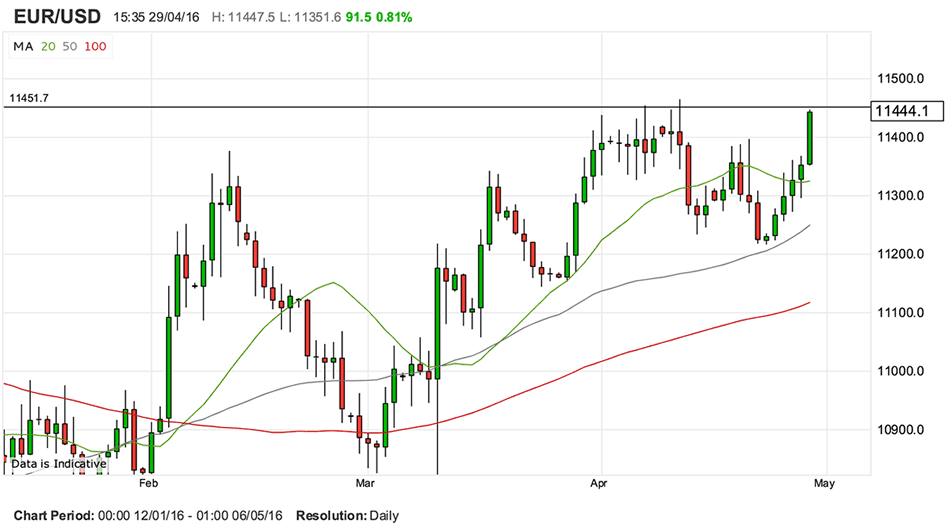 So expect a strong supply of euros to be made available as we toy with these levels.
However, if the bulls are determined enough and able to clear out the sell orders then we could well see a strong pop towards August 2015 highs at 1.17.
There remains reasons to be sceptical on the euro's ability to really push higher beyond these levels.
Most notably is that expectations with regards to the amount of US Federal Reserve rate hikes that will fall in 2016 are really quite low.
Markets are pricing in one rate rise at most, seemingly ignoring rising inflationary pressures and an unrelentless supply of positive job data.
Surprises could lie ahead.