Pound-Euro Exchange Rate Could Jump to 1.20 by Year-end
- 30% chance of bad outcome to Brexit trade negotiations
- GBP/EUR could rise to 1.20 if deal agreed
- Dollar weakness driving GBP/USD strength
Above: Prime Minister Boris Johnson. Fishing rights remains a key point of disagreement in EU-UK trade talks. Picture by Andrew Parsons / No 10 Downing Street
Pound Sterling is likely to remain under pressure against the Euro and fail to reach its full potential against the Dollar until at least October, when a post-Brexit trade deal should finally be agreed and unlock a more sustained recovery.
Sentiment towards Sterling remains subdued primarily on the basis that the EU and UK remain unable to reach a post-Brexit trade deal, which must be agreed by year-end if the two economic areas are to avoid defaulting to trading on WTO terms.
With the two sides remaining deadlocked around some key issues, the Pound has found itself swept aside by a strengthening Euro which has resulted in the Pound-to-Euro exchange rate falling back below 1.10 to 1.0957, althought a more notable bout of Dollar weakness has allowed the Pound-to-Dollar exchange rate to recover back to 1.2852, but there remains a sense that gains would be substantially greater were it not for lingering Brexit anxieties.
"It should be more of the same for GBP (this) week, with the currency remaining the laggard and the underperformer in the European G10 FX space. No progress on the UK-EU trade negotiations is expected and with news headlines suggesting an increased perceived probability of the no deal, there is a little to be optimistic about GBP," says Francesco Pesole, FX Strategist at ING Bank N.V.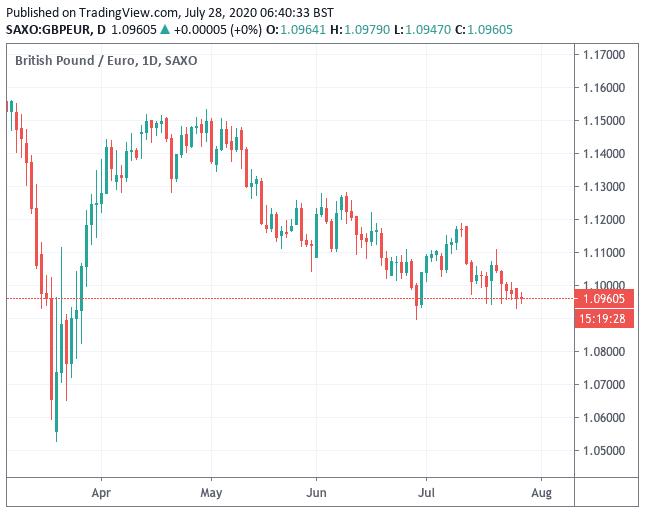 Above: GBP/EUR has trended lower since April
FX transfers: Secure a retail exchange rate that is between 3-5% stronger than offered by leading banks, learn more. (Advertisement).
The latest round of talks ended last week with further confirmation that significant divergences remain, particularly over future fishing rights in UK waters and rules on state aid.
Until some kind of agreement is reached on the outstanding points expect the market to remain cautious of Sterling and for this reason any major recovery in GBP/EUR appears to be a remote possibility.
Barnier told EU diplomats following last week's negotiations that the 'level playing field' - where the UK agrees to sign up to EU standards on environmental regulation, workers rights and state aid to business - was the most difficult subject in the entire-future relationship negotiation.
"By its current refusal to commit to the condition of open and fair competition, and to a balanced agreement on fisheries, the UK makes a trade agreement at this point unlikely," said Barnier.
However, both the EU and UK have signalled that the range of disagreements is narrowing, potentially clearing the way for a deal in September or at the very latest October.
Officials on both sides told the FT that compromises are there to be struck.
According to a FT report, the EU has signalled a willingness to drop its demand that the UK accepts future EU state-aid rules and the oversight of the European Court of Justice (ECJ), but in exchange it wants the UK to sign up to a "shared philosophy" on future subsidy policy.
"While further work is needed, a middle ground is clearly emerging," says the FT report.
Fishing rights remains politically contentious and is one area that allows the UK significant advantage: the EU wants full access to UK waters, but the UK argue such a right is only consistent with full EU membership, which is a point the EU is fond to make when dismissing swathes of UK ambitions.
The economics of fishing are not substantial given fishing accounts for a small percentage of both EU and UK GDP, but it is politically significant for both sides where the fishing industries are highly vocal.
"While the UK government sees fishing as a key political issue, it provides a very small addition to the gross value add of UK economic output, and the majority of UK fishing exports are destined for the European market. So it is entirely possible that this remains a bargaining chip when it comes to other areas of negotiation," says Christopher Graham, Europe Economist at Standard Chartered Bank.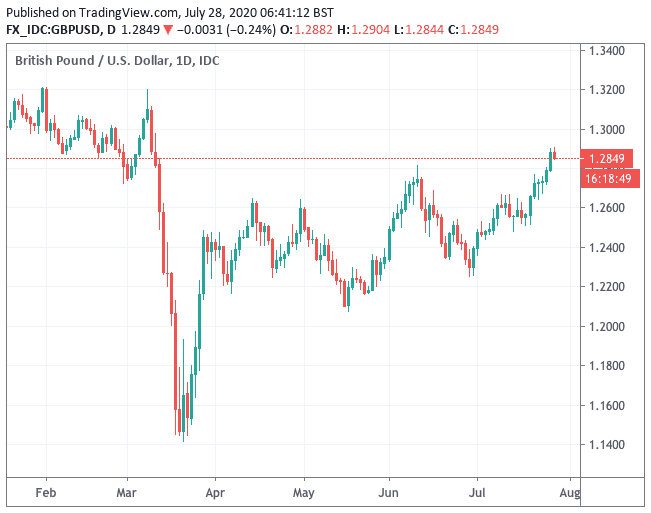 Above: A broadbased Dollar sell-off has seen GBP/USD higher.
FX transfers: Secure a retail exchange rate that is between 3-5% stronger than offered by leading banks, learn more. (Advertisement).
Expectations are that an agreement on fishing would likely only be achieved in a final push by EU leaders at a Brexit summit tentatively pencilled in for October.
"The outline of a deal is easier to flesh out than agreeing how all the moving parts work under various scenarios. Both sides are likely to want security that what they have agreed cannot be rolled back in the future. We therefore expect this stage of negotiations to continue at least through August and September, and potentially October and November too," says Graham.
Therefore, there is a long stretch of uncertainty for markets to navigate and this should keep Sterling subdued until the autumn.
But Standard Chartered says the market is too downbeat on the potential for a 'good' outcome which would be either a deal or extension of the transition period.
Analysts at the bank forecast GBP/USD at 1.40 at year-end based on a 'good' outcome, with EUR/USD going to 1.16 and GBP/EUR going to 1.2070. Analysts see a 50% chance of a 'good' outcome.
In a 'bad' outcome - no deal - Standard Chartered see both GBP and EUR trade to 1.10 versus the USD, leading to GBP/EUR falling to parity. Analysts apply a 30% chance of a 'bad' outcome.
"The more progress we see in some areas of negotiations, the more momentum is likely to build, increasing the incentive on both sides to offer further concessions to get a deal over the line. It remains in both sides' best interest to avoid a no-deal outcome if they can," says Graham.
And others agree a settlement will ultimately be agreed.
"Sterling has been somewhat caught in the middle between an appreciating Euro and a depreciating Dollar. As attention moves from the EU Recovery Fund possibly toward the ongoing Brexit talks we see potential for Sterling to rally on positive sentiment around those discussions. We continue to expect progress in these talks to open the door for an agreement likely in autumn. We also expect the UK economy to continue to catch-up with the rest of Europe," says Gaétan Peroux, Strategist at UBS.