OBR Upgrades U.K. Growth Forecasts after Budget "Giveaway"
© Photocreo Bednarek, Adobe Stock
- Office for Budget Responsibility lifts U.K. GDP forecasts.
- Raises revenue projections, cuts borrowing forecasts.
- Cites Chancellor Philip Hammond's fiscal "giveaway".
The outlook for the U.K. economy has improved in 2018, according to the latest round of Office for Budget Responsibility (OBR) forecasts, suggesting the lacklustre growth rates seen earlier in the year won't be repeated going forward.
October's forecasts from the OBR, the U.K.'s independent budget watchdog, came alongside an autumn budget statement that saw Chancellor Philip Hammond announce a fiscal giveaway of close to £15 billion for next year.
Britain's economy is on course to expand by around 1.3% for the 2018 year, a much lesser rate than the 1.7% seen in 2017, due to a steep slowdown seen in the first quarter. This is a downgrade of the OBR's March forecast for the economy to grow by 1.5% in the current year.
"We attribute the unexpectedly weak start this year to temporary factors, but they are still sufficient to lower real GDP growth for 2018 as a whole to 1.3 per cent from 1.5 per cent in March," says the OBR.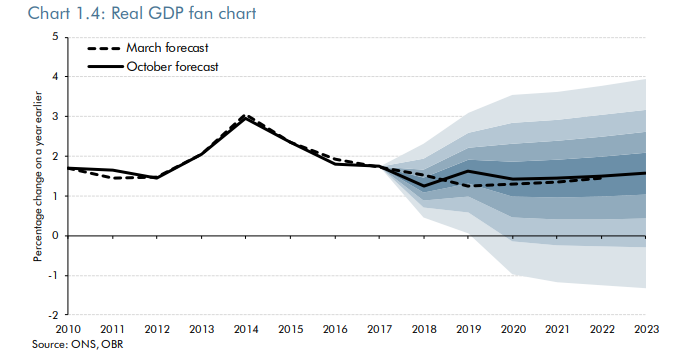 Above: Office for Budget Responsibility fan chart of GDP projections.
U.K. GDP grew by just 0.1% during the first quarter of the year, down from 0.4% at the end of 2017, after a snap of unseasonably cold weather saw the nation almost grind to a halt at the end of February and beginning of March.
This lost output will not be recovered before year-end according to the OBR although the independent body does project the economy will then pickup once into the 2019 year with GDP growth rising by 1.6%.
This is an improvement on the 1.3% projection issued back in March. However, the OBR still projects a slowdown after 2019, with GDP growth forecast to come in at just 1.4% in both 2020 and 2021 before rising back to 1.6% in 2023.
"Underlying our revisions to the overall path of GDP are relatively large changes in composition, thanks largely to the announced increase in NHS and other day-to-day public spending. Nominal government consumption is expected to end the forecast slightly higher as a share of GDP than it started, rather than fall as we expected in March," the OBR says.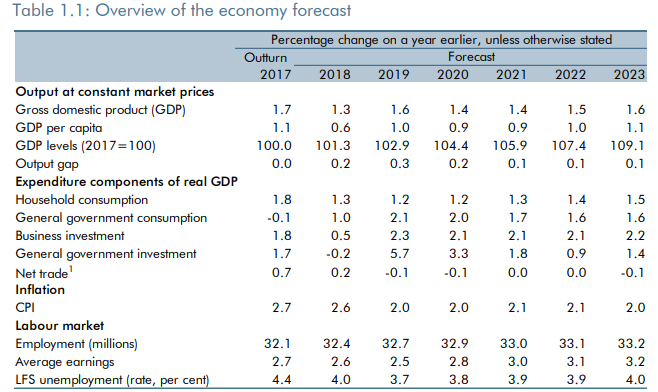 Above: Office for Budget Responsibility economic forecasts.
"Things may turn out to be not quite as gloomy as the OBR's forecasts imply. Unless the UK leaves the EU in March 2019 without a deal, there must be a good chance that economic growth will turn out better than the OBR's forecasts suggest – the Chancellor's so-called "double deal dividend"," says Ruth Gregory, an economist at Capital Economics.
The OBR says government pledges of higher spending will do most of the heavy lifting for the economy over coming years.
Business investment growth remains lacklustre while international trade is assumed to make no contribution to growth over coming years given the OBR expects a reduction in "trade intensity" after Brexit day in March 2019.
However, household spending is set to grow in line an improved rate of wage growth, supporting to the economy alongside the public purse. And the labour market is seen going from strength to strength over the coming months.
"Unemployment fell to 4.0 per cent of the labour force in the second quarter, continuing the downward trend since late 2011. We expect it to fall to 3.7 per cent by the start of next year, before stabilising and then edging up towards its equilibrium rate, reaching 4.0 per cent in 2023," the OBR says.
While the OBR's growth forecasts still paint a dim picture of the U.K. economic outlook, they are an improvement on the numbers issued back in March. And the public finances are also forecast to continue improving.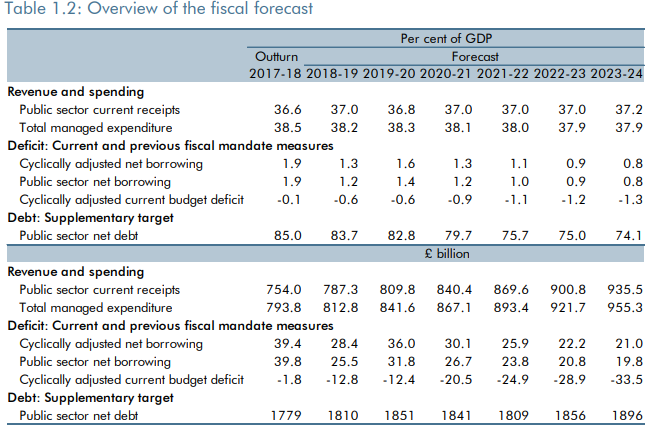 Above: Office for Budget Responsibility forecasts for the public finances.
The OBR projects the government will rake in some £787.3 billion in taxes and other income during 2018, which rises to £809.8 billion in 2019. Government revenues are forecast to rise steadily over coming years, to £935.5 billion in 2023.
Meanwhile, public spending is set to remain on a relatively tight leash even after the government's so called "giveaway", with total expenditure estimated at £812.8 billion in 2018, before rising to £955.3 billion in 2023.
This leaves the projection for cyclically-adjusted net-borrowing at just 1.3% of GDP for 2018, down from the 1.9% projection released back in March, which then falls in a staggered and zig-sagging pattern to 0.8% of GDP in 2023.
"Mr Hammond appears to have gone some way to fulfilling Theresa May's vague promise to "end austerity", at least in so far as real spending by government departments projected to rise by 1.2% over the next five years. So the big picture for the economy is that the fiscal stance will now go from a slight headwind to a small tailwind throughout the forecast," says Gregory.
Advertisement




Bank-beating exchange rates! Get up to 5% more foreign exchange by using a specialist provider to get closer to the real market rate and avoid the gaping spreads charged by your bank when providing currency. Learn more

here
Featured Content
Mortgage Direct - a Spanish mortgage broker specialising in the provision of mortgages for expats - have confirmed they have secured their Spanish license.