Canadian Dollar Surges after Exports Hit Record Level in April and Trade Deficit Falls Faster than Expected
-CAD trades higher as trade deficit narrows, NAFTA concerns ebb.
-Trade deficit falls to -$1.9 billion in April, from -$4.1 billion in March.
-USD outlook and NAFTA talks key to CAD trajectory in short-term.
© Fresh Idea, Adobe Stock
The Canadian Dollar surged against the Pound and US Dollar Wednesday as traders responded to a sharp narrowing of the Canadian trade deficit in April and the latest developments in the North American Free Trade Agreement saga.
Canada's trade deficit narrowed to -$1.9 billion during April, down from -$4.1 billion in March, which is far below the market consensus for an import-export mismatch of -$3.4 billion.
This comes after Canada's exports rose by 1.6% to a record $48.6 billion when compared with March, and as imports fell back by 2.5% to $50.5 billion during the month. The result more than reverses the sharp rise seen in the Canadian deficit, from -$2.9 billion to -$4.1 billion, during the March month.
"The moves in imports were relatively broad-based with 8 of 11 categories declining in April," says Royce Mendes, an economist at CIBC Capital Markets. "Today's trade data suggest that net trade started Q2 as a positive contributor to GDP. The narrower-than-expected deficit has been positive for the loonie."
Trade balance data measures the difference in value between a nation's imports and its exports. Currency markets care about it as the data provides insight into supply and demand of a currency in the "real economy", while also giving a steer on the likely pace of GDP growth at the start of the second quarter.
Rising imports, like those seen back in March, are an increasing headwind to economic growth because they are a "subtraction" in the calculation of GDP whereas, the opposite applies with exports. GDP growth itself is highly important for Bank of Canada monetary policy and so relevant for the Canadian Dollar.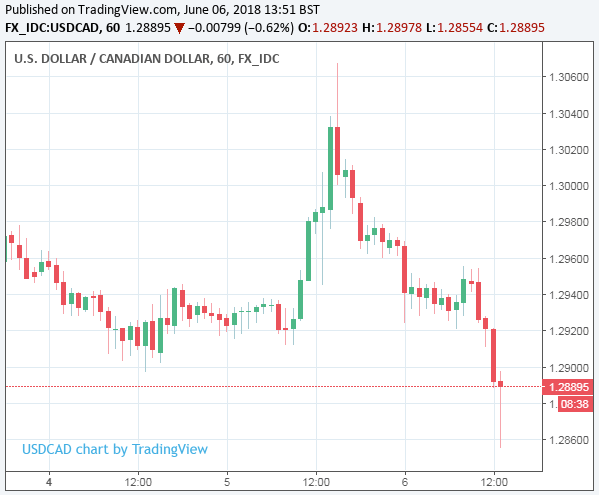 Above: USD/CAD rate shown at hourly intervals.
The USD/CAD rate was quoted 0.51% lower at 1.2876 following the release, after extending an earlier 0.29% loss, while the Pound-to-Canadian-Dollar rate was 0.33% lower at 1.7284 after furthering an earlier 0.02% loss.
The Canadian Dollar was also higher against all other developed world currencies barring the Australian Dollar.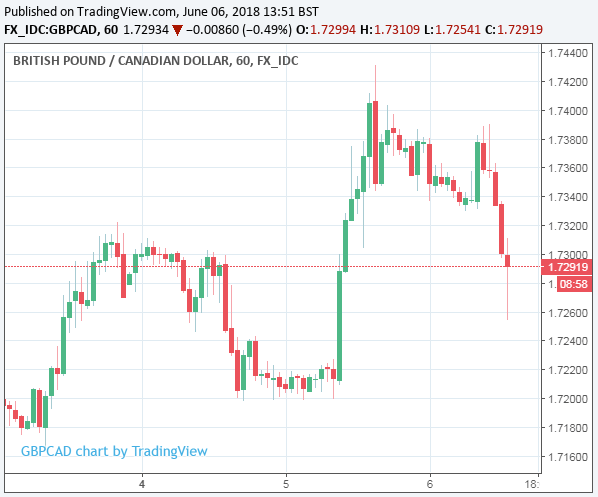 Above: Pound-to-Canadian-Dollar rate shown at hourly intervals.
"USDCAD rejected another attempt at the 1.3000 level yesterday as oil prices rebounded from fresh local lows," says John Hardy, chief FX strategist at Saxo Bank. "The USD outlook is the pivotal factor here for whether the pair can punch through higher."
Price action comes against a backdrop of rising fears over the future of the North American Free Trade Agreement, which hit the Canadian Dollar hard over the course of Monday and Tuesday, but have since eased a touch.
"Concerns that in future the US will focus on bilateral talks rather than the joint NAFTA negotiations caused heavy losses in CAD and MXN yesterday. Contrary to MXN, however, CAD was able to retrace its losses again after it became known that Treasury Secretary Steven Mnuchin asked Donald Trump to exempt Canada from the tariffs imposed on steel and aluminium," says Esther Reichelt, an analyst at Commerzbank.
White House economic adviser Larry Kudlow told Fox & Friends Tuesday that President Donald Trump is contemplating separate negotiations with Canada and Mexico, rather than the current format where the US sits with both other parties together and attempts to renegotiate the deal. Kudlow's comments came hard on the heels of more telling remarks by President Trump himself on Friday.
"I wouldn't mind seeing a NAFTA where you go by a different name, where you make a separate deal with Canada and a separate deal with Mexico. Because you're talking about a very different two countries," President Trump told reporters last week, hinting at replacing the current NAFTA deal with two separate bilateral agreements.
Concerns over NAFTA were already running high Tuesday after Mexico retaliated against metals tariffs announced by the White House last week. It has now imposed levies against imports of American pork and bourbon products worth just more than $1 billion annually, following Canada's decision to impose symetric retaliatory tariffs on US metals.
Before Tuesday China was the only country to have retaliated against White House tariffs and that response merely begot an even heavier handed set of additional tariffs, which then prompted fears of a so called trade war. It is not clear whether there will be any counter-response from the White House this time around. Neither is it clear whether the US President would respond with more tariffs, or by threatening the NAFTA deal.
The NAFTA stakes are high for the Loonie because some analysts have estimated the currency could fall as much as 20% if the White House goes for the nuclear option and announces a US withdrawal from the agreement.
This would set the clock ticking on a six month termination period, during which the deal could still be saved, that would leave the Canadian Dollar under a cloud of uncertainty.
"Market rate hike expectations in Canada would fall but not fully price out tightening and price in termination," writes Brittany Baumann, an FX strategist at Toronto-based TD Securities, in a January note. "Wider rate spreads would drive CAD to weaken by 8-10% based on the elasticity in our fair value model."
Advertisement




Get up to 5% more foreign exchange by using a specialist provider to get closer to the real market rate and avoid the gaping spreads charged by your bank when providing currency. Learn more

here