Pound to Canadian Dollar Rate's Forecast for the Next Five Days
The British Pound is under the hammer against its Canadian counterpart at the start of the new week as foreign exchange markets react to the latest developments on the Brexit front.
The Pound to Canadian Dollar exchange rate slipped from the week's opening level at 1.6247 to 1.6138 as markets digested Prime Minister Theresa May's much-watched weekend interview in which she confirmed her Government would be looking to take back control of the UK's borders once the country exits Europe.
This suggests the Government is willing to forfeit membership of the single market, access of which requires the free movement of European citizens.
According to economists, exiting the single market leaves the UK open to a longer-term economic growth rate that is below potential. Of course the economists could well be wrong - the UK could do well outside of Europe.
However, for now, the bet is that growth will be lower, and therefore the Pound is seen struggling.
"Independent GBP weakness is the main theme overnight... after PM May said in a weekend interview that she was not interested in 'keeping bits of EU membership,' a comment widely interpreted as indicating that the UK will leave the single market when it leaves the EU," says Adam Cole, an analyst with RBC Capital Markets.
Those with foreign exchange payments are looking at a GBP-CAD exchange rate that ranges between 1.1588 at the banks towards the early 1.60s offered by independent specialists who are more competitive on the spreads they offer.
Latest Pound / Canadian Dollar Exchange Rates
* Bank rates according to latest IMTI data.
** RationalFX dealing desk quotation.
Oil Prices Anchored, CAD Gains Predicted to Ease
Looking ahead, GBP/CAD is expected to decline further this week after strong moves lower in the previous week from a mixture of excellent Canadian employment data and a rise in the price of oil to its highest level in 2016.
However, it is on oil price dynamics that we could see Canadian Dollar strength fade; if oil prices settle then so too might the Canadian Dollar, which has enjoyed a blinding start to the year.
Analyst Mihir Kapadia, CEO at Sun Global Investments, tells Pound Sterling Live he believes oil prices will be anchored around current levels:
"Oil has currently found a temporary anchor around the $54 a barrel mark, as it seems to gain and loose as per market buoyancy. While OPEC members including Saudi Arabia to UAE are complying with production cuts as confirmed officially by Kuwait, the increase in US drilling rigs seems to counter the market gains achieved through OPEC.
"Investors are naturally worried that the increase in US production figures may threaten the OPEC deal, as members from the cartel may worry over the loss of market share. This is the reason why oil is stiffly anchored around $54. We need to implement a wait and watch policy to gauge the market movement across the segments and accordingly prepare for oil's movement. Hopefully if the OPEC deal goes through firmly well into Q2, we should expect Oil to settle around $60 by then."
Technical Outlook for GBP/CAD: 1.60 in Sight
GBP/CAD is in a solid short-term downtrend after eventually breaking below the 1.65 lows.
Friday saw the posting of a large red down-candle which is a bearish sign and indicates the pair will probably move even lower.
A break below the 1.6225 low would probably lead to a move down to the next major level of support at 1.6180, just above the S1 monthly pivot.
A clear break below that level, confirmed by a break below 1.6100 would confirm even more downside to the next target for the pair at 1.6000.
The MACD indicator has pushed clearly below the zero-line indicating the exchange rate is probably in a bear trend, which is likely to extend.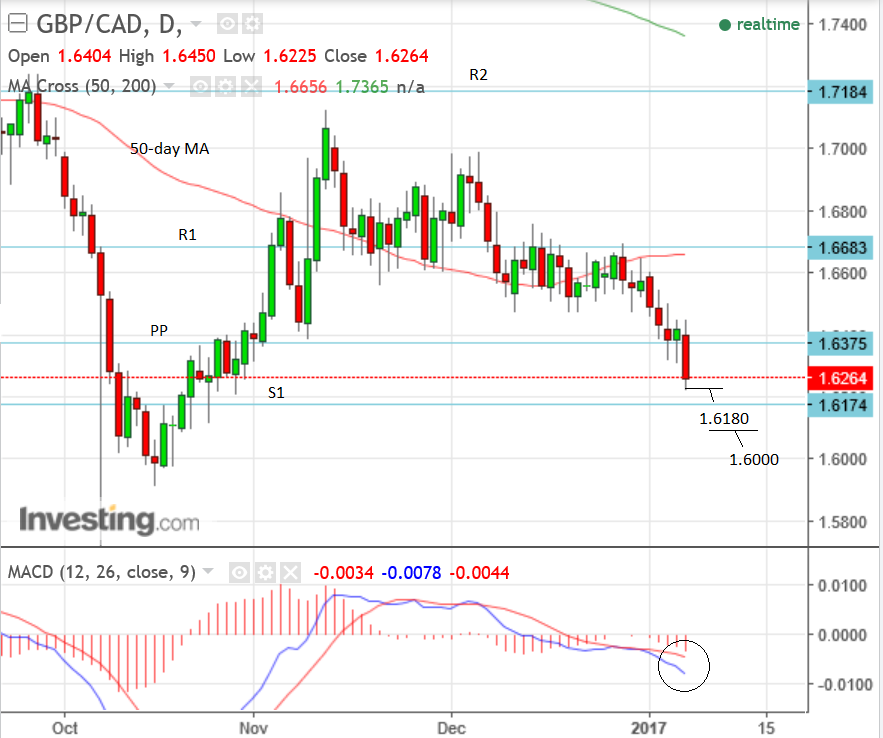 Canadian Data Focuses on Housing
The focus of Canadian data this week is likely to be Housing.
Data on Tuesday, Jan 10 includes Building Permits in November at 13.30 GMT, which is forecast to show a -0.5% fall from 8.7% previously.
Then on Wednesday, Jan 11 Housing Starts are released at 13.30 and expected to show a rise of 195k in November.
On Thursday at the same time the New Housing Price Index is released and expected to show a rise of 0.2% month-on-month in November.
Data for the Pound in the Week Ahead
The UK Retail Sector may be in need of some of the 'therapy' it bestows upon its customers.
Recent data has not been particularly positive and showed lacklustre sales over Christmas, usually a good time for the sector.
The weaker pound is also weighing on margins, as is fierce competition from online new kids on the block ASOS, very, boden and myriad others.
Concerns that the British shopper A) is living on credit and B) unlikely to be able to continue borrowing at the same levels due to signs of job insecurity and higher inflation, means the BRC Retail Sales Monitor in December may gain more interest than usual, when it is released at 00.01 (GMT) on Tuesday, Jan 10.
If it is particularly bad the Pound may retreat.
Also of importance will be Bank of England (BOE) governor Mark Carney's testimony at the Treasury select committee on Wednesday, Jan 11 at 14.15.
There is a risk Carney may use the opportunity to give markets a 'head's up' of an imminent rate cut according to ING bank's Chris Turner.
Any such commentary could heavily weigh on Sterling.
Wednesday also sees the release of Manufacturing Production at 09.30 which is expected to show a rise of 0.5% from a minus figure previously.
Industrial Production, out at the same time, is expected to show a robust rebound of 0.7% from -1.3% previously.
The Trade Balance, also out at the same time, is expected to show the deficit widen to -11.4bn in November.
Don't forget that there is a risk all through January that the Supreme Court may announce its decision on whether Theresa May alone can trigger article 50 and begin Brexit or whether she has to put it to Parliament first.
If she wins the case the Pound is likely to weaken; if she doesn't the Pound may rise temporarily, but analysts are becoming increasingly sceptical about whether Parliament will have much authority beyond a simple yes/no vote to Brexit.
Previously it had been argued they might have input in the negotiating stance but this seems less likely now according to ING's Patel, who recently said they would probably just have a "three line bill" which included a vote on Brexit and no say on implementation.