Canadian Dollar Forecast Lower vs US Dollar, Higher vs the Pound in 2017 by HSBC
The Canadian Dollar is forecast lower against the US Dollar and higher against the Pound Sterling in 2017 by economists at HSBC.
In a year-ahead forecast brief to clients HSBC confirm they are negative on the Canadian Dollar, but even more negative on Sterling.
Incoming US President Trump is one of the reasons CAD is tipped to struggle over the course of the next 12 months.
Trump's proposed renegotiation – or complete scrapping – of the NAFTA trade agreement is a major risk to the economy as Canada relies on the US market for 73% of its trade.
"The results of the US Presidential election reinforce our view that Canadian exports, already showing little sustained momentum, will remain stuck in the weakest cyclical recovery in 50 years," says HSBC Economist David Watt in a note seen by Pound Sterling Live.
Watts sees the foremost risk for Canada as Trump's isolationist stance.
"US trade policy under Donald Trump is unclear but there are already signs that trade frictions between Canada and the US might increase over the next couple of years," says Watts.
Whilst we await the outcome of Trump's NAFTA rewrite Watts expects the attendant uncertainty to weigh on both activity and investment.
Further risks to the outlook include a slowdown in the housing market and the rising levels of hyper-indebtedness amongst the population.
The two things combined could lead to a nasty 'credit crunch'.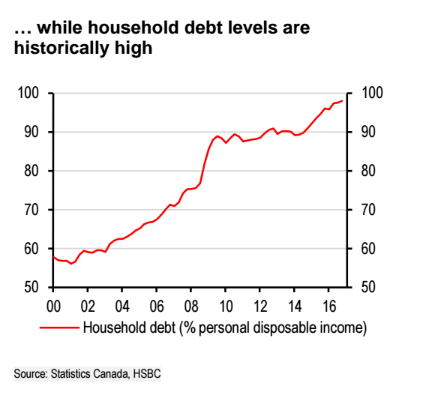 Finally, the promise of a massive infrastructure stimulus drive from the government has not materialised, and the stimulus so far forthcoming, has been disappointingly modest, as reflected in the small deficit figures.
Watts notes:
"Federal government stimulus is one category of domestic demand that is expected to provide some economic lift, with projected deficits of between 1.0% and 1.5% of GDP in 2017 and 2018.
"The next phase of Federal spending will be tilted toward infrastructure.
"Even so, we think that the fiscal plan has room to be increased. Proposed deficits of CAD25.1bn in FY2017 (year-end March), CAD27.8bn in FY2018 and CAD25.9bn in FY2019, amount to between 1.0% and 1.5% of GDP.
"We see room for more federal stimulus with a particular focus on crowding in business investment."
There is a strong chance of a devaluation in the Canadian Dollar in Q1 if Watts' forecast of a Bank of Canada cut to interest rates to 0.25% in January comes true.
HSBC's forecasts for CAD pairs are as follows:
For USD/CAD they see a rise to 1.4000 in Q1, followed by a rise to 1.4500 in Q2 and then a pull-back to 1.4000 for end of both Q3 and 4.
For GBP/CAD, HSBC forecast 1.65 end of Q1, a rise to 1.67 end of Q2, a pullback to 1.57 in Q3 and then even lower to 1.54 in Q4.
Latest Pound / Canadian Dollar Exchange Rates
* Bank rates according to latest IMTI data.
** RationalFX dealing desk quotation.
Impressive Jobs Data
Despite warnings of a subdued year for the Canadian economy and its currency coming from HSBC, the first major data release of the year was impressive.
Data revealed 59,000 more Canadians joined the workforce in December 2016 than economists had predicted.
Consensus estimates of a 5,000 drop were shown to be off the mark.
The data took many by surprise as Canada has shown extremely lacklustre growth of only 1.0% annualised in the last quarter, Q3.
The Unemployment rate, meanwhile, ticked up to 6.9% from 6.8% but the apparent contradiction of a rise in the unemployment rate combined with a 55k rise in jobs, can be explained by the large increase in the Participation Rate from 65.6 to 65.8, because of more people deciding to look for work.
The data showing a rise in jobs dovetails nicely with FXPrimus' strategist Marshall Gittler's positive forecast for the Canadian economy in 2017.
His basic premise is that Canada will piggyback US growth in 2017:
"73% of Canadian exports go to the US, which I expect will continue to enjoy fairly robust growth in 2017.
"If the USD continues to rally because of a strong US economy, Canada should be a major beneficiary.
"That ought to help the CAD outperform the other commodity currencies."
Save
Save
Save