Canadian Dollar Forecast to Push Pound Sterling Lower Over Near-Term
A poor start to the new year for the Pound to Canadian Dollar exchange rate which jas edged lower to 1.6572 on the first day of trade.
We are confident in our assessment of the pair that GBP/CAD continues to show a vulnerability to a breakdown.
A break below the 1.6450-70 support level which has underpinned the lows for most of December, would see the reestablishment of the dominant downtrend, and a probable move down to an initial target at 1.6830, at the S1 monthly pivot.
MACD is now below the zero-line indicating the pair is probably in a downtrend and supporting out bearish analysis.
The 50-day moving average also no appears to have been breached - a further bearish sign.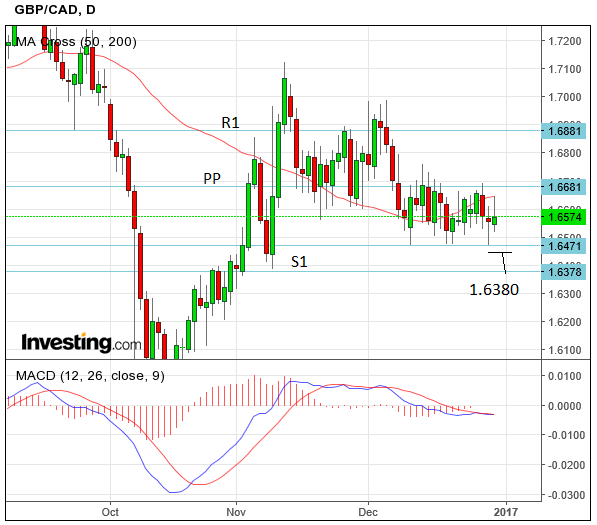 For the Canadian Dollar the main release will be employment data on Friday, January 6, at 13.30 (GMT).
The Employment Change is forecast to fall by -2.5k after a rise of 10.7k in the month before.
The Unemployment Rate is forecast to rise to 6.9% in December, from 6.8% previously.
BK Asset Management's Kathy Lien is more optimistic assessing a higher chance of an improvement in Canada's employment data in December as data bounces back from previous relatively poor results.
Another major release is Ivey PMI – a general business gauge – at 15.00 (GMT) on Friday, January 6.
Balance of Trade data out at 13.30 on the 6th is expected to show a contraction in the size of the deficit to 1.13bn on the back of higher commodity prices.
Manufacturing data is out on Tuesday, Jan 3, and Factory Gate inflation at 13.30 on Thursday, January 5.
Latest Pound / Canadian Dollar Exchange Rates
* Bank rates according to latest IMTI data.
** RationalFX dealing desk quotation.
CAD Facing Headwinds in 2017
The commodity dollar complex - AUD, NZD and CAD - have been struggling of late and we hear they are likely to continue struggling.
"Part of that has to do with the prospect of further US Dollar strength but the 4% drop in the Chinese Yuan since October and the 7.7% drop since April takes a big bite out of the purchasing power of the Chinese, who play a big role in the outlook for Canada, Australia and New Zealand," says Kathy Lien, Director at BK Asset Management in New York.
Lien notes singles out the Canadian dollar as being at greatest risk in the coming year.
"Not only is OPEC likely to come up short in their production cuts but overhauling NAFTA was a big part of Trump's campaign. Combine that with weaker Chinese demand and a stronger US Dollar, USD/CAD could extend its gains easily," notes Lien.
Such an outcome could prove positive for GBP/CAD which could continue to ride the Dollar's coat-tails.
"However underneath the currency movements, a stronger U.S. economy and a weaker Canadian Dollar will go a long way in supporting the economy," says Lien.
As such, the Bank of Canada shouldn't need to lower interest rates again and in fact could start to think about raising rates in 2017.
Canadian employment numbers will be the main focus for the CAD in the coming week. After a few months of subdued job growth, a rebound is expected in December.
"However underneath the currency movements, a stronger U.S. economy and a weaker Canadian dollar will go a long way in supporting the Canadian economy. So the Bank of Canada shouldn't need to lower interest rates again and in fact could start to think about raising rates in 2017," says Lien.
Other analysts also note how Canada's strong reliance on the US economy could see it piggy-back a possible boom in the US, if Trump's feel-good economic confidence persists.
"73% of Canadian exports go to the US, which I expect will continue to enjoy fairly robust growth in 2017. If the USD continues to rally because of a strong US economy, Canada should be a major beneficiary. That ought to help the CAD outperform the other commodity currencies," remarked FX Primus' Marshall Gittler.
Data & Events to Watch for the Pound
The main data releases for this week are Manufacturing, Services and Construction PMIs for December.
The week starts with Manufacturing PMI on Tuesday, January 3 at 9.30, which is forecast to pull-back a basis point to 53.3.
Construction PMI follows on Wednesday, January 4, and is forecast to rise to 53.0 from 52.8.
Services is out on Thursday, January 5, and is forecast to pull-back to 54.7 from 55.2.
Should the data beat expectations then we would expect GBP to catch a bid.
Anything below consensus and Sterling could struggle.
Bank of England's (BOE's) Andy Haldane is speaking on Thursday 5 - we are not expecting any major moves in the currency on the back of Haldane's appearance, but he is worth watching.
Should Haldane hint at a potential interest rate rise in the future then Sterling should find itself headed higher.
Lending and Consumer Credit data is out on Wednesday the 4th; again this should not be a major market move but should be instructive on the direction of the UK economy heading into the new year.