Canadian Dollar Hits Ropes after Bank of Canada Appears to Drop Rate Hike Bias
Image © Bank of Canada, Reproduced Under CC Licensing
- CAD crumbles after BoC appears to contemplate dropping rate hike bias.
- BoC holds rate at 1.75%, says outlook warrants a "below neutral" level.
- GBP/CAD hits six-month high as USD/CAD eyes challenge of 1.35 level.
The Canadian Dollar crumbled on Wednesday, pushing the Pound-to-Canadian-Dollar rate to a fresh six-month high, after the Bank of Canada (BoC) appeared to drop its bias to lift interest rates over the coming quarters.
Bank of Canada policymakers appeared to shift into neutral mode Wednesday when, after leaving their main interest rate unchanged at 1.75% for March, they said "the outlook continues to warrant a policy interest rate that is below its neutral range".
The bank cited a slowdown in both domestic and global economies as causes for concern and the main reasons behind its decision, because weaker demand could easily undermine the outlook for inflation.
It said a resolution to the U.S.-China trade war would be positive because it has weighed so heavily on confidence and economic activity, but that it's difficult to disentangle "these confidence effects from other adverse factors".
"The Bank is still saying that current rates are below neutral, and refers to increased uncertainty about the timing of future rate increases (with no reference to any possibility of cuts) leaving a slightly hawish tilt in place," says Avery Shenfeld, chief economist at CIBC Capital Markets.
Previously, as recently as October, the BoC said rates would have to go all the way up to the so-called neutral level in the coming quarters. That led markets to believe as many as three interest rate rises were in the cards for 2019.
However, and while the BoC said nothing about its future intentions around rates on Wednesday, in both December and January it repeated the earlier assertion about aiming for the neutral level even as it sought to convince markets it would move slower than once suggested.
This could mean the BoC is contemplating abandoning its rate hiking cycle, or shifting to a "neutral stance", but that it's not quite ready to do so just yet. It's possible the bank wants more time to assess the outlook for the Canadian and global economies before making a firm decision.
"Market rates are lower in response and the Canadian dollar is weaker, but it will be hard to get any follow through given that we are not pricing in any rate hikes this year already, and there was no tilt yet towards a fully neutral stance," Shenfeld adds.
Markets care about the Bank of Canada decision because interest rates, and changes in the outlook for them, are the most powerful drivers of movements in currency exchange rates.
Changes in interest rates are normally only made in response to movements in the inflation but impact currencies through the push and pull influence they exert over international capital flows.
"The biggest uncertainty is when the economy will be strong enough to warrant another move higher. Our forecast is that Canada's economy will pick up pace in the second quarter as the transitory impact from the weak energy sector fades and the underlying strength in the labour market pumps up wages and limits the slowing in consumption activity," says Dawn Desjardins, deputy chief economist at RBC Capital Markets.
Above: Pound-to-Canadian-Dollar rate shown at daily intervals.
"Solid (weekly) gains and bullishly aligned short, medium and longer run trend signals suggest limited downside risk at this point and an ongoing tendency to lift the GBP from minor dips. We think the GBP rebound has renewed focus on a test of long run resistance at 1.7750/00," says Eric Theoret, a technical analyst at Scotiabank.
The Pound-to-Canadian-Dollar rate was 0.78% higher at 1.7704 and has now risen 1.75% in 2019, while the USD/CAD rate was quoted 0.69% higher at 1.3449 following the announcement but is down by -1.09% this year.
"We do not expect any further rate increases this cycle and expect the BoC to cut rates 25bp in 2020," says Michael Emery, a strategist at Rabobank. "We favour USD/CAD primarily trading in a 1.32-1.34 range this year but see some room for a short-lived move down to 1.31 in April."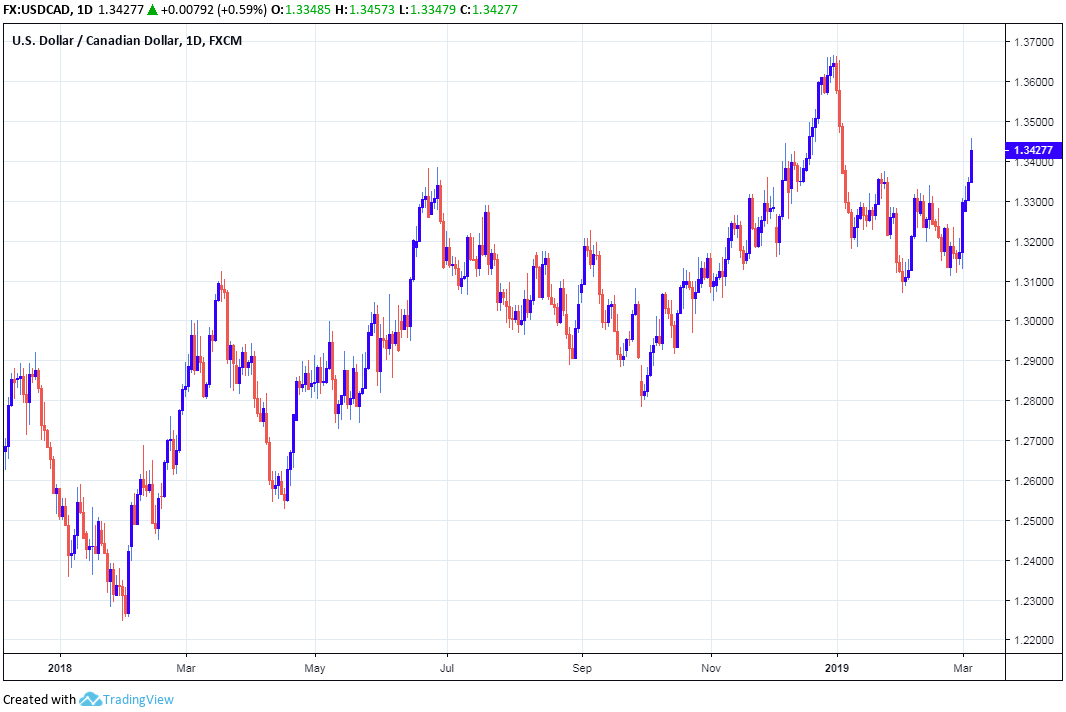 Above: USD/CAD rate shown at daily intervals.
Wednesday's decision came at a time when markets are attempting to gauge what the combination of an economic slowdown and elevated levels of core-inflation will mean for BoC policy and the Loonie during the year ahead.
Canada's inflation outlook has been clouded of late by a double-digit decline in oil prices during the final quarter of 2019, which has been followed by a 20% increase in various crude oil benchmarks thus far in the New Year. This is is wreaking havoc on headline CPI numbers the world over.
But the steady near-2% pace of the BoC's three trimmed mean measures of inflation shows that price pressures remain elevated and could be enough to prompt further rate hikes later this year if there is a sufficient pick-up in economic growth in the interim.
However, and on the downside, GDP growth slowed sharply during the final quarter of 2018 and oil prices have been highly volatile in recent months, falling by 30% in the last three months of 2018 before rising 20% during the opening quarter of this year. Oil-based products are Canada's largest export.
Weaker oil prices could mean even slower levels of already-reduced GDP growth up ahead, which would undermine organic inflation pressures in the economy and reduce the need for further rate hikes from the Bank of Canada over the coming quarters.
"The average of the three core CPI measures stood at 1.9% on a year-on-year basis in January for a third month in a row. That, coupled with weakness in domestic demand and uncertainties with regards to trade, suggests the central bank can afford to be patient. We expect the BoC to wait until at least the second half of the year," says Krishen Rangasamy, an analyst at National Bank Financial.
Governor Stephen Poloz said during February, in a speech to the Chamber of Commerce of Metropolitan Montreal, that Canada's current 1.75% interest rate is still low and providing stimulus to the economy.
However, he also said the path back to the so-called "neutral" level of interest rates had become "less clear" amid multiple headwinds including slowing domestic and global economies. This has heaped further pressure on the Canadian Dollar
Canada's Loonie was previously, until the end of February, the G10 universe's best performing currency for 2019 but it ceded that crown to Pound Sterling a fortnight ago amid a deteriorating interest rate outlook and due to market hopes that Brexit might soon be delayed or scrapped by the UK parliament.
Time to move your money? Get 3-5% more currency than your bank would offer by using the services of foreign exchange specialists at RationalFX. A specialist broker can deliver you an exchange rate closer to the real market rate, thereby saving you substantial quantities of currency. Find out more here.

* Advertisement