The Pound-to-Canadian-Dollar Rate is a Sell at RBC Capital Markets
Image © COSPV, Adobe Stock
- GBP/CAD rate to return toward 2018 lows over coming days.
- As BoC checks market pessimism, lifting bond yields and CAD.
- And as new series of Brexit saga gets underway, weighing on GBP.
The Pound-to-Canadian-Dollar rate will return toward its 2018 lows over the coming week, according to analysts at Toronto-headquartered RBC Capital Markets, who are advocating that clients bet on a decline in the exchange rate.
Another series of the Brexit saga begins in the UK this week as MPs return to Westminster from their Christmas holidays, which is widely expected to mark the beginning of another period of volatility for the British currency.
Prime Minister Theresa May still lacks the necessary support to get her Withdrawal Agreement passed through parliament. And if that approval is not secured before the end of March 2019, the UK will default to trading with the EU on World Trade Organization (WTO) terms.
Most analysts say this will be bad for the economy and currency. Markets certainly see it as being bad for the currency, given falls in Sterling each time the Prime Minister tries and fails to secure support for her agreement from various factions of lawmakers in parliament.
Monday 15 January will see the first parliamentary vote on PM May's withdrawal agreement. There are few if any other than the government's Brexit minister who are on record as saying the deal will pass, with most appearing to view rejection as the only likely outcome.
But the initial vote in the House of Commons is still important because it will reveal the scale of parliamentary opposition to it, and in the process, the true extent of the challenge that PM May must overcome.
"We go short GBP... As the Brexit debate reopens ahead of a likely Commons vote early next week, and with news flow having been minimal for the last three weeks, we expect renewed focus on the likelihood of that vote failing and the risk of no deal exit," says Adam Cole, chief currency strategist at RBC.
Cole and the RBC team are looking for the Pound-to-Canadian-Dollar rate to fall back to 1.6670 this week, which would leave it within touching distance of the 1.66 level. That is the exchange rates' lowest ebb dating back to late 2017, although it has been as low as 1.5745 since the Brexit vote in June 2016.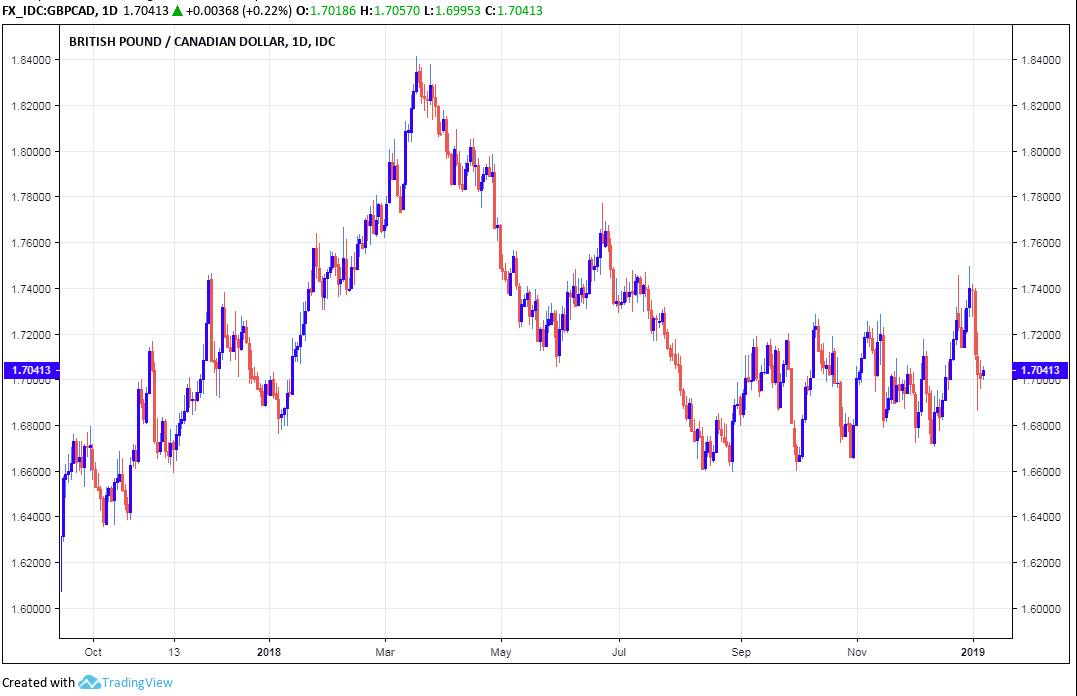 Above: Pound-to-Canadian-Dollar rate shown at daily intervals.
If PM May's defeat is a landslide that leaves a parliamentary majority still looking insurmountable then it would surely be bad for the Prime Minister and Pound.
But if the scale of loss is less than markets currently perceive as likely then Sterling could receive a boost as markets bet that the deal will eventually be approved by lawmakers.
However, RBC's bet will not live to see the outcome of the actual vote. Cole is simply looking to profit from preemptive weakness he says is likely to be experienced by Sterling ahead of next week's ballot.
That downward pressure on Sterling will come against a backdrop of relief and recovery for the Canadian Dollar, as the Bank of Canada (BoC) reminds markets that it will still lift its interest rate at some point later this year, despite recent events that have dented the outlook for Canadian monetary policy.
Last year's bust in the oil market and the resulting gloomy comments from the Bank of Canada have seen financial markets all but give up hope of another interest rate hike being delivered in Canada anytime soon.
Pricing in derivative markets implies that investors see little chance of the Bank of Canada lifting its cash rate from the current 1.75% level at all this year, when just three months ago those same markets had implied rates might rise to 2.5%.
Cole says this represents far too pessimistic a view for even a "dovish" Bank of Canada to entertain and that the Canadian Dollar might receive a fresh bid on Wednesday if the bank, rather than giving markets fresh cause for pessimism on Wednesday, says it will continue to raise rates in 2019.
"The BoC is the only major central bank event this week and, with CAD rates having been dragged along with the global front-end rally, we go into the meeting with markets pricing in only around 3bp of hikes for the whole year. The hurdle is low for a balanced statement/MPR being perceived as less dovish," Cole writes, in a note to clients Monday.
Above: USD/CAD rate shown at daily intervals.
Implied expectations of Canada's interest rate have fallen mainly because of events impacting the domestic growth and inflation outlook over recent months. But in the final weeks of December, and at the start of the New Year, much of the decline has been the result of a global trend toward lower bond yields and not anything Canada-specific.
Fears over the health of the U.S. and Chinese economies, as well as the likely impact President Donald Trump's so-called trade war might yet have on global growth, have led markets to check their expectations of asset prices and economies the world over during this time.
It is the latter decline that is prone to reversal if the Bank of Canada does not aggravate market fears when it publishes its latest interest rate decision and assessment of the economic outlook at 13:30 London time on Wednesday.
Canadian bond yields might recover some lost ground and drag the Loonie higher with the if the BoC says it will still raise rates later this year. which would be bad for the Pound-to-Canadian-Dollar rate.
"CAD has started the year with good upwards momentum and for now we suggest running with it, even though it might ultimately be another case of the January overshooting to which CAD (and AUD and NZD) is prone," Cole says.
The Bank of Canada raised its interest rate by 25 basis points to 1.75% in October and said it will go on lifting it over coming quarters, potentially taking the benchmark up to 3.5%.
But it backed away from that guidance in December following a series of disappointing economic figures and a rout in oil prices that saw Brent crude swap a near 20% gain for a 10% annual loss in the final months of the year.
Canadian oil prices fell to new record lows repeatedly in 2018, prompting the Alberta government to require production cuts as of January 2019 that may end up denting economic growth this quarter.
The fall in oil prices has also contributed to a softening of inflation pressures, which has further reduced the incentive for the Bank of Canada to raise interest rates. However, all of this is already reflected in the price of the Canadian Dollar, which could easily change if the BoC signals Wednesday that it will still raise rates in 2019.
Advertisement
Bank-beating exchange rates. Get up to 5% more foreign exchange by using a specialist provider to get closer to the real market rate and avoid the gaping spreads charged by your bank when providing currency. Learn more here