Australian Dollar Eyes Technical Rebound Days Ahead of Key First-quarter Wages Report
-AUD/USD technical rebound has further to run, says Commerzbank.
-AUD/NZD resurgence can continue for while yet, says Societe Generale.
-AUD a "buy on dips" says Maybank as RBA to hike rates in August.
Adobe Stock
The Australian Dollar rose across the board Thursday as traders chased so called risk assets higher, including the Aussie Dollar, in a move that some technical analysts say has further to run.
Traders have dumped the US Dollar and other safe havens like the Japanese Yen for two days in a classic "buy the rumour and sell the fact" response to President Donald Trump's decision to withdraw the US from the Iranian nuclear agreement.
The move has provided the Australian Dollar with a moment's respite from several weeks of steep losses, brought about by a loss of "yield support" for the Antipodean currency and weak economic data that has left markets outright pessimistic about the outlook for interest rates down under.
All of these agitating forces appear to remain in play although Thursday's price action comes just days ahead of the Wednesay 16 first-quarter wages report that will be key to the narrative around the Australian Dollar over the summer months. And at least one technical strategists has suggested the current rebound still has further to run.
"The new low of .7413 has been accompanied by a divergence of the daily RSI. This reflects a loss of downside momentum and in addition we note the 13 count on the 240 minute chart. This suggests a near term rebound is likely/imminent," says Karen Jones, head of technical analysis at Commerzbank. "Currently the Elliott wave count is suggesting that there is scope for a decent rebound to approximately the 50% retracement at circa 0.7615."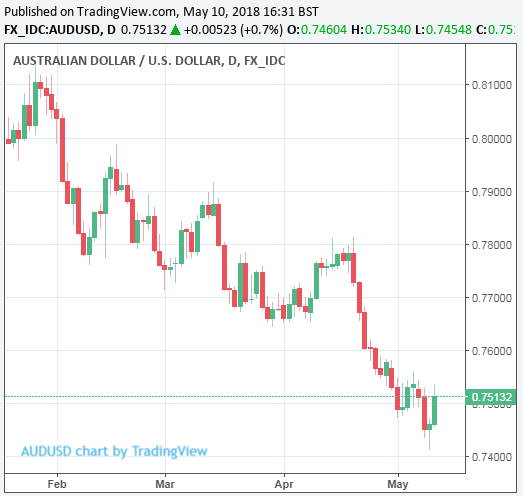 Above: AUD/USD rate shown at daily intervals.
The AUD/USD rate was quoted 0.67% higher at 0.7507 during the noon session Thursday, after rising from 0.7460 during the morning hours, while the Pound-to-Australian-Dollar rate was down 1.14% at 1.7950. The AUD/NZD rate was 0.52% higher at 1.0891.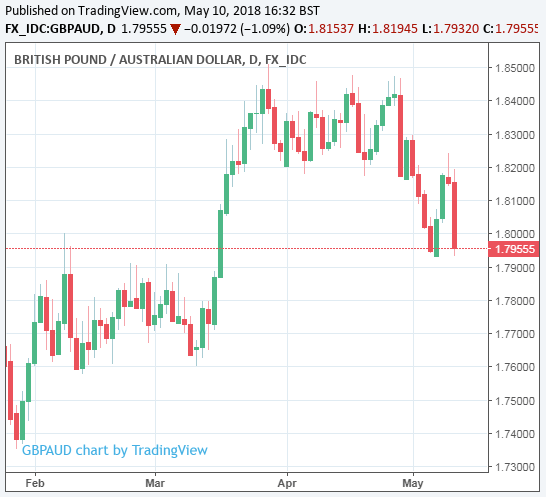 Above: Pound-to-Australian-Dollar rate shown at daily intervals.
However, the Aussie has fallen by 3.2% against the US Dollar during the last month alone and shed ground to almost all other developed world currencies barring the New Zealand Dollar. The AUD/NZD rate has risen 2.6% in the last month.
Above: AUD/NZD rate shown at daily intervals.
"AUD/NZD has been meandering sideways since 2014, is currently near the average level of that period and has underperformed relative rates. AUD is anchored by concerns about housing but we think it's cheap at these levels," says Kit Juckes, chief FX strategist at Societe Generale. "One day, AUD/NZD will just break out of the top of the range."
This comes after US 10 year bond yields rose to a multi-year high above the 3% threshold during late April, which has prompted financial markets to renew their focus on yield-differentials and undermined a traditional source of support for Antipodean currencies like the Aussie and New Zealand Dollars.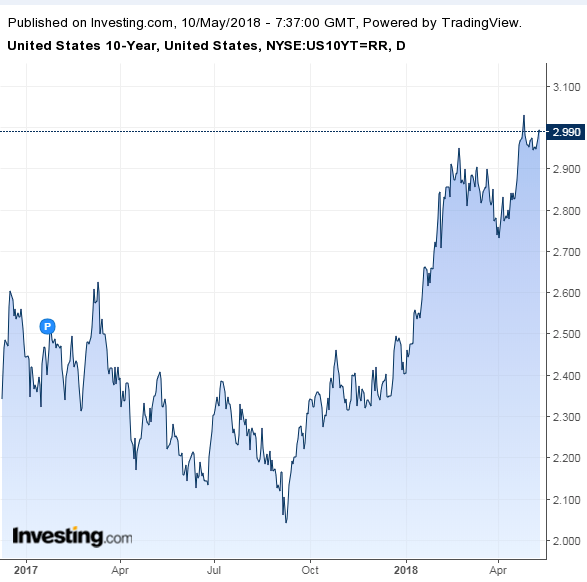 Above: US 10 Year Government Bond Yield.
Both currencies have historically been supported by interest rates and bond yields that are higher than those of other developed markets, ensuring a steady flow of investors who would sell US Dollars and other currencies in order to buy the Aussie or Kiwi and invest in their respective bond markets.
However, recent events mean investors can now earn a higher return by selling Aussie Dollars and buying the greenback in order to park their money in the American bond market - the opposite of how the so called "carry trade" used to work.
Above: Australian 10 Year Government Bond Yield.
And with below-target inflation widely expected to ensure the Reserve Bank of Australia keeps its interest rate at the current record low of 1.5% until long into 2019, as US bond yields continue trending higher, the Aussie Dollar received a drubbing during late April and early May. But some say the Aussie's fortunes should turn for the better in the coming months.
"We see upside risks to the AUDUSD stemming from base metal prices and stronger inflation pressure, could inevitably force the hand of the RBA. While there is "no strong case" in the eyes of the RBA's Lowe now to adjust the cash target rate, we see a strong case in the near -future for an inflation targeting central bank like RBA to act. We continue to hold on to our call for RBA to raise rates in Aug," says Saktiandi Supaat, an FX strategist at Maybank in Singapore.
Supaat and the Maybank team have been consistent sceptics of the Dollar rout during recent weeks and have repeatedly warned the RBA could raise interest rates as soon as August, which would be almost certain to shock the Aussie unit back into life.
They flag a recovery of iron ore prices in recent weeks and a more-than-15% 2018 rise in the price of oil as grounds to think Aussie inflation will soon rise from the sub-2% level to the higher end of the RBA's 2% to 3% target, which might then prompt the central bank to do as it did back in 2008 and begin raising interest rates.
Next week's wage data will also be important because weak pay growth has been one of the leading contributors to the below-target inflation that has kept the Reserve Bank of Australia on the sidelines at a time when other central banks are raising interest rates, making it a key instigator of the Aussie Dollar's woes in recent months.
Advertisement




Get up to 5% more foreign exchange by using a specialist provider to get closer to the real market rate and avoid the gaping spreads charged by your bank when providing currency. Learn more

here

.