Technical Analysis: The Pound-to-Australian Dollar is Looking Increasingly Overextended
The GBP/AUD pair has risen strongly in the second half of 2017 but its rally is starting to look overdone, and we cannot rule out a correction lower.
The Pound-to-Australian-Dollar's short-term uptrend remains intact but looks increasingly vulnerable.
Ominous and bearish signals are accumulating, which suggest a reversal to the downside could be close at hand.
The weekly chart below shows a broadening, or megaphone pattern, between two thick turquoise lines.
The first thing to note is how this pattern appears to have formed five internal waves (labelled).
These patterns tend to have a minimum of five waves so there is now a possibility it is close to complete. If it is, there may be some chance of a breakout. The most recent wave up from the August lows - wave 5 - also looks close to completion, if not overstretched.
Component waves within patterns, such as five on GBP/AUD, usually take on a zig-zag form with the first and third wave of more or less equal length. The zig-zag of the 5th wave looks very much like it has completed, as the third wave (labelled c-d) is now longer than the first wave (labelled a-b).
This increases the chances the rally could be breaking down. The possibility of a breakdown is increased by evidence on the daily chart, which suggests a bearish three-black-crows candlestick pattern is forming.
Three-black-crows patterns happen when prices peak and then sell-off in three consecutive down-days (circled), which are relatively long and of a similar size.
This has formed on the daily chart of the Pound-to-Australian Dollar, however, we cannot be sure it is a bona fide signal until we know the day's close, which, must be reasonably bearish to maintain the pattern.
If it is a three-black-crows pattern, that would be a very strong short-term bearish signal for the pair.
Alternative Views
Ric Spooner, an analyst at CMC Markets, is bearish the Pound-to-Australian Dollar and suggests the "path of least resistance" for the pair is down while the Australian Dollar strengthens.
Whilst I don't agree with everything on his chart (below) his views are similar to our own, in that he sees the current rally since August as being exhausted and probably due a move lower.
He has drawn the pattern which has formed during 2017, not as a broadening formation, like us but as more of a rising channel. He says the most recent move overshot the top of the channel and is a "false break".
"The pound is beginning to weaken against the Aussie and the slow stochastic is up in the oversold zone, like it was the first time this channel resistance was rejected," says Spooner.
His momentum indicator of choice - stochastics - is compellingly toppy. Whilst we count 5 constituent waves, he only counts 4 so far. Nevertheless, its a further nail in the coffin for the pair.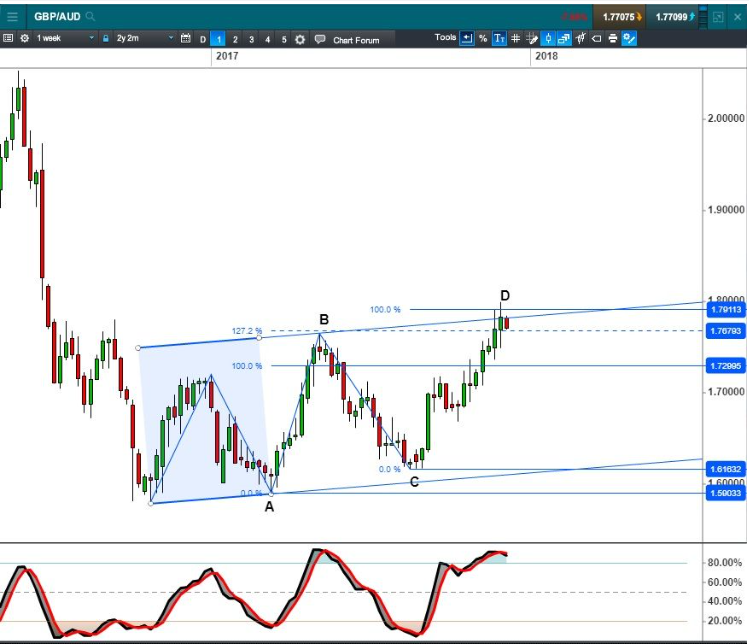 Get up to 5% more foreign exchange by using a specialist provider by getting closer to the real market rate and avoid the gaping spreads charged by your bank for international payments. Learn more

here

.