The Australian Dollar is a Buy at Morgan Stanley and Bank of America after Chinese Stimulus Lifts Markets
Image © A. Strode, Adobe Stock
- AUD lifted by PBOC cut to reserve ratio requirements for Chinese banks.
- Stimulus lifts AUD as it will support China's economy in testing times.
- Morgan Stanley, Bank of America buy AUD as CBA forecasts more gains.
The Australian Dollar was lifted Monday by a surprise injection of stimulus into the Chinese economy, and is likely to edge steadily higher over coming days as well as through the rest of 2019 according to multiple analysts.
Analysts at both Morgan Stanley and Bank of America Merrill Lynch both advocated Monday that their clients buy the Australian Dollar against the U.S. Dollar and Japanese Yen respectively. Meanwhile, Commonwealth Bank of Australia (CBA) forecasts the Aussie will rise notably in 2019 as a whole.
"Optimism around US-China trade talks, the PBoC cutting RRR by 1% to support the Chinese economy and better-than-expected China services PMI should allow 'China proxy' and commodity FX like AUD and CAD to rebound tactically. This is especially as short positioning in these two currencies is the largest within G10," says Hans Redeker, head of FX strategy at Morgan Stanley. "We like to buy AUD & CAD vs USD at market."
Bank of America has recommened that clients use the options market to bet on a recovery in the AUD/JPY exchange rate, which is highly sensitive to changes in the market's collective appitite for risk asset. Those risk assets have already been lifted by actions of the Chinese authorities this week.
The People's Bank of China (PBOC) cut the Reserve Ratio Requirement (RRR) for banks by 100 basis points late Friday in an effort to support the economy by increasing the amount of funds available for lending to companies and consumers.
Small and large banks previously had to hold reserves equal to 12.5% and 14.5% of deposits respectively, although those amounts will now fall by a total of 1%, in increments of 0.5%, over the course of January.
This is expected to free up some CNY 1.5 trillion (£172 billion) of deposit money for new lending, supporting activity at a time when China's economy is coming under pressures from a general slowdown in global growth and from President Donald Trump's trade tariffs.
However, the Medium Term Lending facility, which has provided cheap financing to commercial banks in China, will end in March. Loans made using this tool, totalling around CNY 700 billion, will then fall due and need to be repaid by the banking sector. That will reduce the overall amount of stimulus provided by Friday's measures.
"The AUD appreciated as a surprise cut in the RRR in China, together with a demonstration of sensitivity to market concerns from the Fed, drove a short squeeze. With little data out, the AUD will be at the mercy of sentiment," says Cherelle Murphy, an economist at Australia & New Zealand Banking Group (ANZ).
The reserve cut matters for the Australian Dollar because the currency is underwritten by Australia's mammoth commodity trade with China, which has seen the Antipodean unit develop a close correlation with the Chinese currency. China's Renmbimbi was boosted Monday by the stimulus announcement.
Above: AUD/USD rate shown at daily intervals.
The AUD/USD rate was quoted 0.29% higher at 0.7137 during morning trading Monday while the Pound-to-Australian-Dollar rate was -0.03% lower at 1.7842. The Aussie was higher against all G10 currencies Monday other than the New Zealand Dollar, Swiss Franc and Euro.
Above: Pound-to-Australian-Dollar rate shown at daily intervals.
"The PBOC cut the RR four times in 2018. We have consistently published the likelihood of further cuts in the RR and so today's announcement is no surprise. The authorities are supporting economic activity through targeted lending," says Richard Grace, head of currency strategy at Commonwealth Bank of Australia.
The cut followed ugly data from the manufacturing sector for December. The China Federation of Logistics and Purchasing Manufacturing PMI suggested last Monday that the industrial sector contracted during the recent month, marking the first time the survey has pointed to recessionary conditions for more than two years.
China's manufacturing sector and economy have softened of late and are both expected to weaken further in 2019 as U.S. tarrifs on some $250 billion of goods exported to America each year weigh on trade flows between the world's two largest economies and general investor confidence.
Officials from China and the U.S. will hold talks aimed at deescalating the "trade war" between the two countries on Monday and Tuesday. They have until late February to strike a deal that satisfies the White House or the 10% tariff currently charged on around half China's exports to the U.S. each year will more than double to 25%. Trump has also threatened to target the remainder of China's U.S. trade with similar tariffs if progress is not made.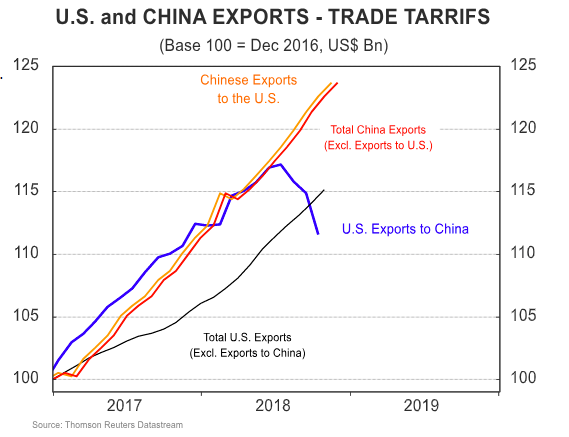 Above: U.S.-China trade flows. Source: Commonwealth Bank of Australia.
With that outlook in mind market appetite for the Renmimbi and Australian Dollar has been curbed of late, leading to losses for both currencies, although Australia's Dollar fell near to a decade low against the U.S. greenback amid thin trade in the New Year. But CBA's Grace is looking for a recovery in 2019.
"Expect more episodes similar to what we experienced on 3 January because of the regulatory environment. We continue to expect AUD/USD will modestly appreciate over 2019. The forecast modest depreciation of the USD has a lot to do with this. The risk remains AUD is weaker, dragged lower by a weaker CNY," Grace writes, in a note to clients Monday.
Australia's Dollar fell by 9% against the U.S. Dollar during 2018 as President Trump's so-called trade war against China gathered steam, with tit-for-tat tariffs from either side denting the outlook for both economies as well as growth the world over.
The growth outlook darkened alonside a deterioration in the Australian inflation picture, which saw financial markets give up all hope of a Reserve Bank of Australia (RBA) interest rate rise coming before the midpoint of 2020. The RBA cash rate remains at a record low of 1.5%.
But Grace and the CBA team are looking for the U.S. economy to slow over the first half of 2019 and for the Eurozone economy to stabilise, before picking up toward the end of the year.
That is the catalyst they envision will turn the tide of global currency flows in favour of the Australian Dollar, leading the AUD/USD rate to recover back to 0.75 by year-end. The Pound-to-Aussie rate is forecast to decline by almost 5% to 1.7067.
Advertisement
Bank-beating exchange rates. Get up to 5% more foreign exchange by using a specialist provider to get closer to the real market rate and avoid the gaping spreads charged by your bank when providing currency. Learn more here